Maui Wedding Cakes and Dessert Catering
Maui Wedding Cakes and Homemade Desserts | Custom Baked Wedding Cakes for Maui Weddings
Whatever your wedding preferences, we can supply a Maui wedding cake for any budget.
In addition to wedding cakes, we can supply your wedding with fresh tropical flowers and everything else you need for your wedding or catered event. We recommend providing a fresh flower lei for each of your guests accompanied by traditional Hawaiian wedding leis for the bride and groom. Or, consider a Hawaiian Haiku for your bridal hair piece.
In addition to Maui wedding cakes, we'll be happy to supply your wedding with fresh flower leis and tropical wedding flower arrangements to use as décor for Maui weddings.
You may also create your own Wedding Catering Menu by choosing from our wide selection of a Hawaiian wedding catering menus or ala carte items. Ask us about our "to go" menus.
To order your Maui wedding, please complete our short Wedding Cake Order Form. Or, call us at (808)419-0889 for Hawaiian wedding cake and catering suggestions.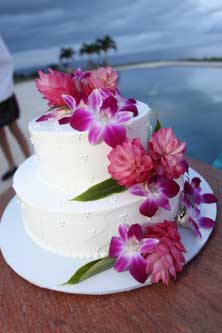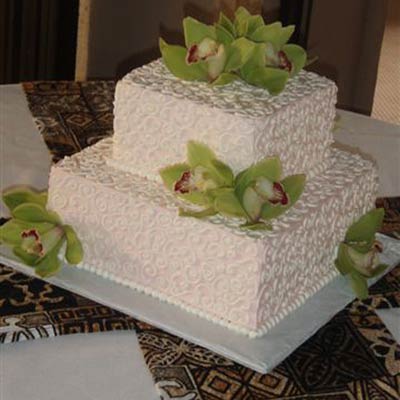 ---
Maui Cupcakes and Dessert Specialties
This is only a small selection of our Maui wedding cake ideas and dessert menus. With our diverse pastry chef experience from around the globe, we have a large variety of cakes and frostings available to choose from. We also make cupcakes and other homemade desserts and pies. Gluten Free wedding cake? Just ask! Affordable Maui wedding cakes for every taste and budget.
Maui Cupcakes and Dessert Specialties

Cupcakes and Dessert Specialties
| | |
| --- | --- |
| Chocolate Fudge Brownies | $2.75 |
| Our Famous Hana Bars | $2.75 |
| Large Chocolate Chip Cookies | $2.50 |
| Sliced Fresh Fruit | $3.00 |
| Cheese Cake | $32.00 (serves 12) |
| Maui Cupcakes | Request Price |
| Pineapple Upside Down Cake | Request Price |
| Mango Upside Down Cake | Request Price |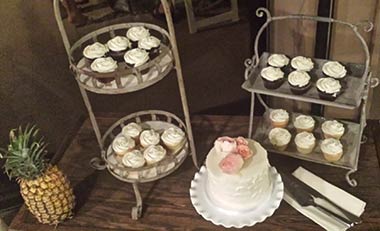 If your budget requires, YOU can also pick up the food and rent the equipment from us.
---
Wedding Packages
All Maui Wedding Packages and Catering Packages are based on a minimum 20 guests. However, an additional charge will be added for parties below 20 guests.
---
Birthday Cakes
No need to skip the birthday just because you are vacationing on Maui. We love celebrating birthdays and will be happy to help you a memorable event for kids birthday parties on Maui, young and old! Let us know what kind of cake you like, your favorite filling and the cake frosting you prefer. Our birthday parties are fun and we'll setup a cake cutting table and light the candles on the birthday cake.