CJ's DELI & DINER MAUI VEGETARIAN MENU
Vegan Dining in Kaanapali, Maui
VEGAN MENU BY CHEF CJ of CJ's DELI & DINER – Are you a healthy Vegan looking for inexpensive Vegan menu in Kaanapali? If you have dietary restrictions or concerns, we always recommend and welcome your particular situation directly with the Chef. Doing so will allow us to source any special products you need or want to ensure your vacation on Maui will be fantastic without needing to settle for your diet.
CJ's Deli & Diner is Open Daily from 10 am till 7 pm. Lunch and Dinner is available between 10 am and 7 pm. Fresh green garden salads and more for vegetarian diets on Maui.
Vegan Breakfast – Served 9 am to 7 pm Daily
Menu Item
Price
Breakfast Wrap with Fresh Veggies and Potatoes, Salsa
$11.95
Oatmeal made with Water or Almond Milk
$8.25
Goji Acai Bowl with Acai, Coconut Water, Bananas, Granola, Coconut, Walnuts, Goji Berries
$11.00
Chocolate Acai Bowl with Acai, Coconut Water, Bananas, Granola, Coconut, Mac Nuts, Cacao Nibs
$11.00
Fresh Fruit Bowl
Add Granola
$5.00
$2.00
Side of Toast - Sourdough, Brioche Bun, or Hoagie Roll
$2.95
Homestyle Potatoes
$3.50
Add Avocado to Anything
$2.00
Vegan Dining between 10 am and 7 pm daily
Menu Item
Price
FARM GRILLED VEGETABLE SANDWICH
on Sourdough Bread with Homemade Hummus and Served with a Garden Salad with Balsamic Vinaigrette
$13.00
HEALTHY GRAIN BOWL
Topped with Tofu, Fresh Vegetables and Kale. Served with an Asian Sauce
$16.00
BEYOND MEAT BURGER *Available ALL Day!
Grilled to Perfection on our Brioche Buns with Hummus
$14.00
Make Your Own Cold VEGAN DELI SANDWICHES - Served with Garden Salad, Balsamic Dressing *Available ALL Day!
$11.00
VEGAN SOUP OF THE DAY!
Cup
$5.00
Bowl
$8.00
Soup & Half Sandwich Deal
$11.00
KULA GREEN SALAD
with Cucumber, Tomato and Olives
$7.00
SPINACH AND KALE SALAD
with Peppers, Olives, Cucumber, Onions and Tomato
$11.95
SAUTEED VEGETABLES IN OLIVE OIL
$7.00
SAUTEED MUSHROOMS IN OLIVE OIL
$6.00
STEAMED WHITE RICE
$3.00
Try our Kombucha on Tap. We serve locally brewed Vitali Tea. Ask the cashier for the flavor of the day!
Check Our Daily Specials board for additional dining ideas. If it's not there, we'll try anything once. Just let us know what your heart desires and chances are, we can make it!
We also prepare GLUTEN FREE and other SPECIAL DIETARY MEALS!! GLUTEN FREE MAUI. Gourmet vegetarian dishes and huge salads! Review our Gluten Free Menu or Vegetarian Menu.
Want to cook at home or in your Maui vacation rental on the beach? Ask about CHEFS TO GO – We prep it, you cook it!
Remember to order a Hana Box Lunch Picnic with a cooler and ice for the road to Hana Drive! Use the cooler and get FREE ice refills throughout your vacation.
** Consuming raw or undercooked meats, poultry, seafood, shellfish or eggs may increase your risk of foodborne illness.
*All prices and availability subject to change without notice!!


Salads are on the vegetarian menus and available for catered events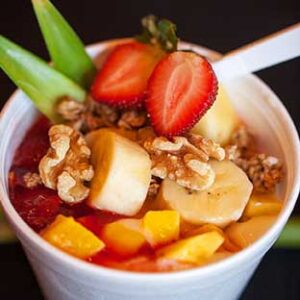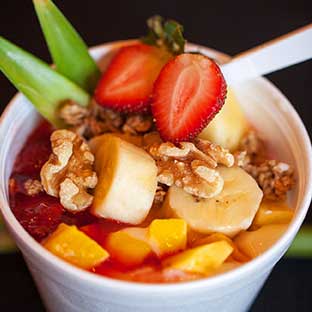 Try a healthy Acai Bowl for breakfast on Maui at CJs in Kaanapali

Maui Coffee to take home