*Breakfast served all day between 10 am until 7 pm Daily.
CJ's MAUI BREAKFAST MENU – The Most Affordable Breakfast in Kaanapali
Best Breakfast in Kaanapali!
Try our new Acai Bowl w Coconut Water & Fresh Fruit!
Our Dining Room in Kaanapali is OPEN! Eat Breakfast in the restaurant or Order a Carry Out Breakfast in Kaanapali by calling us at 808-667-0968. Or, get breakfast delivered in West Maui via the 808PickUps app.
Maui Breakfast Entrees
Price
THE ALL AMERICAN BREAKFAST**
2 Eggs Any Style, Bacon or Sausage & Two Pancakes
$12.00
EGG-CETERA**
Eggs Cooked to Order with Toast, Choice of Rice or Homestyle Potatoes
1 Egg
$7.50
2 Eggs
$8.50
3 Eggs
$9.50
Add Breakfast Meats

$3.50
"The EARLY BIRD"** Served before 8 am only!
2 Eggs, Bacon or Sausage, Rice & Small Coffee

$9.95
Cheese Omelet
$11.95
Ham & Cheese Omelet
$12.95
Fully Loaded Omelette… Tell us What You Like, Choose any Three Items:
Ham, Cheese, Portuguese Sausage, Bacon, Onion, Bell Pepper, Tomato, Mushroom & Spinach
$13.95
Per Additional Omelet Item
$1.00
Homemade Corned Beef Hash and 2 Eggs
$11.95
Breakfast Menu Items
Price
MAUI'S BEST & MOST ONO" Loco Moco"
Beef Patty Grilled to Perfection, Served with 2 Eggs, Potatoes or Rice, Topped with Maui Onion Gravy (Loco Moco available all day)
$14.00
Breakfast Wrap
Tortilla filled with Egg, Cheese, Peppers, Portuguese Sausage Served with Homemade Salsa and Sour Cream
$11.95
Classic Eggs Benedict**
$13.25
Egg & Cheese Croissantwich
$8.95
with Bacon, Ham, or Sausage

$11.95
Norwegian Smoked Salmon Bagel
with Capers, Tomato, Lettuce, Onion & Cream Cheese
$13.95
Pancakes & French Toast
Full Stack

$10.75
Short Stack
$9.00
The Big Kahuna Stack
Loaded with Bananas, Macadamia Nuts & Whipped Cream
$12.00
Hawaiian Sweet Bread French Toast
$10.95
Happy Face Pancake for the Kids
$4.50
Breakfast Fruits & More
Price
FRESH FRUIT & THINGS for Breakfast on Maui
Local Maui Pineapple or Seasonal Mixed Fresh Fruit Salad
$5.00 ea
Acai Bowl with Coconut Water, Fresh Fruit and Topped with Granola
$11.00
Papaya Half
$5.00
Banana
$1.75
Yogurt with Fruit
$6.95
Add Granola
$2.00
Bagel
$2.95
Bagel with Cream Cheese
$3.95

Coffee Cake
$3.00
Croissant
$2.95
Oatmeal
$8.25
| Breakfast Sides | Price |
| --- | --- |
| One Egg | $2.00 |
| Homemade Corned Beef Hash | $5.95 |
| Breakfast Meats | $3.50 |
| English Muffin | $2.95 |
| Homestyle Potatoes or Rice | $3.00 |
| Cold Cereal | $5.25 |
| Toast (White, Rye, Wheat, Sourdough) | $2.95 |
| Homemade Salsa | $1.00 |
Menu Item
Price
CJ's Own Roast, Regular & Decaffeinated
Remember to Take Home fresh CJ's Maui Coffee!
$3.00 each
Bottled Juices (Orange, Pinapple and Others
$4.00
POG
$4.00
Fruit Smoothie
$7.95
Whole or Skim Milk
Add Chocolate - .50
$3.00
Bottled Water
$3.00
Fresh Squeezed Lemonade
$3.50
Fountain Sodas
$3.00
Check Our Daily Specials board for additional dining ideas. If it's not there, we'll try anything once. Just let us know what your heart desires and chances are, we can make it!
We also prepare GLUTEN FREE and other SPECIAL DIETARY MEALS!! GLUTEN FREE MAUI. Gourmet vegetarian dishes and huge salads! Review our Gluten Free Menu or Vegetarian Menu.
Want to cook at home or in your Maui vacation rental on the beach? Ask about CHEFS TO GO – We prep it, you cook it!
Remember to order a Hana Box Lunch Picnic with a cooler and ice for the road to Hana Drive! Use the cooler and get FREE ice refills throughout your vacation.
** Consuming raw or undercooked meats, poultry, seafood, shellfish or eggs may increase your risk of foodborne illness.
*All prices and availability subject to change without notice!!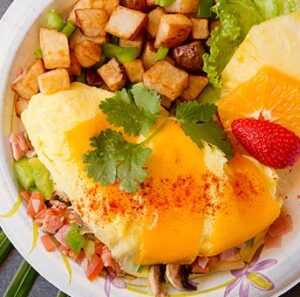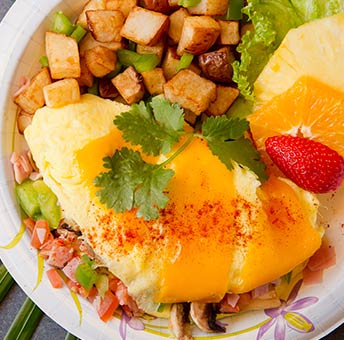 Omelet with Hash Browns and Fruit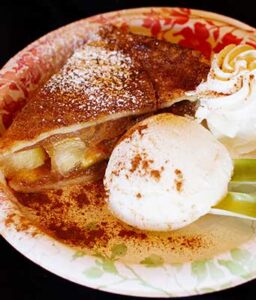 Homemade Apple Crepes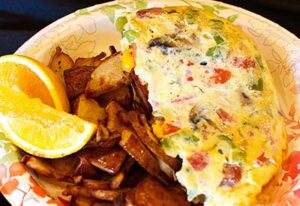 Denver Omelet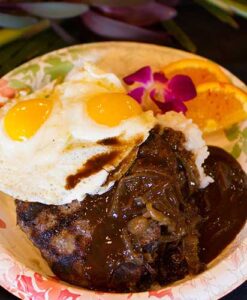 Loco Moco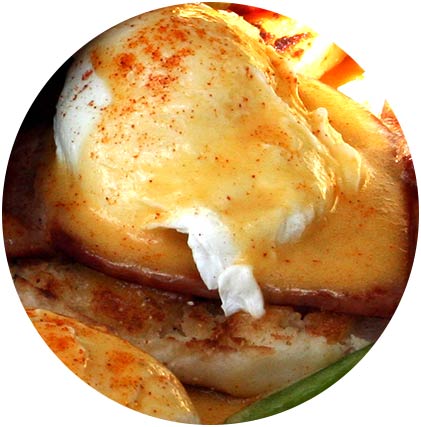 Eggs Benedict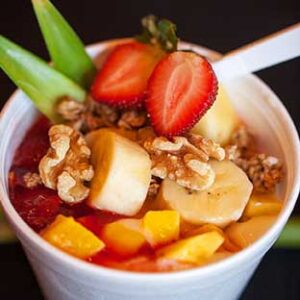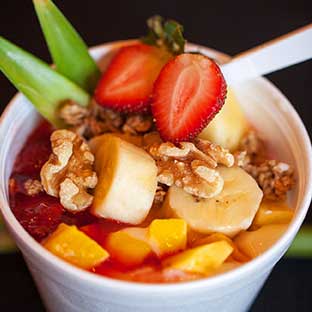 Try a healthy Acai Bowl for breakfast on Maui at CJs in Kaanapali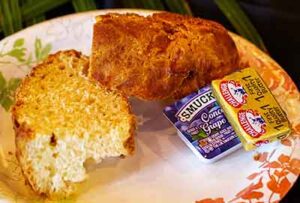 Gluten free toast with jam

Maui Coffee to take home