CJ's MAUI RESTAURANT LUNCH & DINNER MENUS
The most affordable dining in Kaanapali!
CJ's Deli & Diner is a West Maui restaurant in the Kaanapali Fairway Shops. We're Open Daily from 10 am till 7 pm. Breakfast, Lunch and Dinner is available from 10 am to 7 pm, including Complete Lunch Plates, Burgers, Deli Sandwiches and Fresh Green Garden Salads.
Missed breakfast? Our limited 'Late Breakfast Menu' is available after 11 am till 1 pm.
The Best Loco Moco on Maui is Served ALL DAY!
OUR AIR CONDITIONED DINING ROOM IS OPEN!
Order Take Out in Kaanapali by calling us at (808)419-0889. Or, get breakfast, lunch or dinner delivered in West Maui via the 808PickUps app.
Celebrating? Enter our Dress Up Maui Dining Contest. Get the details here.
Menu Item
Price
Full Plate Mango Glazed Ribs
$18.00
Mixed Grill Big BBQ
BBQ Ribs, Fish & Chicken
$18.00
Sautéed Catch of the Day with Lemon Caper Sauce
Market
Volcanic Ahi
Market
Teriyaki Glazed Chicken
$13.00
Fish Tacos (3) with Tropical Salsa
$14.00
Mom's Meatloaf
$14.00
Kalua Pork & Cabbage
$14.00
Mochiko Chicken
$13.00
Royal Hawaiian Plate
Kalua Pork, Fish, Chicken Teriyaki
$18.00
No Starch? See our Gluten Fee Menus or Vegetarian Menus
MAUI's BEST & MOST ONO "Loco Moco"
Beef Patty, Grilled to Perfection, Served with 2 Eggs, Potatoes or Rice, Topped with Maui Onion Gravy - Loco Moco is Available All Day!
$13.95
PINEAPPLE FRIED RICE - A Meal in Itself!
Made with Pineapple, Pork, Beef, Peppers & Onions - Vegetarian or Chicken Version Available
$13.00
HEALTHY GRAIN BOWL
with Fresh Vegetables and Choice of Tofu, Chicken, or Fish. Choice of Mediterranean or Asian Sauce
$16.00
The Best Burgers on Maui
Menu Item
Price
BURGERS - Burgers are Served with Lettuce, Tomato and Pickle
Old Fashioned**
$10.95
Cheesy Burger**
$11.95
Big Burger Combo**
- Includes Cheddar, Bacon, Maui Onions, BBQ Sauce & Fries
$15.00
Name that Burger** of Yours
- Choose any 3 Toppings
Cheese, Maui Onions, Bacon, Mushrooms, Salsa, BBQ Sauce. You name it, we've got it!
$12.95
Add Fries
$4.00
Veggie Burger w Hummus
$11.95
Life Foods Locally Made on Maui Vegan Burger w Hummus - Vegans Love CJ's Vegan Burgers on Maui!
$14.00
Chicken Burger with Mango BBQ Sauce
$11.50
All Burgers Cooked Medium Unless Specified Otherwise
Homemade Deli Sandwiches and Panini
Menu Item
Price
DELI SANDWICHES, BUILD YOUR OWN FAVORITE!! Select Your Bread, Deli Meat & Cheese and Tell Us How You Like It!
Served with Cole Slaw, Potato Salad, Garden Salad or Potato Chips
BREADS: Brioche Bun, Wheat, White, Rye, Sourdough, Focaccia, Hoagie Roll, Tortilla Wrap
MEATS: Roast Beef, Turkey, Ham, Pastrami, Corned Beef, Chicken Salad, Tuna Salad, Egg Salad
CHEESES: American, Cheddar, Provolone
Mayo, Lettuce, Tomato, Pickle & Onion Included
$11.00
Double Meat
$5.00
Souper Sandwich Deal
Any Build Your Own Half Deli Sandwich & Soup

$11.00
Want Just Soup?
Cup
$5
Bowl
$8
THE PERFECT PANINI
VEGETABLE GRILLE SANDWICH - Farm Grilled Vegetables & Provolone on Focaccia
$13.00
Awesome Sandwiches – All sandwiches served with pickle & choice of potato salad, cole slaw, green salad or potato chips
Menu Item
Price
Classic Rueben
Corned Beef on Rye, Sauerkraut, Swiss Cheese & Island Dressing
$12.00
Chicken Hoagie
Grilled Chicken, Provolone, Roasted Bell Pepper, Pesto Aioli
$12.00
Tuna Melt
Tuna Salad with Provolone Cheese
$11.25
French Dip
The Classic
$12.00
Grilled Chicken Caesar Wrap
$13.00
Sautéed Catch of the Day
on French Roll with Lettuce & Tomato with Mango Aioli
Market Price
Patty Melt
All Beef Patty Served Open Face with Grilled Maui Onions & Provolone on Sourdough
$13.00
Hot Pastrami
With Spicy Mustard
$11.50
The Classic Clubhouse
Bacon, Lettuce, Tomato, Turkey & Swiss Cheese
$12.50
Traditional BLT
Bacon, Lettuce & Tomato with Mayonnaise
$11.00
BBQ Kalua Pork Hoagie
$13.00
Side Orders – Stuff you'll need…..
| Menu Item | Price |
| --- | --- |
| Sautéed Mushrooms | $6.00 |
| Sautéed Seasonal Vegetable | $7.00 |
| French Fries | $4.00 |
| Mashed Potatoes | $3.50 |
| Steamed White Rice | $3.50 |
| Pineapple Cole Slaw | $3.50 |
| Potato Salad | $3.50 |
| Garlic Bread with Parmesan Cheese (2 pcs) | $6.00 |
Pupus – Hawaiian Appetizers
| Menu Item | Price |
| --- | --- |
| Fried Chicken Tenders - 4 Pieces | $8.00 |
| Truffle and Cheese Fries | $8.50 |
| Hummus and Crispy Pita Chips | $9.00 |
| Maui Onion Rings (7 pcs) with Banana Ketchup | $9.50 |
| Coconut Prawns with Sweet Chili Sauce | $9.95 |
Hey Kids! Here's your own special menu! – All Keiki Meals are $8.50
| Menu Item | Price |
| --- | --- |
| Shark Bite Cheeseburger | $8.50 |
| Grilled Mega-Cheese Sandwich (we are talkin' Cheese) | |
| PB (Creamy Style) & Jelly Sandwich | |
| Cheese Quesadilla | |
| Pasta with Garlic Bread | |
| Crispy Chicken Tenders | |
| Lizard Toes & Squid Eyes Soup | |
Great Greens – Huge Salads – Fresh salads with local grown Maui farmers sources whenever possible
| Menu Item | Price |
| --- | --- |
| House Salad with Cucumber, Tomato & Olives | $7.00 |
| Road to Hana Cobb - Field Greens, Bacon, Tomato, Chicken, Cucumber and Blue Cheese | $12.95 |
| Classic Caesar Salad** | |
| Small | $6.25 |
| Large | $9.25 |
| Add Grilled Chicken | $11.95 |
| Add Grilled Fish | $16.00 |
| Hawaiian Chicken Salad - Pineapple, Chicken, Cucumber, Tomato & Won Ton | $11.95 |
| Spinach and Kale Salad - Peppers, Olives, Cucumber, Onions, Tomato | $11.95 |
Sweets & Treats – All of our signature desserts are homemade in house with love
Menu Item
Price
Ice Cream, Ice Cream! We All Scream for Ice Cream at CJ's Maui Restaurant in Kaanapali! CJ's serves Made on Maui Rosalani Ice Cream.
The Famous Banana Split
$9.00
Shakes and Malts

$7.95
Just Ice Cream, 2 Scoops
$6.00
Giant Chocolate Chip Cookie

$3.50
Famous Hana Bar
$2.50
"To Die For HANA BARS" Sundae with Mango Sauce
$8.00
Drinks and things, Fresh brewed coffee and teas
Menu Item
Price
CJ's Own Roast, Regular & Decaf
Remember to Take Home Fresh CJ's Maui Coffee!
$3.00
Root Beer Float
$5.95
Shakes and Malts
$7.95
Bottled Orange Juice
$4.00
POG
$4.00
Fruit Smoothie

$7.95
Whole or Skim Milk
$3.00
Add Chocolate -
.50
Fresh Squeezed Lemonade
$3.50
Bottled Water
$3.00
Fountain Sodas
$3.00
Check Our Daily Specials board for additional dining ideas. If it's not there, we'll try anything once. Just let us know what your heart desires and chances are, we can make it!
We also prepare GLUTEN FREE and other SPECIAL DIETARY MEALS!! GLUTEN FREE MAUI. Gourmet vegetarian dishes and huge salads! Review our Gluten Free Menu or Vegetarian Menu.
Want to cook at home or in your Maui vacation rental on the beach? Ask about CHEFS TO GO – We prep it, you cook it!
Remember to order a Hana Box Lunch Picnic with a cooler and ice for the road to Hana Drive! Use the cooler and get FREE ice refills throughout your vacation.
** Consuming raw or undercooked meats, poultry, seafood, shellfish or eggs may increase your risk of foodborne illness.
*All prices and availability subject to change without notice!!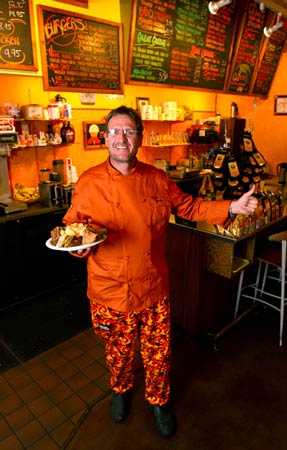 Maui Chef Christian Jorgensen welcomes you to his Kaanapali restaurant for hearty comfort food and affordable dining on Maui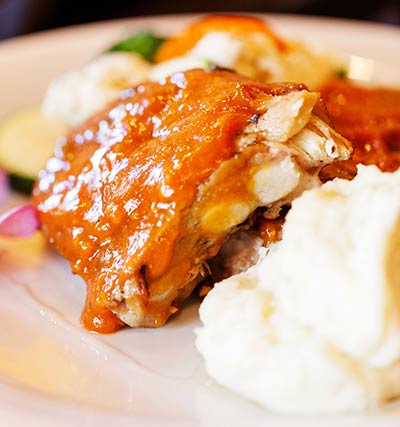 BBQ Ribs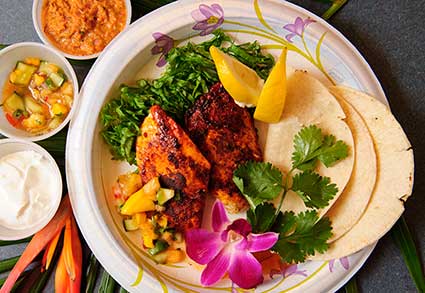 Chicken Tacos on Maui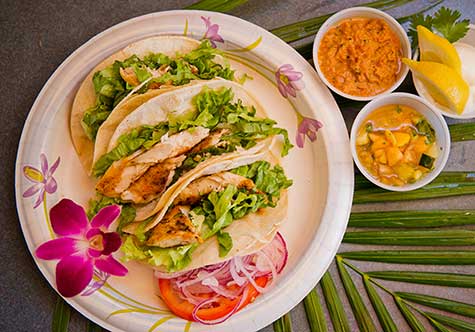 Maui Fish Tacos with homemade tropical salsa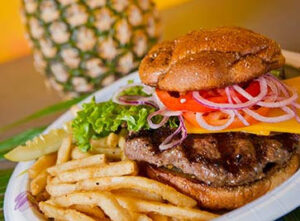 Best Burgers in Maui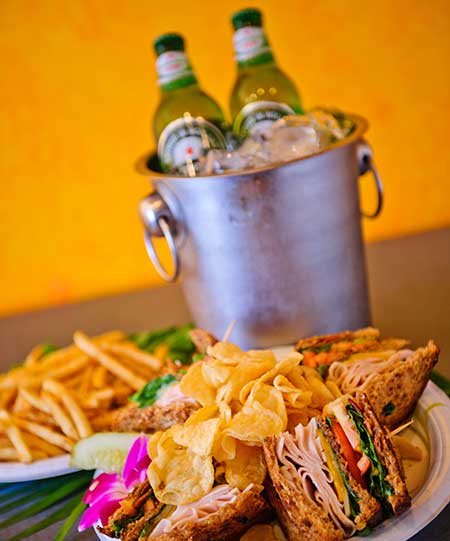 BYOB welcome – Bring a bottle of wine or your favorite beer to enjoy with a  meal at CJ's. We'll set you up with an opener, ice, ice bucket and glasses. No corkage fee!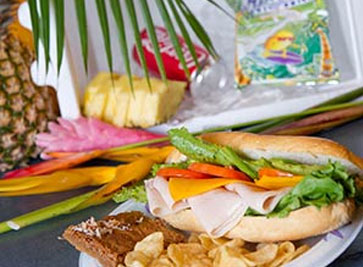 Maui Deli Sandwiches are piled high with fresh meats, cheese, lettuce and tomato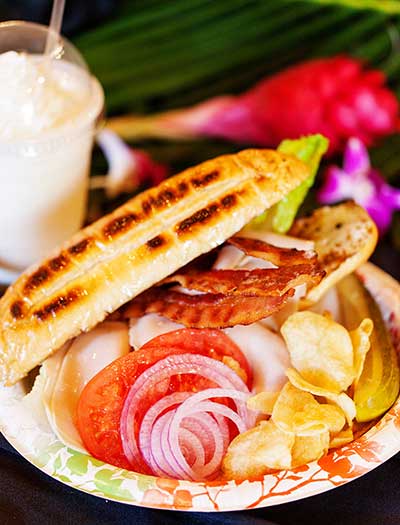 Panini sandwich with old fashioned vanilla malt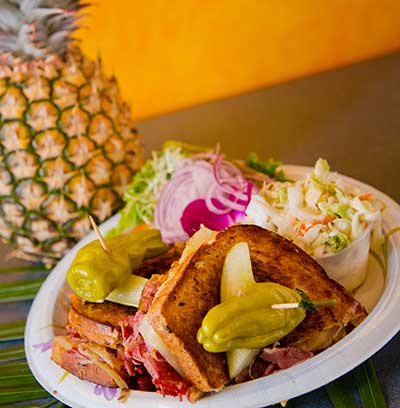 Hot pastrami sandwich or classic Reuben sandwich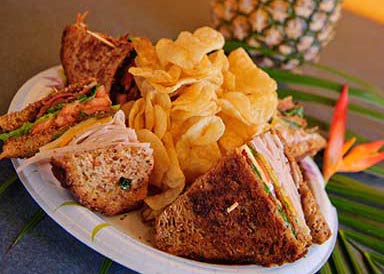 Homemade club sandwich with chips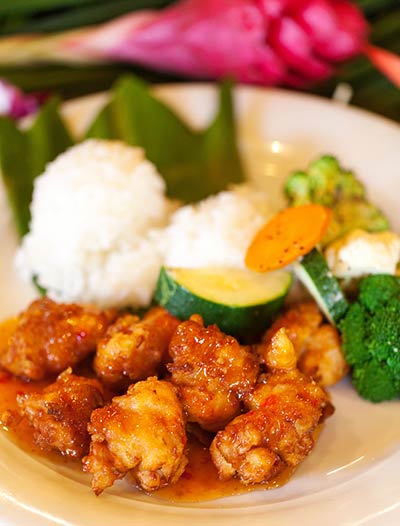 chicken hot wings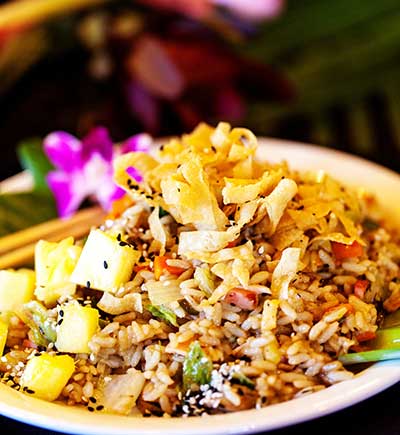 Famous pineapple fried rice on Maui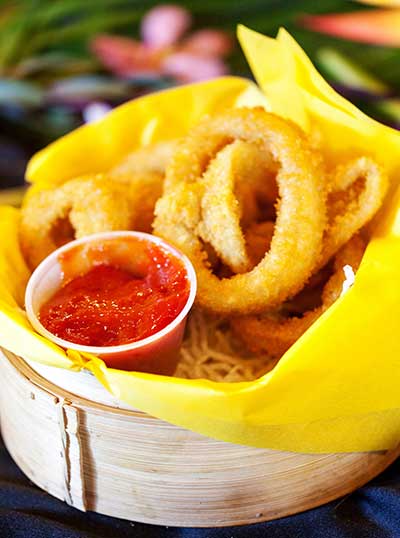 Maui onion rings with maui chef cj's house made banana ketchup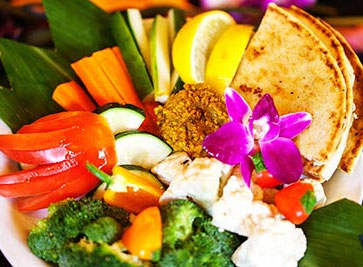 fresh garden green salads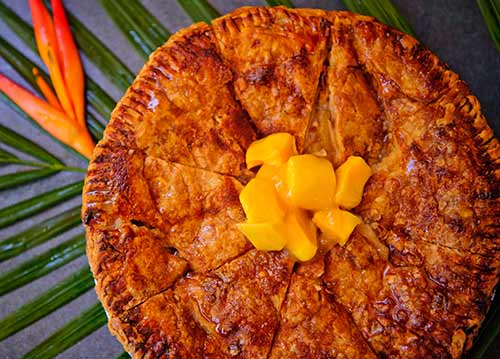 homemade pie on Maui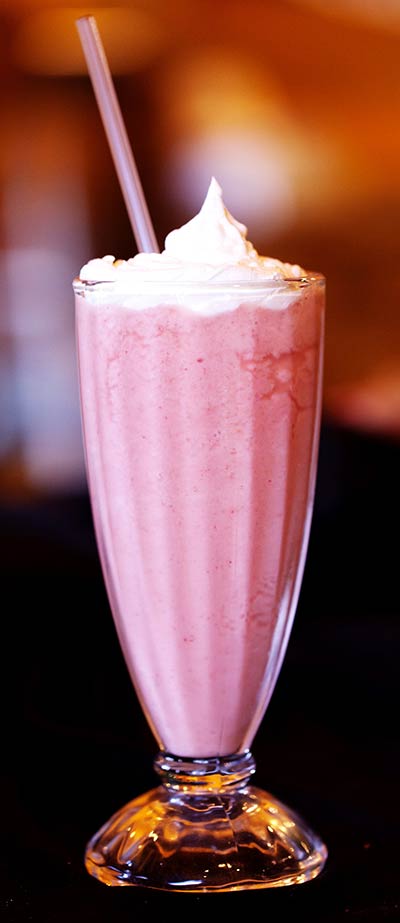 old fashioned strawberry milkshake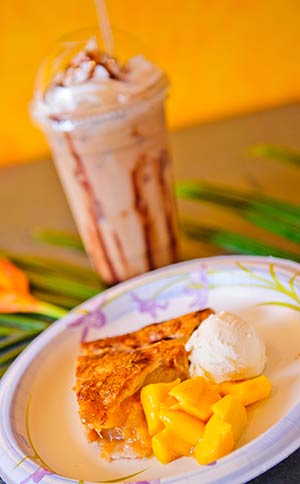 Milk shakes, malts and homemade pie