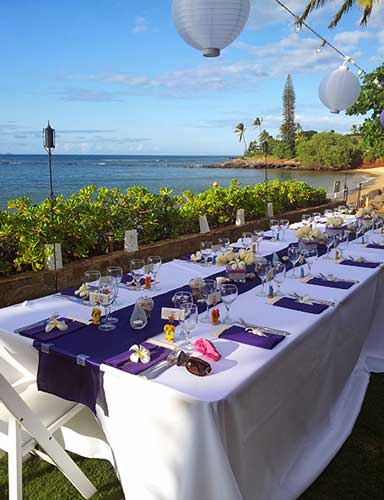 With most destination weddings planned remotely and often without the traditional tasting, the usual steps for selecting a wedding caterer may not be an option. Since wedding reception food service is one of the highlights wedding guests remember most, a little more diligence is necessary to plan a wedding on Maui.
Fortunately, modern technology makes it easy and affordable to communicate with Maui catering companies and their chefs. You may use the phone, email and by teleconferencing on Skype or Google Hangouts to interview prospective caterers and discuss your wedding plans. To ensure you receive the best catering for Maui weddings, we recommend asking the chef or catering manager a few questions:
How long have you been catering weddings on Maui? Though the Internet makes it easy to find and review wedding caterers, it's also easy for less reputable caterers to offer services with little front end overhead and investment. Hint: We've been catering weddings on Maui since 2002 and creating delicious events around the world for more than 20 years.
How many weddings or events a year do you cater? If your caterer is too busy will you get the attention you need or will a backup chef be serving at your event while the primary chef attends to a larger event? If your caterer isn't very busy, why not? Depending on the size of the business and if a restaurant or a catering only operation, some will be able to handle more than others.
Do you have a current Maui county business license and when does it expire? Ask for the license and verify the license is current and up to date without infractions or liens.
Do you utilize a licensed kitchen for food preparation and/or cooking? Even if your wedding reception dinner will be cooked or grilled onsite, verify food preparation is being performed in a a licensed catering kitchen. If you think a home kitchen cook is trying to make a couple extra dollars catering small events or private dinners on Maui, ask for the license number and do more homework to verify the caterer. Unfortunately, it is becoming more common to see non licensed home cooks offering private beach dinners on Maui or charging hefty commissions for acting as little more than a sub-contractor for chef services.
Find out if you will be charged driving, delivery or other transportation charges for your wedding location? Depending on the wedding location and the distance from the catering kitchen, there may be charges for driving time or delivery if equipment rentals are being provided.
Will the chef attend the event and personally be involved in the service? You and your guests will enjoy personally interacting with a professional chef preparing your menu.
Are additional fees charged for cleanup and what is included with cleanup? You need to ensure the catering company will clean up after the reception service to properly eliminate and sometimes remove collected rubbish. If your party is large, private estate rentals may not be able to accommodate and you'll need to make arrangements for waste removal when the catering company does not remove rubbish as part of the cleanup.
Do you provide insurance in the event a guest is hurt or gets sick? Pop up catering companies may sound like they'll save you money and could be a fun option for affordable catering on Maui. But if a guest falls over a misplaced electrical extension or gets burnt on an exposed barbecue, does the catering company hold appropriate liability insurance?
Ask your caterer if they offer beverage or bar service for wedding receptions. For example, though we don't hold a license to sell alcohol, we'll share advice about where to buy alcohol and then supply a Maui county licensed bartender to serve your guests along with ice, coolers and bar setup provisions.
If any guests attending your wedding on Maui have dietary needs or are food sensitive, ask if the caterer can accommodate gluten free, nut allergies, vegetarian or other special diets. With my daughters being vegetarian, I have gained extensive personal experience preparing tastey vegetarian menus while we also offer gluten free and vegetarian menu options at my Maui restaurant, CJ's Deli & Diner in Kaanapali.
And of course, get answers to any questions you have! Use the experience getting questions answered to gauge not only that the catering company ability to provide the wedding catering services you need but that the chef and catering team communicate according to your expectations. If you have other questions to help decide on a caterer for a Maui wedding, please use the comments section below to share your own tips.
Request a no obligation quote and get answers to your Maui wedding catering questions NOW:
{{cta('2f3ec34f-8c06-40fc-bb27-75700f95a429')}}