Win $100 CJ's Dollars!!
Easy to Enter! How CJs Kaanapali Restaurant Contest Works:
Place an order from our breakfast, lunch or dinner menus and when you Pick up your takeout order come in dressed up ready to enjoy your fancy meal at home.
We'll snap a picture of you (from a safe distance of course).
You'll be entered into our competition to win $100 of CJs Dollars!
Contest Ends Sunday, May 31, 2020!
Celebrate at home with Takeout Dining on Maui. Let us know you are celebrating a special occasion and we'll prepare a carryout meal you'll love!! Perfect for celebrating anniversaries, birthdays, graduations, arrival of a new baby and any other special event you are celebrating on Maui. Or, consider just celebrate being happy and surviving another week during the pandemic. Stay healthy and eat well!!!
Listen to our radio interview with Shaggy to find out more about the Dress Up to Dine at Home on Maui contest:
Part 1 of Radio Interview
Part 2 of Radio Interview
Below, is a photo of a happy customer picking up their celebration dinner in Kaanapali. We prepared and packed a special anniversary dinner for his spouse and him to dine on at home in West Maui.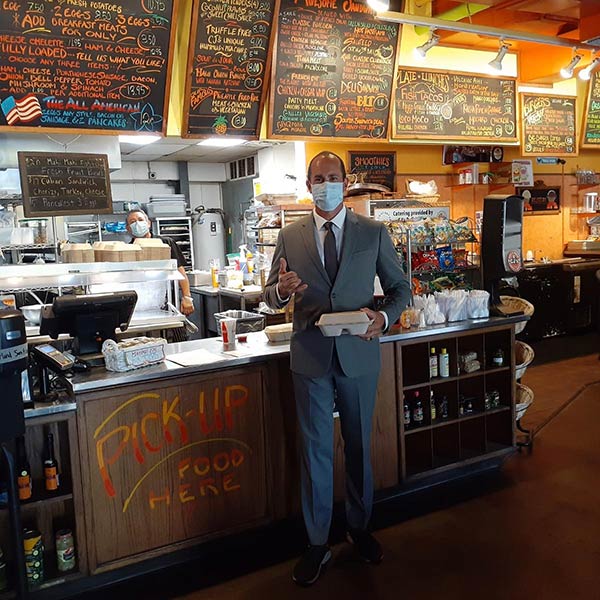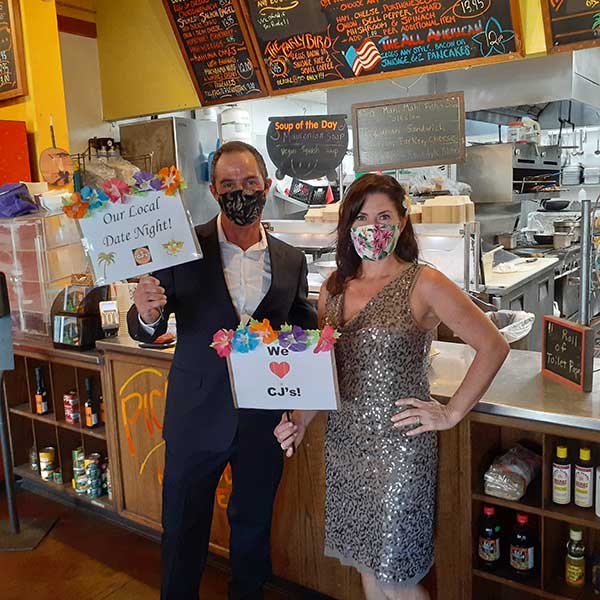 Craving food in Kaanapali? CJ's Maui restaurant is open for breakfast, lunch or dinner To Go! Our complete menu is available for Carryout. Breakfast is available all day. We're open daily from 10 am to 7 pm. Pay over phone, 808-667-0968, for SAFE Contactless Curbside Pickup. Be sure to ask about our $5 Specials, too. Or, try our Chefs to Go menu for an extra special event celebration on Maui. Don't let the pandemic keep you from celebrating on Maui! One call does it all!!
You may also get CJs restaurant food delivered in West Maui by using the 808Pickups app.