You probably think a Family Reunion on Maui will be expensive and difficult to plan. Relax, you won't need to a spend small fortune! Comfort Zone Maui Catering makes it affordable and easy to plan a family reunion welcome dinner, arrange accommodations for your family reunion attendees and to host a casual catered family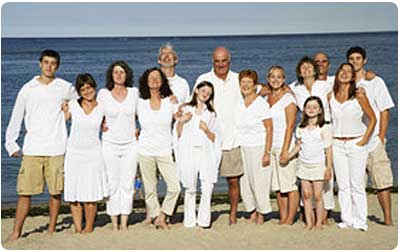 reunion barbecue on a Maui beach. Save money on your family reunion in Hawaii with these three family reunion planning tips:
Minimize or avoid venue and event site fees. When you house your guests at accommodations allowing you to host your family reunion functions on-site, costly location fees or venue fees can be avoided or at least reduced. Housing your guests at the same location where you are hosting events for your family reunion on Maui is convenient and avoids transportation and car rental expenses.
Avoid event planning fees and costly markups by working directly with family reunion service providers and suppliers. Let us know what you would like for your family reunion. We supply musicians, djs or even arrange a full service catered luau with hula dancers, Polynesian drummers and fire dancers. You'll save money with a Maui family reunion package and save time organizing! We also supply the best Maui event equipment rentals such as tents, tables and chairs for your family reunion. You'll save on delivery and setup charges when multiple events re-use the same rental equipment.
Purchase your own liquor, beer and wine. You may purchase alcoholic beverages for your catered family reunion events and use our licensed bartenders to serve your Maui family reunion attendees. Longs, Walgreens, Costco and most of the super markets on Maui stock a big selection of liquor. Costco is most affordable. Purchasing your own liquor avoids costly markups and you'll enjoy the brands you prefer. Our licensed bartenders are available to serve at your event on Maui. Ice chests, serving tables, bars and bar accessories are available. Because a few Maui event venues prohibit off site services, you'll want to verify before you book your family reunion venue.
Please Note: Maui county liquor laws require a county licensed bartender to serve alcohol for organized public events.
Let us know in the comments section below if you liked the ideas above. And, feel welcome to share these Maui family reunion planning ideas with your friends on Facebook or on Twitter. Be sure to read these other Maui family reunion planning tips too!
Considering a family reunion and need Maui beach front venue to enjoy private catered family reunion dinners together each evening as you watch the sunset? Just imagine staying in a luxurious oceanfront private estate on Maui while celebrating your family reunion together!
Fill out the short form for suggestions on rental accommodations suitable for your entire family to stay together at one site and to host the family reunion events. Do you need advice or help planning your family reunion in Hawaii? Maui Chef Christian Jorgensen loves to help plan Maui Reunions, Weddings on Maui and other Maui catered events! Big or Small, we cater them all!
{{cta('e4fe12c3-ee7b-4174-a0dd-ceeddc088abd')}}