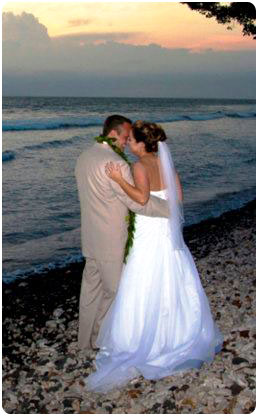 Getting married in Maui is without a doubt one of the best destination wedding locations in the world. With perpetual summer weather year round and scenery nothing short of spectacular, is it any wonder many couples opt to get married in Maui? The number of weddings happening annually is certainly a testament to how much a Maui wedding makes sense for many couples.
Are you ready to explore a few of the many reasons couples are getting married on Maui? Scan through the following 3 reasons why a beach wedding on Maui could be in your future and learn how easy it could be to plan a destination wedding in Hawaii:
It's Easy to Plan a Maui Wedding – Many of the world's best wedding service professionals make their home on Maui! With so many weddings on Maui happening every year it is never an issue to find a seasoned wedding professional ready to help with your wedding plans! From world famous Maui chefs and caterers to wedding planners, wedding photographers and wedding equipment rental suppliers finding the best Maui wedding professionals is nearly effortless. Scan through our Maui wedding catering menus and other options, then share a little about your wedding dreams. We'll customize catering menus and plan every aspect of the wedding beginning with the wedding ceremony through the dessert service with a final toast at the catered wedding reception. We can help with wedding plans as much or as little as you want. We plan welcome beach bbq's and serve a superb day after wedding brunch – Try our homemade Hollandaise sauce recipe.
Getting Married in Maui or Anywhere in Hawaii Easy – Hawaii is one of the easiest places in the world to get married with a simple straight forward wedding and permit process. The state of Hawaii does not require blood tests or impose residency requirements on how long you must be in state prior to getting married or after the wedding ceremony. In many cases, getting married in Hawaii is significantly easier than getting married in your home state or traveling to Puerto Rico or other Caribbean islands for a wedding. If your dream is to get married on a tropical beach, you couldn't make a better decision than to get married in Maui. We think Maui is the best beach wedding location in the world. Use this list outlining age requirments and the general the process for getting married in Hawaii along with links for Hawaii civil union license and Hawaii marriage license applications.
Maui Beach Weddings are Affordable and Casual – Most couples find the cost of getting married in Maui to be less than or no more than the expense of getting married on the mainland. In addition to a smaller guest list, many of the mainland wedding expenses will be eliminated or less. For example, you may not need to pay to rent a wedding hall or reception hall. Instead, house your guests and wedding party in one of the many beachfront vacation rental estates and hold your wedding ceremony with reception at the same location! Casual beach weddings on Maui usually reduce the cost of the bride's wedding dress and rental tuxes for the groom. Save money by purchasing your own liquor and utilizing one of our licensed bartenders to serve wedding guests at your wedding reception.
Those are just a few reasons for getting married on Maui! Looking for additional reasons to get married in Maui? Do It Yourself Wedding Planners save on beach weddings in Hawaii, too! Are you wondering how difficult it is to get married in Maui and plan a beach wedding? Then you'll want to review 4 answers to common questions about Maui beach weddings! And scan through this short list of 6 things to know about Maui Beach Weddings!
Are you ready to start planning the Maui wedding of your dreams? Hit the button below and we'll prompt you to share a little bit of information about your wedding vision then reply with a preliminary quote or advice to make your Maui wedding planning easy.
{{cta('81934c82-f223-41a3-a1e2-3aad5a68d57b')}}