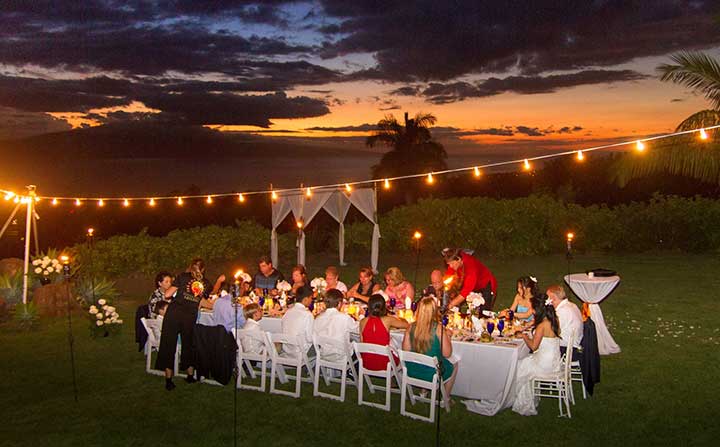 Imagine enjoying a rexlaxing vacation on Maui spending time with your family and friends. The estate vacation rental provides amazing views of the ocean with clear panoramas stretching across the channel to the neighbor islands of Lanai and Molokai. Everyone is gradually streaming back into the vacation beach house after a day of snorkeling and boogie boarding at any one of the many beautiful beaches of West Maui. As the family and close friends begin arriving back from their day exploring Maui, each is greeted with warm welcoming chilled water infused with fresh juice from lemons and a sprig of rosemary. As they begin relaxing on the patio, conversation flows easily as each family member shares the adventure from their day while each adult guest is presented with a refreshing island style Mai Tai or a uniquely memorable Passion Fruit Mojito. Not to be forgotten, the chef prepares a handmade fresh fruit smoothie is ready for the keiki (keiki is the Hawaiian word for children).
Suprisingly Affordable Maui Private Chef Service
While more adventures are shared, a light homemade pupu of chicken skewers with Tai peanut sauce and fresh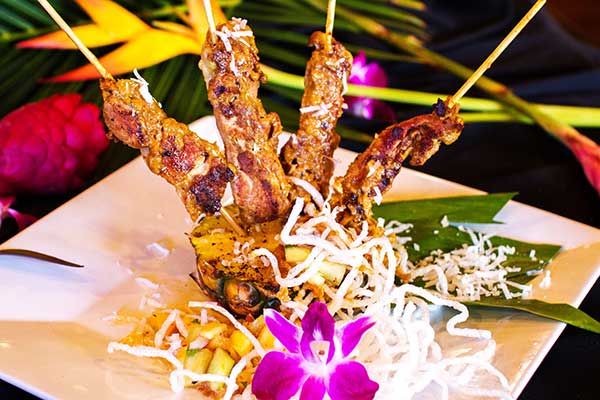 seared ahi set atop cucumber pupus (pupu is the Hawaiian word for hors d'oeuvre) is passed. Instead of rushing around getting ready for dinner or needing to prepare a dinner, wouldn't it be incredible to have a chef prepare a gourmet dinner matching any of the finest restaurants on Maui and not costing anymore? Scan through a few reasons why a private chef experience makes sense and then request a complimentary quote for your private dinner on Maui:
A Private Chef Dinner on Maui is More Personal and Private – You paid for the privelage of staying in a private estate vacation rental or condo, why not enjoy it fully? Use the kitchen to host a private dinner for you and your guests during a vacation on Maui! Dining with only your family and friends is far more intimate and personal than dining in a public restaurant. Our Maui private chef service provides everything you need to indulge in the luxury of a personal chef dinner.
It Doesn't Cost Any More Than a Fine Dinning Experience at a Maui Restaurant – Did you know you can entertain with a personal chef service on Maui and it won't cost more than enjoying a fine dinning experience at a resort restaurant? Review restaurant menus online and when compare costs you'll be pleasantly surprised to find the prices for Maui private chef services are reasonable and comparable to a fine dining experience at resort restaurants on Maui.
Learn More than a Restaurant Dinner – As you and your guests mingle in the kitchen enjoying the welcome signature cocktail the host arranged, Chef Christian Jorgensen teaches the guests how to prepare each course of the dinner and thoughtfully explains why he utilizes the techniques he uses. Learn how to prepare a favorite dish or new cooking techniques. Get cooking questions answered you've always wanted to know!
A Maui private chef dinner for a family of 4 or more will cost no more than fine dining at a resort restaurant in Kaanapali! In comparison to spending an average of $100 to $125 per person for a dinner at a restaurant on Maui, that same family or group could indulge in an inclusive catered dinner with a personal chef and wait staff attending to guests.
Gluten Free and Vegetarian menus or other special dietary needs can be met by Chef CJ and his Maui catering team. Preparing daily meals for two teen daughters who are vegetarian combined with my formal training in dietary cooking and extensive executive chef experiences at large resort hotels, you'll be able to rest assured of creative inspirational healthy meals to accommodate nearly any dietary restriction. Begin Planning a Private Chef Dinner on Maui NOW:
{{cta('646cf88d-2f70-4180-8031-ffe1b29cf7a7′,'justifycenter')}}