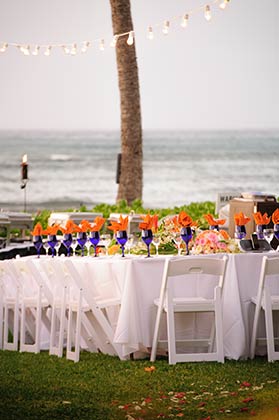 Day after wedding brunches continue to be a popular trend for Maui weddings. After all, you and your wedding guests have travelled thousands of miles to celebrate your wedding so you may as well spend as much time together as possible. Though a few of your wedding guests may cringe at the thought of giving up a morning of golf on Maui to attend a day after wedding brunch, most will be more than happy for the opportunity to spend more time with the couple they traveled to see get married on Maui. After the usual hectic times of the wedding celebration itself, many couples opt to host a day after wedding brunch to spend more time with the guests who traveled to their destination wedding on Maui.
After you read through our 3 Reasons a Day after Wedding Brunch Makes Sense for Maui Weddings below, leave a comment sharing your own reasons for considering a post wedding brunch:
More Time for the Bride and Groom to Spend with Guests – The biggest reason to get together for brunch the day after the wedding is to permit the just married couple to spend more time with their family and friends who traveled to their destination wedding on Maui. With digital wedding photography options, ask your wedding photographer if they are able to provide your wedding images in time for the day after wedding brunch. If so, a day after wedding brunch is a great way to relive the wedding day and share the wedding photos with your guests.
More Casual than the Maui Wedding – Certainly many Maui beach weddings are indeed more casual than mainland weddings. Still, a day after wedding brunch provides a casual way to spend additional time with wedding guests without the formality of the wedding itself. Even if you visited everyone during the wedding reception, odds are there were a few guests who would like to spend more time with you after the wedding. A brunch on the day after the wedding provides both the couple who got married and their guests opportunity to reunite once more before the couple departs for their honeymoon or wedding guests depart to travel home. Everything will be less formal and more casual after the ceremony and wedding reception is finished. You and your guests will enjoy a casual day after wedding brunch on Maui!
A Quick Way to Say Thank You – Since you may be traveling a few weeks before you get home and get around to sending out wedding thank you notes, hosting a Day After Wedding Brunch is one of the most thoughtful ways to express your gratitude and appreciation and say Thank You to the wedding guests who traveled to attend your wedding on Maui. Since your wedding guests are on vacation, consider a mid-morning brunch rather than an early morning breakfast.
Planning a wedding or a catered wedding reception on Maui does not need to be expensive or difficult. We have many affordable catering options for both. And, when you utilize our Maui catering service for multiple events such as the guest welcome bbq and the wedding reception or for a catered wedding reception and a day after wedding brunch, we'll create a special wedding catering package providing savings to keep your Maui wedding planning within budget.
Take a look at this short (1 minute, 53 seconds) video from a catered day after wedding brunch on Maui we provided at our restaurant in Kaanpali:
Begin planning a catered wedding reception with a day after brunch now. We'll prompt you for a few details about your Maui wedding plans and then followup with a Banquet Event Order showing the prices and services for your catered events on Maui.
{{cta('3fd99430-bb9b-40e2-a372-39f437755dfb')}}