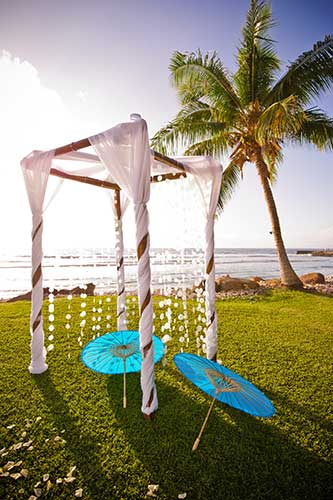 Planning a Maui beach wedding may be the easiest and best way to solve several common wedding planning dilemas and save money too! Destination beach weddings simply resolve several common wedding stress issues, including how to reduce the guest list and the easiest ways to plan an affordable wedding on Maui. Contrary to the mistaken popular opinion, getting married on Maui with a catered wedding reception can be an affordable alternative to expensive weddings on the mainland. Browse through the short list below to find money saving tips on ceremony venues, to reduce the wedding guest list and a few other wedding ideas to use to shave dollars off of any destination wedding budget and still enjoy the tropical Maui wedding of your dreams:
Smaller Wedding Due to Travel – Less guests attending a wedding or wedding reception always saves money and often help solve a thorny issue for some couples. Of course everybody wants their entire family and friends to attend their wedding. That is, until they realize each of those second cousins and in law attending will add to the cost of getting married. It doesn't matter if the wedding is at home or if the wedding is on Maui. A guest is a guest and contributes to wedding costs. Couples getting married on Maui tell us editing or pruning the guest list was one of their most difficult wedding planning decisions. Planning a beach wedding on Maui solved the problem naturally because of the travel logistics necessary to attend as well as the general expenses related to attending a destination wedding. Most couples getting married in Hawaii say their closest friends and important family members always manage to figure out a way make the trip. You can ensure more guests are likley to attend your Maui beach wedding by planning the wedding dates far enough in advance and letting them know to get the best travel and flight deals to attend your wedding.
Beach Weddings Reduce Honeymoon Costs – By staying where you are getting married after the wedding ceremony, honeymoon travel costs may be eliminated or reduced significantly. Since many couples honeymoon in Hawaii, if you host your wedding on Maui you won't need to incur additional airline costs or fees for travel to the honeymoon destination since you'll already be here! Even if you decide to honeymoon on a different Hawaiian island after the wedding, inter-island air fees are reasonable especially if you are able to connect the honeymoon island stop over into your departure with an open jaw ticket. Just let your travel agent or airline reservations agent know you are traveling to Maui for the wedding and would like a layover on the return flight with a stop over on Kaui or the Big Island of Hawaii after the wedding. Many couples skip a seperate honeymoon and stay on Maui celebrating their wedding with their guests.
Beach Weddings are Less Formal and Casual – Less wedding formality saves money! Since most wedding ceremonies on Maui take place at an outdoor wedding venue and many couples dream of getting married with their toes in the sand with a tropical sunset as the backdrop, beach weddings on Maui tend to be more casual and less formal than mainland weddings. A casual beach wedding can reduce or eliminate expenses since the groom may skip the tux or tux rental and casual bridal party dresses are often less expensive. Even with the beach wedding permit fee, getting married on a beach in Hawaii allows wedding savings by avoiding the expenses of church rental. Casual beach weddings save more money when lesser expensive wedding equipment rentals are utilized. If you host a welcome barbecue for your wedding guests to get acquainted and then re-use the same tables and other rental furnishings for the wedding reception, additional savings can be realized. And, you hire the same caterer for the welcome bbq and catered wedding reception or day after wedding brunch most caterers will show their appreciation for booking multiple events. And check out a few more tips for saving money on Maui weddings.
Need a beach wedding location? Grab our FREE eBook of Maui Beach Wedding Locations with pictures and descriptions of popular beaches for a Maui wedding ceremony.
What is your reason for planning a wedding in Maui? Use the comments to let us know. Or, share any questions you have about planning a Maui wedding or catered wedding reception. Ask for FREE wedding planning advice for catered wedding receptions on Maui:
{{cta('ed60f494-7386-4c2e-8e73-ca82f7679a33')}}