In the course of catering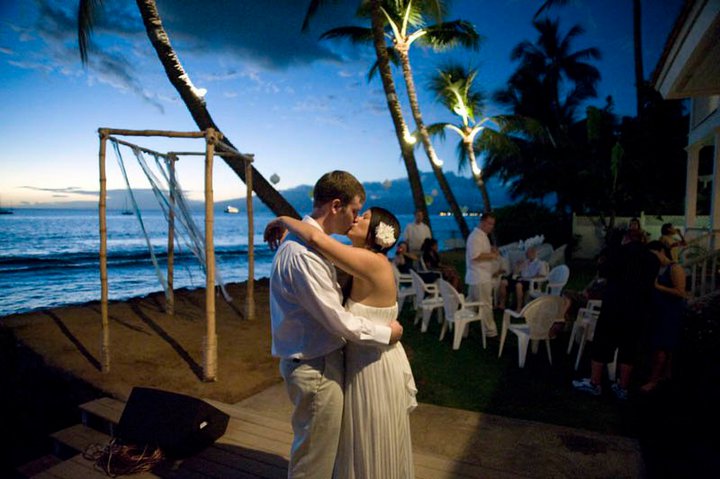 events on Maui for the past 10 years, I've noticed a recent wedding trend emerge. Nearly every inquiry for a Maui catered wedding reception includes a request for signature cocktails. Most couples getting married on Maui request bar service between the time of their wedding ceremony and the wedding reception. The 'cocktail hour' provides opportunity for the wedding photographer to capture the bride and groom sunset wedding pictures. Isn't that one of the reasons you are getting married in Hawaii and why you picked a beach wedding location on Maui? So, with Aloha Friday on my mind, I share a few reasons why serving a personal signature cocktail is a popular trend for destination wedding receptions:
A Maui Chef Provides 3 Reasons Signature Cocktails are Popular at Wedding Receptions on Maui
A signature cocktail personalizes the event with your own taste and style. Utilize the signature cocktail served at your wedding reception to reflect your personal tastes and things you enjoy as a couple. Select your favorite liquor paired to match the colors in your wedding theme. Your guests will appreciate enjoying the same cocktail the two of you enjoy!
A signature cocktail is an opportunity to merge your enjoyment of paradise with the tropical flavors of Maui. Fortunately, Maui offers an abundance of fresh tropical fruits, herbs and spices available to combine for the perfect marriage of ingredients catering to your style and tastes matched with the natural beauty and ambiance of your tropical island wedding in paradise. Since you've already decided on getting married on Maui, design a cocktail featuring one or more of the many fresh tropical fruits seasonally available on Maui. Localize your wedding reception signature cocktail for your destination wedding in Hawaii by featuring one of two unique ingredients: Did you know Hawaii is the only US state growing coffee and vanilla?
A signature cocktail adds a personal touch to your wedding while ensuring wedding budgets are met. Since you'll decide the ingredients for your signature cocktail, including the brands and quality of the liquor, wine or other ingredients. Serve a single signature cocktail of your choosing along with beer, wine and champagne to minimize your wedding expenses by avoiding the cost of a hosting a full bar service.
Chilled sangria offers a refreshing alcoholic beverage and is an affordable alternative to traditional cocktails with hard liquor. Having difficulty selecting your own signature cocktail for your wedding won Maui? Try one my signature cocktail creations, the Maui Lilikoi Mojito. The Maui Lilikoi Mojito is a play on the classic Mojito with the addition of fresh Maui Lilikoi. Lilikoi is the Hawaiian name for Passion Fruit! What could be more perfect than a passion fruit signature cocktail for the passionate couple's wedding on Maui? We enhance the original Mojito with local Maui Lilikoi combined with muddled fresh mint locally grown on Maui. Then, we garnish the Maui Lilikoi cocktail with a little more Maui flavor using a raw Hawaiian sugar cane stick for the stir stick. Get my complete Maui Lilikoi Mojito signature cocktail recipe.
Limit the time for your cocktail service to an hour or hour and a half. This allows plenty of time for professional wedding photographers to capture the new bride and groom's wedding photographs as well as family shots and a photo shoot of the wedding party. Any longer and your guests may get antsy and possibly over indulge while waiting on the rest of the wedding reception celebration to get underway. One way to ensure guests don't get hungry is to accompany your wedding cocktail hour with pupu
service. Pupus is the Hawaiian word for hors d'oeuvres. Your guests may enjoy passed pupu service, an appetizer buffet or other cocktail hour food service.
If you need more signature cocktail ideas or inspiration to plan the bar at your Maui wedding, be sure to review a few of our past atricles on cocktail receptions:
Have questions about getting married on Maui or need help planning the perfect menu for a catered wedding reception on Maui? It's easy to get answers from the Comfort Zone, one of the best Maui catering companies!
Just hit the button below and provide a little information. You'll receive my personal answers to your Maui wedding planning questions:
{{cta('81934c82-f223-41a3-a1e2-3aad5a68d57b')}}