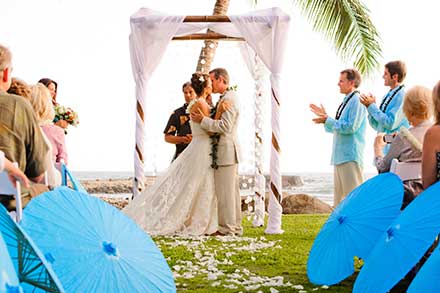 Last week we shared a few ways to get the most affordable catering for weddings on Maui. This week we continue the affordable wedding planning theme with 3 more tips for DIY wedding planners and others wanting to miniminze wedding costs. What would a catered wedding reception be without decorations to complement and enhance the wedding setting? Happily, Maui weddings don't have to be expensive or time consuming to plan. From affordable full service wedding reception catering packages to working with DIY wedding planners looking for the best ways to save time and money planning an affordable Maui wedding, we offer the following four low cost touches to make an affordable Maui wedding reception the most memorable:
Open Umbrellas Add Vibrant Colors to a Tropical Theme Wedding – Several brightly colored bamboo handled umbrellas matched to the color of your wedding theme is a fun way to add a little more color without adding much cost to wedding. You could mix several bright colors or more choose a single color for the umbrellas matched to the wedding theme. Decorative umbrellas could serve dual purpose as temporary shade, too. Do it Yourself wedding planners should purchase umbrellas at Pier One, Walmart or other retail stores on Maui. Be careful of spending time shopping for wedding accessories or investing money in things you'll throw away after the wedding and before departing for home or a honeymoon. If you are already renting tables, chairs or other equipment for a wedding or wedding reception with delivery fees to drop at a Maui wedding location, adding a few umbrellas will probably be more cost effective than purchasing. And, you can spend your time at the beach.
Low Cost Lighting for Accents – If your wedding reception will go past sunset you'll probably want to use artificial lighting. Add a little modern flair to your wedding with Euro lights strung between palm trees. If your wedding reception dinner will be served under chuppa, low cost lighting could be strung from the cross beams or on the poles. Or, consider using Tiki Torches for lighting at outdoor wedding receptions. After the sunsets, a few strategically placed tiki torches add the perfect unmistakable tropical touch to a catered wedding reception. If you are a DIY wedding planner we can arrange the supplier for rental lighting to accent your wedding style. Or, ask about tiki torch rentals when we are planning the perfect catered wedding reception dinner menu.
Fresh Tropical Flowers in Glass Vases for Affordable Wedding Reception Table Centerpieces – Submerged orchids in clear glass vases makes a stunning tropical table centerpiece for afternoon or sunset weddings on Maui. Ross, KMart and a few other retail stores on Maui sell low cost glass vases for DIY wedding planners to pick up and we'll arrange for the orchids to match your color theme along with other flowers and lei for your Maui wedding.
Do you have ideas for an affordable destination wedding? Use the comments section to share your ideas with other couples. Need a beachfront Maui wedding location like the Olowalu Plantation House or more wedding ideas? Or, if you need assistance customizing wedding reception catering menus, just ask the chef for help. Tasty food and fun will make your Maui wedding reception memorable! Hit the button below to Get the Party Started! You'll prompted to share a few details about your Maui wedding plans.
{{cta('ed60f494-7386-4c2e-8e73-ca82f7679a33')}}