Do you think getting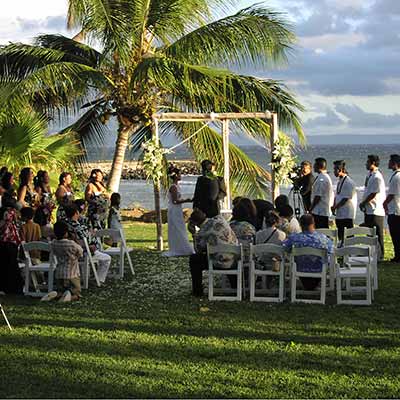 married on Maui or planning a destination wedding on a tropical island will be more difficult and costly than planning a wedding in your home town? We hear couples explaining the wedding planning process was smoother and solved several problems they were having before deciding getting married on Maui would be easier. If you are anxious about planning your wedding and trying to make everyone happy or unsure how to decide which guests to invite while staying within your wedding budget, read how getting married on Maui solves 3 common wedding planning problems:
Too Many Guests – Are you having difficulty pruning the guest list without risking annoying your lovable great aunt Mabel by not inviting her to your wedding or concerned that a friend from high school who stalked you on Facebook will show up at your wedding if you don't invite her? A destination wedding will invariably prune your guest list without you needing to make the hard decisions of who can or can't be invited. Since a destination wedding requires attendees to make the extra commitment of planning and time to attend and bear expenses of traveling to your destination wedding on Maui, some invitees will simply not be able attend. Therefore, your wedding guest list will be smaller. Many catered wedding reception services are attended by 25 to 60 guests.
Reduce Wedding Costs and Expenses – Since you were going to plan for and pay for a honeymoon anyway, a destination wedding may cut some costs when compared to the expenses of a large wedding in your hometown. This is especially true if you combine your wedding with your honeymoon. In addition to the possibility of saving on travel, destination weddings are usually smaller than a hometown wedding. Floral and décor costs are less costly when the natural scenery provides décor. Certainly no need to pay to recreate a theme for your wedding and wedding reception when you are getting married on Maui! Your wedding reception and rehearsal dinner will likely cost less as many skip the traditional sit down restaurant rehearsal dinner opting instead for a welcome barbecue on the beach where some weddding guests will meet each other for the first time. And don't worry, if you decide you need to rehearse the wedding, you'll still have plenty of time and opportunity to ensure everything goes smoothly during your wedding ceremony on Maui.
Too Many Traditions and Formality – Are you getting badgered by your uncle Sylvestor's wishes for you to incorporate your grandma's favorite heirloom into you wedding? Are you worried about hurting the feelings of a respected elder by not getting married in the same church your third cousins were married in? Have you received other awkward requests for your wedding and have no intention of including but have concerns about hurt feelings?

Stop stressing and start planning your own destination wedding in Hawaii!

You'll be able to ignore or at least subdue those ridiculous wedding suggestions or demands for tradition as most tropical weddings on Maui are more casual and simple. A simple beach wedding on Maui eliminates many of the frustrations of trying to fit everyone else's requests and traditions into your wedding plans. When you plan a destination wedding, it is your wedding and your wedding coordinator or professional wedding planner will skillfully create the wedding of your dreams. Yes, we can include whatever traditions you want included and a Maui wedding can be as formal or informal as you'd like. Though, most weddings on Maui tend to be more casual and include less of the formal traditions. Many couples opt to include a few Hawaiian wedding traditions such as the exchange of lei as part of their wedding vows or include a Hawaiian chant and blowing of the conk shell to announce the beginning of the wedding ceremony.
Your wedding planning should be fun and stress free. Ready to skip all the pressures of planning a wedding at home? We make it easy to plan a destination wedding and catered events on Maui!
One call does it all. We plan it, we book it, we cook it, and then we serve it. Request a quote for one stop wedding planning and catering on Maui:
{{cta('5bb5c1dc-68e2-4f9d-b5f2-ace478a2f76c')}}