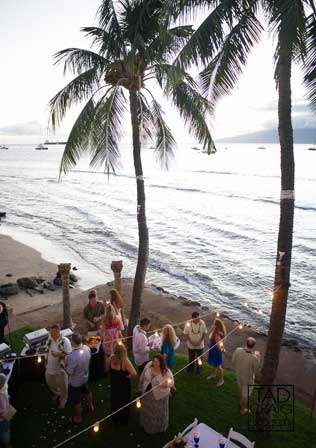 So you want a destination wedding but think it will be difficult to plan or expensive to get married on Maui? Or, you want to plan every detail of the wedding yourself, selecting each wedding service provider and matching what is offered to the details of your perfect Maui wedding dream? Concerned about not knowing anyone on Maui or unfamiliar with how to go about finding a wedding officiate to perform the ceremony? Haven't visited Hawaii or uncertain of the best beach wedding locations on Maui? Wondering how you'll find a caterer for the reception without tasting the food in advance or how to find a DJ on Maui to spin your favorite tunes and keep the reception lively? Rest assured, you have nothing to worry about! There are many wedding service providers who are happy to work with do it yourself wedding planning couples. Though you can find all inclusive wedding packages on Maui, many provide just the services you need or will introduce you to providers ranging from wedding equipment rentals or their favorite off the beaten path location or exclusive wedding venues on Maui. With the ease of planning a wedding on Maui and rise in DIY brides who want to plan their own wedding down to the last detail, we thought we'd share a few of the ways we save couples money when they are getting married on Maui. After you quickly scan through these 4 money saving tips be sure ask for a FREE Maui wedding catering quote:
Help for Do It Yourself Wedding Planning on Maui
Thanks to Tad Craig for Maui Wedding Photography displayed above.
Does an affordable Maui wedding sound realistic and ready to start making use of the do it yourself wedding planning tips presented above? Begin planning a wedding in Hawaii or find out how much getting married on Maui costs? Hit the button below and we'll prompt you to supply a few details about your wedding visions. Afterwards, we'll supply a no-obligation quote for wedding catering on Maui or a complete Hawaiian style wedding package with everything included! We'll provide as little or as much help as you need to make Hawaii wedding dreams come true. Start Planning Your Wedding on Maui Now:{{cta('81934c82-f223-41a3-a1e2-3aad5a68d57b','justifycenter')}}