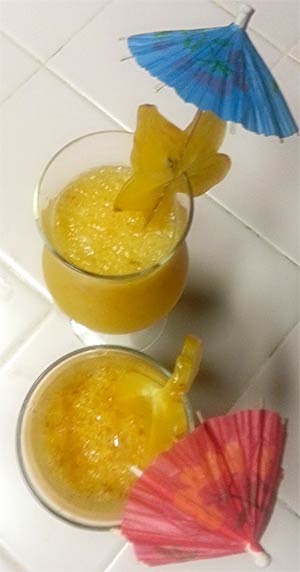 Though Maui doesn't have a Fall season, some of the couples getting married on Maui come from locations where fall occurs complete with colorful leaf changes, pumpkins and gourds aplenty. We know the mainland weather is cooling and fall is on the minds of our wedding couples when they ask what kind of cocktails to serve at their Maui wedding in the fall.
After reminding them it will quickly feel like summer once they arrive on Maui, we accommodate their request for a signature wedding cocktail celebrating the fall season blended with the balmy always summer weather our tropical wedding location on Maui provides! Below, you'll find two signature cocktail recipes using Star Fruit and one for a Fig Melon Martini followed by my own signature cocktail for Maui weddings, the Passionate Lilkio Mojito. Each cocktail is perfect to serve for a cocktail hour before your wedding or as the signature cocktail served at your Maui wedding reception in the fall, or any other time of year! These 4 cocktail concoctions harmonize the fall season with the bounty of fresh fruits and flavors grown locally on Maui. With fresh Star Fruit in season now and fig available, enjoy the following 4 cocktail recipes for fall weddings on Maui:
Star Fruit Cocktail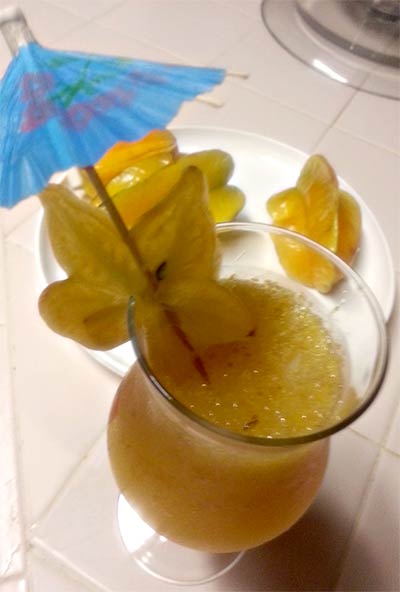 1 star fruit, deveined, plus slices for garnish
1/4 cup orange liqueur
ice
1/2 cup clear rum
1 cup orange juice
1 star fruit, sliced for garnish
Directions:
Blend all ingredients except for garnish.
Garnish with a slice of star fruit.
The Star Fruit Cocktail Recipe Makes 2 Servings.
This recipe is from Food.com.

Star Fruit Cocktail Photos by Philip Johnson of FatIguana Inbound Marketing Agency.
Star Fruit with Ginger Cocktail Recipe
1 lb Star Fruit
1 Thumb Ginger
1 Teaspoon Lime Juice
4 cups water
sugar
To Prepare:
Trim the ends and edges of the star fruit.
Blend Star Fruit and Ginger with Water and Lime Juice. Add sugar and serve chilled.
Makes 4 servings.
This recipe is from Food.com.
Fig and Melon Martini
by Maggie Battista of Eat Boutique
1.5 ounces Fig and vanilla vodka
1.5 ounces cantaloupe puree
0.5 ounces Cointeau
1 teaspoon lemon juice
1 teaspoon maple syrup
Puree 1/8 of a ripe cantaloupe with 2 tablesppons of water in a blender or a food processor.
In a cocktail shaer filled halfway with ice, add all the ingredients, including the cantaloupe puree. Shake until everything is combined and icy cold.
Strain the mixture into a slightly chilled martini glass and garnish with a thin slice of melon threaded onto a woddend skwer around a half slice of ripe fig.
Recipe from Fig Melon Martini Cocktail Recipe.

Fig Melon Cocktail Photo by Heidi Murphy from White Loft Studio.
Maui Chef CJ's Passionate Lilikoi Mojito Signature Cocktail
Of course, we always recommend our own signature wedding cocktail, the Passionate Lilikoi Mojito. A variation of the classic Mojito cocktail recipe, we add fresh lilikoi (passion fruit) from Maui.
Passionate Lilikoi Mojito Ingredients (fresh lime and mint leaves)

2 tbs raw sugar
1 1/2 oz white rum
1/2 lime, cut into five wedges
1 cup ice cubes
10 fresh mint leaves
1/2 cup club soda
5 fresh Lilikoi (strained>
1 raw Hawaiian sugar cane stick
How to Prepare a Passionate Mojito Cocktail:
– Muddle the mint with a lime wedge. Muddling releases oils from the mint and juices from the lime.
– Add two additional wedges of lime.
– Add the raw sugar.
– Muddle again. Do not strain the mixture!
– Add the pulp from the Lilikoi and stir to mix.
– Pour the mixture into a tall glass.
– Fill the glass with ice.
– Pour the rum over the ice while filling the glass with carbonated water.
– Stir. Add sugar to taste.
– Garnish with the remaining lime wedges and a raw Hawaiian sugar cane stir stick.

TIP: To prepare the raw sugar for easier absorption, we use low heat to melt the raw sugar and then chill ahead of time.
Makes one Cocktail Per Recipe.
If you sample the cocktail recipes, please share your opinions in the comments section below.
Ready to plan a Wedding or other catered event on Maui? Get Started NOW!
{{cta('5bb5c1dc-68e2-4f9d-b5f2-ace478a2f76c')}}