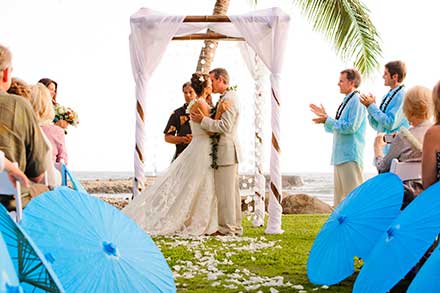 Don't put aside your dream of getting married on a tropical island because you think a local wedding will cost less or because of you believe planning a wedding in Hawaii would be too difficult. Those assumptions are myths! There are plenty of options to surprise even the most jaded future mother in law who doesn't want you to get married in Maui. Take a look and then share your own reasons to get married on Maui or ask Maui wedding planning questions:
Who doesn't want to get married on a romantic tropical island in paradise? Maui is one of the most beautiful wedding locations in the world! A Maui wedding fulfills every dream for anyone wanting a tropical wedding. Because so many couples get married on Maui, the local wedding industry is well established with plenty of experienced wedding professionals available and nearly every conceivable option available from simple affordable weddings to the grand and extravagant. From world class chefs to prepare the wedding reception dinner to Grammy winning musicians – Maui offers it all when it comes to weddings!
Getting Married in Hawaii Costs Less. Not only will the guest list be shorter than a mainland wedding, plenty of opportunity exists to save money. Expensive wedding hall rental costs can be avoided or minimized by utilizing a wedding ceremony location with onsite accommodations for guests. Wedding decoration costs are reduced by hosting an outdoor wedding in Hawaii utilizing the natural beauty to incorporate natural elements. Tropical wedding flowers including ginger, orchids and heliconia create spectacular natural arrangements while the fragrant scent of tropical plumeria and tuberose are carried on light trade wind breezes. Imagine getting married beneath a linen draped bamboo chuppah adorned with fresh tropical flowers as the sun sets into the pacific just behind you and your loved one. After the ceremony and wedding photos, you and your guests move to the adjoining wedding reception area for a traditional Hawaiian Luau served under the stars with the soothing sounds of ocean gently lapping at the shoreline. Affordable Maui weddings are realized further when couples purchase their own alcohol along with our licensed bartender services. Here are a few more ways to save money on a Maui wedding.
Hawaii weddings are usually more casual than traditional weddings. Everything from hosting a beach barbecue for a reception dinner to using local tropical flower arrangements can save money on Maui weddings. Skip the expensive bridal gowns and tuxes or limo rentals! A casual wedding on Maui makes destination weddings affordable. Though some still opt to wear a traditional wedding dress and tux, most couples getting married on Maui and their wedding guests prefer the island vibe and dress casually or semi-formal. Instead, brides often choose a less costly wedding dress and brides maids are able to spend less on their dresses. If you decide you do want to mix some of the formal wedding traditions with an island wedding, you'll have no problem finding anything you want. Tux rentals on Maui are available for grooms and groomsmen and brides may ship their dresses to Hawaii or purchase locally.
No Need to Worry about Aunt Mildred Interfering – Though they usually mean well, nearly every family has one of those relatives who want to unduly influence family functions or insist on planning details for family gatherings. Since a wedding is more than a family gathering and includes the couples closest friends as well as family members, sometimes those well meaning relatives opinions just aren't welcome or wanted. Getting married in Hawaii often eliminates this annoyance especially if Aunt Mildred hasn't been to Hawaii, doesn't know the islands as well as the couple getting married or can't travel to attend a Maui wedding.
Ready to start planning a tropical wedding in Maui? We are available to offer as much or as little wedding planning help as you want and need. From full service catering with everything planned and provided to self-service catered events with pickup options and catering equipment rental, the choice is yours! Count on us to not only plan and arrange your wedding but to provide the best Maui wedding catering value!! Start planning a Maui wedding today:
{{cta('2f3ec34f-8c06-40fc-bb27-75700f95a429')}}