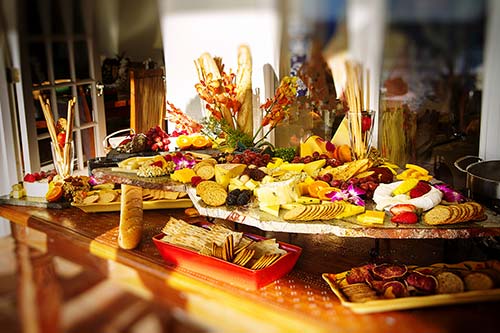 While an elegant oceanfront dinner under the stars is nearly everyone's favorite dream for a wedding reception dinner, alternatives exist for affordable catering with tropical wedding ambiance or to expand an elegant full service catered wedding reception dinner.
Quickly scan through the following four reasons to include an International Cheese display in your Maui wedding catering budget and view more details from a catered reception dinner for a West Maui wedding in Lahaina:
A Stunning Accompaniment for Maui Weddings – Who wouldn't want the opportunity to select world class gourmet cheeses from a handcrafted cheese display featuring a huge variety of the chef's own hand made cheeses, herb nut seasoned cheeses and aged cheeses paired with their favorite artisan bread and locally grown fresh tropical fruits? While each display is unique and artfully created, culinary delights awaiting guests range from aged classics to house made cheeses, some hand rolled in seasoning or infused with herbs and crusted with crushed nuts. The cheeses accompanied by a bounty of locally grown fresh tropical fruits, freshly baked artisan breads, crackers and bread sticks will satisfy even the most sophisticated culinary fan attending a wedding on Maui. Nobody will mind skipping a dinner at their favorite Maui restaurant to partake in the delicacies available on an International Cheese Display.
Sizes Available for all Wedding Budgets – From the largest multi-level International Cheese Display served as a pupu before a catered wedding reception dinner at an oceanfront wedding venue on Maui to the smaller International Cheese presentation, nearly anything is possible. Do it yourself brides planning their own wedding on Maui enjoy being able to pick up our takeaway cheese platters along with a fresh fruit tray to accompany small affordable weddings on Maui. Other brides have used our cheese and fruit trays accompanied a homemade hummus tray followed by chocolate covered strawberries and champagne for their day at the spa or while getting their wedding hair prepared. Take a look at our bridal spa party package for ideas with sample catered party menus. Customize a catering menu to match your preferences and budget.
Flexible Maui Catering Option – Cheese displays are among the most flexible Maui catering menu items you could request for a wedding or other catered event. Not only can they be set up and ready for last minute events and weddings on Maui, an International Cheese Display can be created and installed for ongoing enjoyment throughout any catered event. For weddings, we suggest an International Cheese Display to accompany the champagne toast and as a pupu to serve guests while the wedding photographers capture all the scenery Maui is known for at your favorite beach wedding location.
Catering Option to Accompany Maui Wedding Food Stations – If you are considering chef action stations for a wedding, a self-service International Cheese Display is a great way to complement the wedding food station theme without costs to fully staff another chef station. We'll pair the cheeses and match artisanal breads and fruits to the theme of other wedding food stations. For example, one of our most popoular and inexpensive Maui catering menus is our traditional taco bar action food station: A professional Maui chef personally prepares grilled steaks, chicken or fish for tacos with all the fixings for each guest while answering cooking questions or interacting with the guests about the local ingredients. Guests always love the Maui chef's house made salsa recipe (tropical and traditional), too! Cheeses, fruits and breads will be matched to provide a wedding food station so delicious your guests won't even realize they are serving themselves!
Maui Wedding Planning is Easy and Affordable!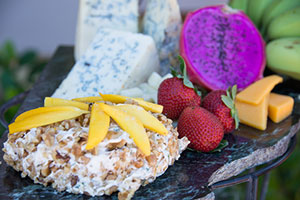 Weddings on Maui don't need to be expensive and planning a destination wedding in Hawaii does not need to be burden.
Use our easy to complete wedding planning questionnaire and we'll help you plan your vision of a wedding day to remember. We offer everything from beautiful beach wedding venues and private estates with full service wedding planning to self service catering for do it yourself wedding planning or budget conscience couples planning the most affordable wedding on Maui. Start planning a wedding on Maui now:
{{cta('3fd99430-bb9b-40e2-a372-39f437755dfb','justifycenter')}}
{{cta('c1354916-fcdd-4e60-8623-19868a9866a3′,'justifyright')}} Not quite ready to begin planning a wedding on Maui? No problem. Start by finding a wedding location and then plan the rest of your wedding from there. Use our FREE Maui Beach Wedding Locations ebook with color images of the best beaches for a wedding on Maui. You'll find locations for a beach wedding in West Maui and for weddings in South Maui. Get the FREE Ebook of Beach Wedding Locations on Maui NOW:
{{cta('fa43fd78-ee95-43c1-840d-5f4a2fbf6804′,'justifycenter')}}

Do you have comments about our International Cheese Display for a catered event on Maui? Please share comments below and be sure to subscribe to our blog for frequent Maui catering tips, wedding planning advice and a recipes from Maui: