With coordination and planning underway for upcoming summer weddings on Maui, we are in the late stages of finalizing wedding catering menus. Several include a hosted cocktail bar service and a few of the brides (and grooms!) utilizing my Maui catering services asked for wedding cocktail ideas. Though I always recommend our most popular wedding cocktail, the Passionate Lilikoi Mojito, I also suggest the classic Maui wedding cocktail ideas: Mai Tai, Blue Hawaiian and Pina Colada. Those cocktails match traditional island weddings or could be customized for a contemporary casual tropical wedding reception. The following wedding cocktail recipes from our friends at Saveur would be fun to serve at a Maui beach wedding reception:
The King Family Fortune

Planning a Hawaii wedding and a fan of 'The Descendants' movie, set and filmed in Hawaii? Try the 'King Family Fortune' cocktail recipe:

With pineapple juice, grenadine, and vanilla vodka, The King Family Fortune plays on the tropical setting of The Descendants. The King Family Fortune Cocktail was developed by Jen Marshall, nitehawkcinema.com's Beverage Director.
MAKES 1 COCKTAIL
INGREDIENTS
1 ½ oz. vanilla vodka
3 oz. pineapple juice
¼ oz. grenadine
INSTRUCTIONS
Combine all ingredients with ice in a cocktail shaker. Shake well and strain the mixture into a collins glass. Garnish with a cherry.
Image Credit: MacKenzie Smith
Saveur Recipe: http://www.saveur.com/article/wineanddrink/The-King-Family-Fortune
Cucumber Gin Cooler
This refreshing update on the classic gin & tonic is an easy sipper, thanks to summery cucumber slices and plenty of lime juice. A note on the cucumber slices: it may be tempting to nibble them out of your drink right away, but try to resist the urge. After several minutes' contact with the lime juice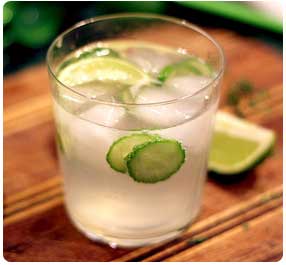 , gin, and sweet tonic water (about as long as it takes to finish the drink) they pickle ever so slightly, taking on a lovely crisp flavor.
MAKES 4 DRINKS
INGREDIENTS
8 oz. gin (like Hendrick's, which has a slight cucumber flavor)
8 tbls. fresh lime juice (from about 4 limes)
1/2 cup thinly sliced Persian or Kirby cucumber, scrubbed but not peeled
Tonic water
Lime wedges, for garnish
INSTRUCTIONS
Fill four glasses halfway with ice. In a cocktail shaker, combine gin, lime juice, cucumber slices, and a small amount of ice. Shake vigorously for 1-2 minutes, and pour into ice-filled glasses, making sure cucumber slices are evenly distributed. Top with tonic water; garnish with a wedge of lime.
Cucumber Gin Cooler Cocktail Image Credit: Helen Rosner
Saveur Recipe: http://www.saveur.com/article/Recipes/Cucumber-Gin-Cooler
The Dalmatian
Coral-pink and slightly opaque, this cocktail (developed by Saveur online editor Helen Rosner) looks demure, but it packs serious heat: bitter and sweet, earthy and deep, with a slow, lingering burn from the vodka and pepper. It's one of those drinks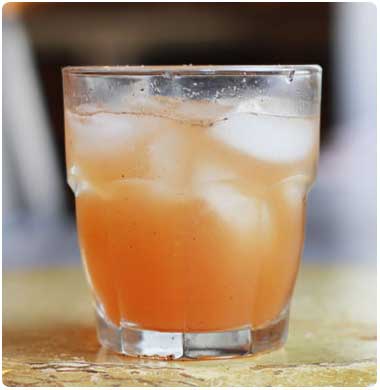 that makes you look at the glass in wonderment after your first sip.
MAKES 1 COCKTAIL
INGREDIENTS
1.5 oz. black pepper simple syrup*
1.5 oz. Karlsson's Gold Vodka or other vodka
3 oz. fresh grapefruit juice
INSTRUCTIONS
Combine the simple syrup, vodka, and grapefruit juice in a cocktail shaker filled with ice. Shake vigorously for about a minute; strain into an ice-filled glass.
*To make Black Pepper Simple Syrup:
1/4 cup crushed black peppercorns
1 cup water
1 cup sugar
Place sugar, water and peppercorns in a small pot and bring to a boil, stirring once or twice. Once sugar is dissolved take off the heat and let cool. Leave the peppercorns in the syrup to lend it a stronger flavor; strain them out when it is spiced to taste.
Dalmatian Image Credit: MacKenzie Smith

Saveur Recipe: http://www.saveur.com/article/Recipes/Dalmation-Vodka-Cocktail
Strawberry Moonshine Julep
Moonshine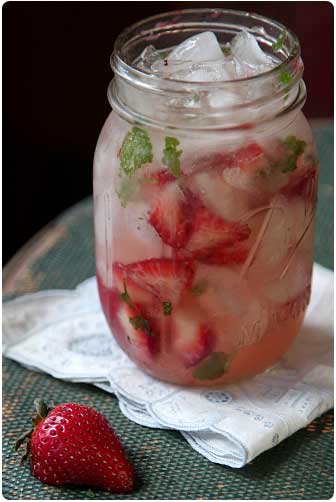 , also known as white whiskey, takes the place of Bourbon in this summery interpretation of a Julep. The crisp flavor of this clear spirit finds a tangy counterpoint in macerated strawberries, sweeter and juicier than berries used fresh. Served in mason jars, they're an ideal afternoon tipple.
INGREDIENTS
2 large ripe strawberries, washed, hulled and cut into 1/4-inch pieces
2 tsp. sugar
3 leaves fresh mint
2 oz. moonshine or white whiskey, like Original Moonshine
1/2 oz. lemon juice
Sprig of mint, for garnish
INSTRUCTIONS
Combine cut strawberries, sugar, mint leaves in a cocktail shaker. Stir and let stand until strawberries are macerated, up to 10 minutes. Add moonshine, lemon juice, and ice to fill the shaker, and shake vigorously for an additional minute. Pour out contents into mason jars, adding more ice as needed. Garnish with a sprig of mint.
Image Credit: Maxime Iattoni
Saveur Recipe: http://www.saveur.com/article/Recipes/Strawberry-Moonshine-Julep
Need more wedding cocktail ideas and Inspiration? See these 10 Signature Cocktail Recipes in Destination Weddings Magazine.
Share any ideas you have and I'll be happy to customize a bar menu or catering menus for you! All my catering menus and party packages are completely flexible and I enjoy creating a custom menu to fit your catering budget and make your Maui wedding dream come true!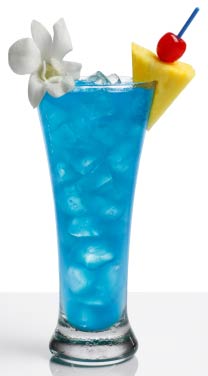 NOTE: Though my Maui catering company is not licenced for alcoholic beverage sales, I'll share with you the best places to purchase your own alcololic beverages on Maui, supply coolers with ice, bar and Maui county licensed bartenders to serve at your Maui wedding reception.
A big trend on the mainland for wedding reception catering is themed food stations with a live chef. Catering food stations are themed to the food being served at the station, matched to the overall event or wedding reception theme or a combination. Active catering food stations provide personal interactions between the guests and chef. A cocktail bar service matched with an affordable Maui catering services package would complete a full theme for your Maui wedding reception. For a few more Maui wedding cocktail ideas, you may enjoy the unusual names of these signature cocktails for Maui weddings or last year's most popular summer wedding cocktails.
Ready to plan a catered wedding reception with complete Maui catering service? Need cocktail service for hosted bar service at your beach wedding reception on Maui or maybe a beach barbecue to welcome the guests who have traveled so far to be part of your Maui wedding reception. Maui wedding catering is easy!
{{cta('3c705b52-78db-41fd-8eff-87e11ca452cc')}}