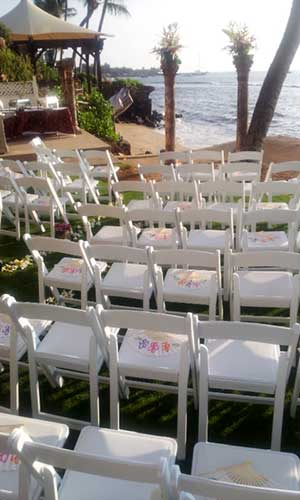 You've decided to embark on an island destination wedding in Hawaii and chosen Maui as the wedding location. Now, you need to find a Maui wedding venue matching your vision and within your wedding budget. You probably have at least a few of the following questions running through your head:
Should I book a flight to explore and find the perfect wedding venue on Maui?
Could I book an oceanfront private estate with guest accommodations for wedding parties on Maui? Can all my guests stay onsite where we are getting married?
Do I need to stay at a resort to host a wedding on the resort grounds?
Are there private banquet halls on Maui for weddings and wedding receptions?
Should I get married in West Maui or in South Maui?
Getting married on Maui does not have to be difficult and planning a Maui wedding from afar has never been easier! Although Maui does not have an abundance of banquet halls for weddings similar to many mainland locations, fortunately there are many equally spectacular options for getting married on Maui! We've listed a few things to consider before selecting from among the many beautiful Maui wedding venues:
Is the Maui wedding venue near where my guests and I are staying?
Maui is relatively small but still large enough and spread out such that you'll want to ensure your wedding location is near the wedding reception venue. Most couples want to avoid additional transportation expenses without asking guests to drive far from the wedding guest accommodations to the ceremony or reception sites. Make is easy on yourself and your guests and stay near where you are getting married. West Maui, upcountry areas of Haiku, Paia and Makawao or South Maui each have unique attributes you'll want to consider before making the final decision. Since we are located in Kaanapali, our favorite wedding locations are in West Maui. However, we cater anywhere on Maui!
Is the venue available for the day of the wedding?
Since getting married on Maui is popular, many of the most highly sought after wedding venues book far in advance of the ceremony date. The most popular Maui wedding venues are often booked a year in advance or more. Because of this, we recommend selecting the wedding location before most other wedding planning tasks are accomplished and as one of the first things to do after deciding on a Hawaiian wedding. Selecting a Maui wedding venue before planning the rest of your wedding will save the most money and provide the most flexibility, too! Still not convinced you should choose the wedding location first? Learn why choosing a Maui wedding location should be one of the first steps of planning a wedding in Maui.
Do we need to take a trip to Hawaii to find a wedding venue on Maui?
Though it can be fun and exciting to be onsite, meet with wedding service professionals on Maui and visit the various wedding venues on Maui, we know most couples getting married on Maui won't want to bear the extra expense or wont' have the time before planning their Maui wedding. Luckily, the Internet makes it easier than ever to find a Maui wedding venue! Any reputable vacation rental with a wedding ceremony site or wedding location provider will have a website stocked with images and ideally video showing the venue features and highlighting the amenities available for weddings on Maui. Most Maui caterers and other wedding service provider websites include descriptions with images of wedding locations.
Are outside wedding service providers allowed?
Most resort hotels on Maui and some private venues for weddings require couples getting married on property to utilize their own staff wedding service providers or to select from a few approved wedding vendors. For the greatest flexibility, ask your caterer or the chef preparing the wedding reception menu for wedding venue recommendations where they know their services are welcome. Some Maui chefs have arrangements and exclusive agreements with wedding venues or private estates. Be sure your favorite chef will be able to provide catering at the Maui wedding venue you want to utilize.
Whether your wedding vision includes a beachfront wedding on Maui or if you prefer an intimate ceremony with all of your family and friends staying in private suites on the grounds of a private estate with amenities suitable for a wedding ceremony followed by a lavish wedding reception with sit down dinner, you'll find plenty of options for Maui wedding venues. From a simple Maui beach wedding ceremony with passed pupu (Hawaiian hors d ouvres) with a simply champagne toast celebration to a complete sunset dinner service with wait staff providing plated dinner service, no request is too big or too small. Our motto is one call does it all for Maui Catering! Looking for Maui beach wedding locations? Download our FREE Maui beach wedding locations ebook loaded with images from Maui beach wedding venues and wedding site descriptions:
{{cta('c1354916-fcdd-4e60-8623-19868a9866a3')}}
Ready to begin making Maui wedding plans? It's easy to plan a Maui wedding and we'll help as much or as little as you'd like. From the simplest takeout catering options ideal for budget minded DIY wedding planners to full service catering options, it all begins when you request a no obligation quote complete with the catering menus and pricing for a wedding on Maui! Just hit the button below to get started. We'll prompt for answers to a few questions to help you share your Maui wedding dream. Then, we'll supply a detailed assessment with costs and plans to create the perfect Maui wedding for you:
{{cta('2f3ec34f-8c06-40fc-bb27-75700f95a429')}}