Since food is one of the most memorable components of a wedding, deciding on the wedding reception menu will be among the most important wedding planning decisions you'll make. After deciding on a Maui wedding location, the next thing to do is to choose a caterer and select the menu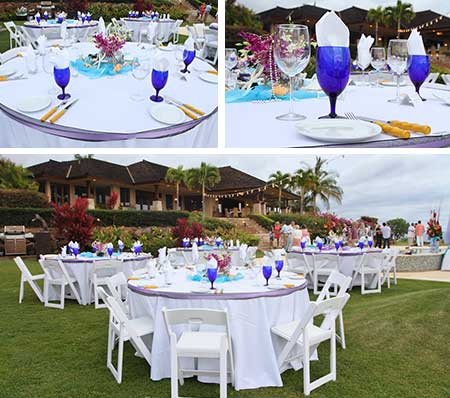 to serve the wedding guests who have traveled to attend your island wedding. If a wedding coordinator is planning the wedding for you, request references to chefs and catering companies before moving onto the flowers, music, photographer or making decisions on other wedding details. If you are just beginning, start with the caterer and ask for wedding location recommendations or for advice on wedding planners or other services. Full service caterers are often able to plan and coordinate or arrange for most wedding services in addition to providing the food service. Since catering is likely to be a significant portion of your wedding budget, choosing a caterer and working with a chef as early as possible gives the most flexibility by allowing you to allocate or reallocate budget for food first and then know the remaining budget available for additional wedding services. If the wedding budget is fixed, either the number of guests will need to be reduced or the menu will need to be adjusted. Learn how to get the most out of a wedding catering budget by reading our four tips on choosing a Maui wedding caterer:
Create the menu first – Because catering is likely the largest single item in the wedding budget and also one of the most important aspects, by understanding the cost of the catering first you'll know what you have remaining of your overall budget to spend on the wedding flowers or to use for catering by using a DJ instead of a live band. Once the reception catering costs are known, you'll be able to maximize the remaining wedding budget for the wedding photographers, flowers and other wedding service. If you find the menu you absolutely want is not within the planned budget, you could decide to reallocate other wedding budget. We often find couples planning a wedding on Maui have already booked several aspects of their wedding and then either need to adjust the catering menu or reduce the guest count to stay within the overall budget.
Decide on a reception menu within your budget – Along with choosing the menu items and the variety of dishes to serve for each course, consider the type of service you want to provide as well. In addition to food costs, your wedding reception budget needs to include any tablecloths, napkins or other linens, china, flatware, chairs, table and other wedding reception equipment rentals. Find out if the catering price includes linen or other items and ask if all delivery charges are included. Some caterers include everything in their prices while most break out pricing for ala cart rentals and other fees. Get catering quotes that include all service charges, vendor referral fees and Hawaii tax and ask if there are any other mandatory tips or other service charges.
Pick menu items matching the style of the wedding reception and reflective of your personalities – Would a plated dinner on fine china with professional wait staff serving guests individually match your style and wedding better than a self-service catered buffet? You'll want your wedding reception menu and the service level to match the style of your wedding and your own individual styles too. The wedding reception menu should reflect unique personalities and what you like to eat at home. Let your caterer know what you eat when the two of you are celebrating a special occasion and what you like if out for a weeknight date. If you cook, share what you enjoy cooking for each other. You'll also want the catering to match the overall style of the wedding. If the wedding ceremony will be formal and at dinner time, most wedding couples serve a complete meal. One way to reduce costs is to get married in the morning and host a brunch instead of the traditional wedding reception. Or, if your wedding is at sunset, serve appetizers or a dessert at the reception rather than a full meal. Be sure to include the type of service on your invitations to let guests know what to expect and plan accordingly. If you have a dinner service planned you don't want the guests to eat dinner before the wedding. Likewise, if you aren't serving dinner you want to let the guests know so they dine before. Some couples are making their wedding catering more affordable by serving pupus along with a sunset cocktail hour after the wedding photo shoot.
Choose a Menu to Serve Everyone – If the guest list includes vegetarian or other special dietary needs, be sure to let your caterer know ahead of time. The catering chef will either design additional vegetarian entrees or include a vegetarian side dish. To accommodate varying tastes of guests, we usually recommend the meal service include a salad, a choice of least two proteins along with a selection of two or three accompanying side dishes followed by dessert. A general wedding menu description typically begins with a fresh garden salad composed of Kula Baby Greens with Vegetables dressed with Miso Vinaigrette followed by the main course including of fresh island fish and choice of island style teriyaki chicken or Mango barbecue ribs served with side dishes of our famous pineapple fried rice. If wedding cake is served (usually with chilled champagne) immediately after the wedding ceremony, finish the reception dinner with a dessert. My award winning homemade Hana Bar Mango Sundae has been a favorite at many wedding receptions on Maui!
Ready to begin planning a wedding on Maui? Then get in touch with me, Chef Christian Jorgensen. You can count on us! My full service Maui catering company is available for wedding and catered events anywhere on Maui. For those looking for most affordable catering options, consider a self-service buffet or a casual beach barbecue as a formal wedding reception alternative or as a guest welcome dinner a few days before the wedding. Let us know your ideas and we'll have fun making it happen within your budget. We welcome Do It Yourself Wedding Planners who only need catering and will include as much or as little planning advice as you want. We also offer pickup or drop off catering options for the most affordable wedding catering on Maui! Ask about renting our chafing dishes and other equipment rentals for self-service catering at weddings or events.
Most of all, HAVE FUN planning a menu you'll be proud to serve the guests who have travelled to your destination wedding! Our goal is to ensure you are more than happy with our service, to provide the best possible value and for every guest to know you appreciated their attendance by the food served! Get in touch with me, Chef Christian Jorgensen for a friendly conversation about planning your wedding on Maui by calling (808)357-8546. Or, better yet, hit the button below for a no obligation wedding catering quote:
{{cta('2f3ec34f-8c06-40fc-bb27-75700f95a429')}}