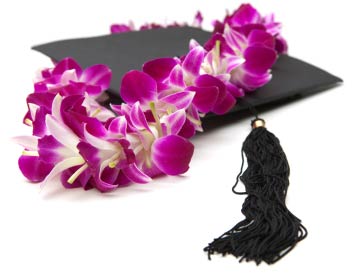 Who wouldn't want a graduation party on Maui? Fortunately, Maui offers plenty of opportunities to celebrate the accomplishments of your favorite graduate and save money with affordable catering options. Whether a local family planning a graduation party to show appreciation for your keiki achievements or planning a graduation party from afar, my team at Comfort Zone Catering company want to help you plan an affordable graduation party on Maui. From a full service catering package with a professional chef personally preparing grilled to order steaks to the most affordable catering with a do it yourself catering option, nearly anything is possible and we'll work with you to create a catered event within your budget. After browsing through the 4 money saving grad party planning tips below, take a look our inclusive graduation party packages for menus and pricing details:
Takeout Catering is the Most Affordable Grad Party Option – No fuss no muss – just let us know how many are attending the party and the date and time you'll be picking it up at my Kaanapali restaurant. Then, all you'll need to do is serve your guests and enjoy the celebration. Order our Takeout Graduation Party package for the most affordable Maui graduation party catering option!
Use a Public Beach Park Pavilion for your Maui Graduation Party – You'll need to get up early to claim one of the best beach pavilions for a party! Though FREE to use, the pavilion at Airport Beach Park and other Maui county beach park pavilions are available first come first served basis without ability to reserve in advance. As an alternative, ask us for details about the private El Dorado Cabana on Kaanapali beach and just down the street from Airport Beach Park. Unless you are willing to arrive at 4 or 5 am to hold a pavilion area for your party, we recommend planning on using popup canopies for shade. In addition to the tables included with our graduation catering packages, let us know if you need chairs, tents or other equipment rental instead of vying for the limited pavilion spaces. Whether in the pavilion or on a shady grass area of the park, guests will enjoy a graduation party at the beach!
Consider a Do It Yourself Catering Package – All you'll need to do is choose the menu and let us know what time to drop off the catered food for your graduation party! Our self-service catering packages are delivered with serving plates, utensils, tables, linens, table skirting, chafing dishes and more. All you need to do is set up a buffet for the guests or you could serve the guests. You'll have everything you need dropped off for the party and included. Or, choose one of our inclusive graduation party packages with full service catering.
Throw a Fiesta Themed Graduation Party with a Taco Bar – With our lowest cost full service catering options, consider catering your graduation party with our Taco Bar cooking station. I'll personally prepare tacos for the graduates and guests attending the graduation party. Complete the theme with additional food stations such as a Burrito bar or a Fajita station. For graduates under 21, we can accompany the meal with homemade Mexican style Horchata (rice drink) or refreshing aquas de fruta, a Mexican fruit beverages made from water, fruit, sweetener and hibiscus flowers or seeds. If your graduates are heading off to college, consider equipping them to cook for themselves by including my Taco cooking lessons with taco recipes and instructional tips on grilling and cooking for themselves! For vegetarians, we'll teach the graduates how to prepare homemade hummus. Did you see my Hummus cooking lesson videos?
Use these 10 Graduation Party Planning Tips for more ideas. Planning a catered graduation party on Maui is easy. Take a look at our catering packages with pricing and menus for menu ideas and catering options or quick ordering. Though available for immediate ordering, the menus may also be customized create a catering package to your liking. Gluten Free and Vegetarian requests are welcome. Anything is possible, and we do it all! Or, begin planning your graduation party NOW:
{{cta('0a6c5528-a852-442a-86ba-5020bc683cb4')}}