If you are considering getting married on Maui, you may be thinking "Where can I find the best Maui beach wedding packages?" or "How do I plan a beach wedding on Maui?"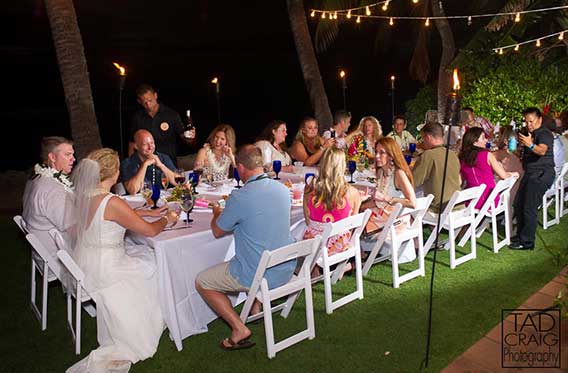 We have a few short suggestions below to help address those questions. One of the best ways to save money is by creating your own Maui beach wedding package. Scan the short list of 4 Money saving beach wedding ideas and then let us know how we can help you plan an inclusive Maui beach wedding package catering to your vision of the ideal wedding on Maui, Hawaii:
Save Money on Maui Beach Wedding Packages
Get Married Where You or Wedding Guests Stay – Choose a wedding location where you or your guests are staying. Using the grounds of the accommodations where you or guests are staying often eliminates additional wedding venue fees. One of our favorite catering locations on Maui, the El Dorado cabana on North Kaanapali beach is an ideal location to host a beachfront wedding with a catered wedding reception dinner following. The grass area djacent to the beachfront cabana is a beautiful area for the wedding ceremony before the wedding reception in the cabana. Your wedding can't be any closer to the beach than the El Dorado cabana! Accommodations at the Outrigger El Dorado offer beautiful modern guest rooms on the Kaanapali Golf Course and use of the cabana requires a minimum length stay. J

ust north of the Sheraton at Black Rock, t

he cabana is only a short walk from the Kaanapali resorts and we are just up the hill making it easy to provide catering for weddings at the El Dorado cabana. Or, check out our third suggestion below for another idea for hosting an oceanfront wedding at a private estate on Maui.
Coordinate the Wedding with a Catering Chef on Maui – Other than the ceremony itself and perhaps the spectacular Maui wedding location, the food served at your wedding reception will be remembered more than just about anything else. Serve memorable food at your wedding in paradise and your guests will be delighted! To save money on Maui weddings, we include FREE wedding planning along with catered wedding receptions and do not mark up for wedding service provider referrals or recommendations. In many cases, we arrange for or supply wedding equipment rentals and decorations or suggest the best wedding service providers to cater to your vision. Prior to opening my Kaanapali restaurant, as an executive chef at some of the largest resorts in the world, I (Chef Jorgensen) planned and catered events and weddings around the world. Use my expertise to create a destination wedding on Maui
Wedding Food Stations – All beach weddings are only permitted a limited amount of time on the beach, you'll need to find another location for the reception after the beach wedding ceremony. Avoid the costs of a catered wedding reception with servers and sit down dinner service. Instead, reduce wedding costs while providing wedding guests opportunity to be involved by using wedding food stations or chef action stations. A professional Maui chef personally prepares a delicious course while talking story with the wedding guests or answering cooking questions and providing culinary tips. We recommend using a few wedding food stations to compliment catered buffet wedding menus with a personal service touch as food is prepared for each guests.
Don't Get Married on a Beach in Maui – Instead of planning of a toes in the sand wedding, consider a private beachfront wedding venue or a wedding venue adjacent to the ocean. All the benefits of a beach wedding are available! Imagine a wedding with breathtaking sunsets for stunning wedding photographs complete with the sound of the surf while wedding guests dance the night away at the wedding reception. An oceanfront wedding might be the answer since it's the best of a Maui wedding without the beach wedding permits and restrictions. One such oceanfront wedding location in Lahaina is the White House with accommodations, a heart shaped pool and a location for an oceanfront wedding ceremony with a reception dinner following. The private estate oceanfront wedding venue accommodates up to 60 wedding attendees. Reserve the vacation rental and get married onsite without additional wedding venue fees.
For more ways to create inexpensive Maui wedding packages, take a look at 5 Ideas to Customize Affordable Maui Wedding Packages and 6 Things to Know About Getting Married on Maui Beaches. Wondering How Much Does it Cost to Get Married on Maui? Hit the button below to use our short Maui Wedding Planning Questionnaire and we'll supply a no-obligation estimate for a wedding on Maui:
{{cta('2f3ec34f-8c06-40fc-bb27-75700f95a429')}}
If got married on a Maui beach and have additional suggestions for couples considering a beach wedding on Maui, please share your ideas in the comments section below. Mahalo