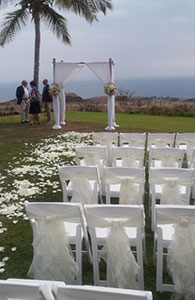 It's down to the final wedding arrangements: You've found the perfect Maui wedding location to get married; you've arranged for an officiate for the wedding ceremony; tropical flowers will be delivered; you've obtained quotes from caterers and found a chef who shares your vision for the catered wedding reception service. Then, while reviewing the budget and to your dismay you suddenly realize the wedding plans exceed the budget for the wedding. What to do?
How can you get married in Maui and stay within the wedding budget? Don't despair! Instead of giving up or deciding to plan a wedding closer to home, scan through the short list of 4 options to reduce the wedding budget! Afterwards, use the comments section to share any of your own ideas for saving money on a Maui wedding:
Reduce the number of guests attending the wedding on Maui – if you the menu has been selected with the final cost per head set, among the limited options available is to reduce the number of guests attending the wedding. Eliminating guests from the guest list is probably the most common option for Maui weddings and fortunately you may not need to make the difficult decisions yourself. With travel expenses and logistics of travel, destination guest counts are generally smaller than attending mainland weddings. We find the average wedding size on Maui is between 40 and 60 people. So, instead of eliminating guests before you invite them, let the guests opt out on their own.
Adjust the Wedding Reception Menu – Ask the catering chef for suggestions for adjusting the menu or service to reduce costs to stay within your wedding budget. If you are planning a seated dinner with wait staff, opting for a buffet will reduce the number of serving staff and costs. If you were planning on serving steak and lobster to guests attending a seated wedding reception dinner, they will probably be just as happy with fresh fish or barbecued shrimp and local style Huli Huli chicken served with locally grown gourmet upcountry greens. Interactive chef stations where guests serve themselves may also reduce the costs.
Eliminate the full service reception dinner or scale it back a little – opt for passed appetizers or a buffet dinner instead of a sit down plated dinner for the wedding reception. Consider hosting a beach barbecue reception with island barbecue flavors served luau style. Since some families of destination wedding couples may be meeting for the very first time after arriving on Maui, another option is to host a welcome barbecue instead of the wedding reception. A champagne toast or passed pupus at the wedding reception may be all that is necessary. If your wedding overlaps dinner hour or ends just prior to dinner time, most wedding guests will be disappointed if some sort of food service is not provided. For the most affordable catering on Maui and ideal for Do it Yourself Wedding planners, our self-service catering packages may be the best option for a catered event on Maui!
Get married in the morning or early afternoon – Save money on catering for Maui weddings by getting married in the morning or early afternoon. Guests attending a morning or early afternoon wedding are happy when served a light catered breakfast or lunch. A morning wedding followed by a wedding brunch is another perfect way to reduce destination wedding costs. Who can resist a homemade hollandaise sauce on eggs Benedict served with Norwegian salmon or traditional style with smoked Canadian Bacon? Catering for after wedding brunch costs are usually less than an evening dinner service and guest expectations are easily fulfilled with less extravagant menus.
Are you ready to get married on Maui? Hit the button below and we'll help as much or as little as you need. Provide a few details about your Maui wedding plans and we'll do the rest! Get the party started now:
{{cta('a7b64553-9414-40e5-8a72-6b9488f4baff')}}