Thinking about cooking up something special for Dad on Fathers Day? Not certain where to start or the amount of ingredients necessary or what to purchase at the market before cooking on Fathers Day? Read on for a day's worth of easy recipes to use to prepare comfort foods for your pop or any other day you want to cook! Start his day with homemade Eggs Benedict. Use my easy to make homemade Hollandaise Sauce recipe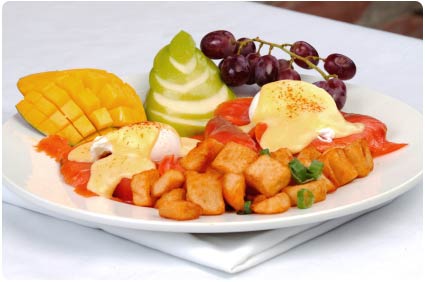 . For lunch, follow the directions below to prepare my recipe for homemade Fried Green Tomatoes served with Roasted Red Pepper Aioli. Then, follow my short cooking video to learn how to prepare homemade Hummus to serve as a healthy appetizer before dinner or as mid afternoon snack. We close up with a Coconut Shrimp recipe and my made from scratch Mango Apple Trifle for dessert. Share your experience or questions after you make one or all of these recipes:
Eggs Benedict – Begin the day with homemade Hollandaise Sauce for an Eggs Benedict breakfast or brunch! What dad wouldn't want to wake up to enjoy a hearty breakfast of Eggs Benedict? And, did you know Hollandaise sauce isn't as difficult to make as you make have heard? Follow my advice and homemade hollandaise sauce recipe.
Fried Green Tomatoes with Roasted Red Pepper Aioli – Last year we featured my recipe for Fried Green Tomatoes. I serve this dish with my Roasted Red Pepper Aioli. Read more about my Fried Green Tomatoes Recipe. Or, use my Fried Green Tomotoes recipe below to get started right away:
Fried Green Tomatoes Recipe
Slice Green Tomatoes into thick slices (about 1/2 inch thick)
Marinate the slices for a couple hours in:


Olive Oil
Pepper
Garlic
Do NOT use salt in the marinade

Heat oil in a large frying pan. Use Cottonseed, Canola or Peanut Oil. Do NOT use Olive Oil.
In separate bowls, add

whole wheat flour
egg, beaten
equal parts Japanese Panko and grated Ramona or Pecorino Cheese with a little salt and dried Oregano

Drain the tomatoes and dip into the flour, egg and panko mixture
Carefully add the tomatoes to the frying pan. Fry on high heat for one minute then turn over and reduce the heat to medium, cooking for one more minute or until golden brown.
Remove from oil and drain on paper towels.
Sprinkle with a small amount of salt.
Drizzle with Olive Oil.
Top your fried green tomatoes with fresh chopped Basil or Oregano and grated Parmesean or Pecorino cheese.
Don't forget to make the homemade Roasted Red Pepper Aioli recipe to serve with the Fried Green Tomatoes.
Homemade Hummus Recipe with Crispy Lightly Fried Pita Chips – After breakfast and lunch, you'll probably want to serve Dad an easy to make mid-day snack. You don't have to be a Master Chef to make my version of Hummus! Watch this cooking video to learn how to make my homemade hummus and get the recipe to make Hummus.
Learn how to prepare Crispy Pita Chips to accompany the homemade Hummus too!
Coconut Shrimp – Learn how to prepare the same Maui Chef Christian Jorgensen and his easy Coconut Shrimp recipe we serve at CJ's Comfort Zone restaurant in Kaanapali and as a pupu at catered events on Maui. I think you'll find the recipe is super easy to make at home! You just need a pound of prawns, a little Panko, shredded raw coconut, corn starch and a couple more easy to get ingredients to make Dad feel like he is in the islands again!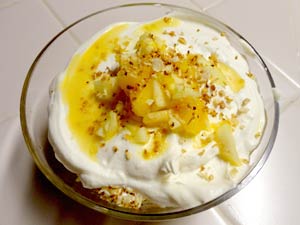 Mango Apple Trifle – Serve up my easy to prepare Mango Apple Trifle recipe for a refreshing dessert on Father's Day. The link includes the easy recipe with instructions to prepare the homemade dessert at home. Served in parfait dishes, the dessert adds a colorful festive finish with tropical flavor to a backyard barbecue at home or a catered bbq on Maui.
Use the comments sections below to ask any questions about the above recipes or to answers to other cooking questions. If your cooking question is urgent, Ask the Chef on Facebook, Twitter or Google Plus and I'll do my best to provide an answer as quickly as possible.
Already on Maui? Then skip the cooking and bring Dad to CJ's Deli & Diner in Kaanapali. Or, start planning a private chef catered dinner on Maui to celebrate Fathers Day next year!
{{cta('e4fe12c3-ee7b-4174-a0dd-ceeddc088abd')}}