The two most common Maui wedding planning questions are: Where are the best Maui wedding locations? and How much does it cost to get married on Maui? Today, I answer the next two most asked catering questions: What type of catering is available on Maui? and What catering services does your business supply? Or, Maui is a long way from home. Can I perform some of the planning and tasks or will you plan and do everything for me? As our name Comfort Zone Maui Catering implies, you'll find comfort knowing we provide as much help or as little as you need to ensure your wedding or other catered event on Maui exceeds expectations!
Maui Catering Service Types – You Name It, We Do It! One Call Does it All!
Maui catering services range from complete event planning where we work with you to plan, arrange and provide every detail for your Maui event to completely self-service catering where you pick up prepared meals, then cook and serve yourself. Our catered event services are flexible and may be as inclusive as you prefer. Though we can do it all, we'll provide as much help as you need to plan your catered event on Maui. We welcome traditional catering service opportunities working with the planner of your choosing and supplying catered food with or without staff or other services for your event. We want you to be comfortable with your catering services! Utilize the list below to get more familiar with the various options and the types of catering services available for events on Maui:
Full Service Catering – One Call Does it All. We Plan it, We Book it, We Cook it, We Serve it! In other words, every detail and service for your event is arranged and managed for you from start to finish. Complete full service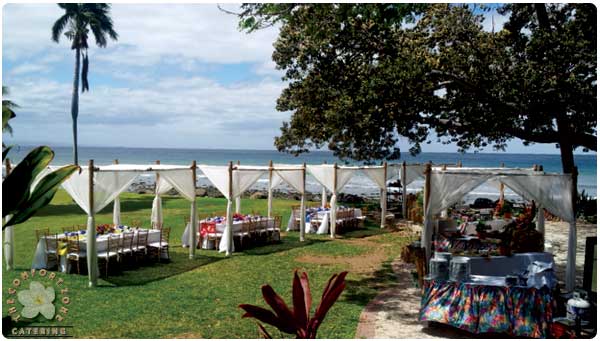 event planning with catering to meet your wildest dreams for an exquisite catered event on Maui! Nothing is too extravagant or beyond reach. We partner with some of the best event service providers on Maui to ensure your catered event or wedding with wedding reception is completely planned and everything is arranged. As part of the event planning for full service catered events, in addition to preparing a customized menu, we know the very best sources and arrange all the necessary service providers, servers and wait staff, bartenders and other event staff and equipment rentals. Then, to ensure the event stays on schedule we coordinate the event. When you hire us for full service catering on Maui, all you need to do is get to Maui and enjoy your event! We take care of everything else.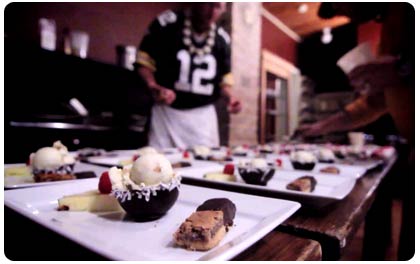 Corporate Event Catering – From small company events to large corporate functions on Maui, we are the Maui caterer relied on for the best corporate catering on Maui. From catering for small local business functions on Maui to catering large events such as the annual Maui Invitational Basketball Tournament and the PGA's Hyundai Tournament of Champions golf tournament at Kapalua, we are the preferred Maui caterer relied on to supply the best corporate catering on Maui! Having a sales meeting and want to reward your top sales reps or executives? Use our private chef services or ask us to arrange a cooking competition the Food Network Master Chef producers would be envious of!
Private Chef or Personal Chef – On-site private chef prepares your meal and cooks in your kitchen. Our Maui private chef services may include butler service to serve your meal. Many visitors to Maui use this option for private dining options. We can be available for a series of meals or a single special event. From cooking classes to gourmet dinners prepared to order with butler service in your private vacation villa, our personal chef service is customized for your private dinner or other culinary event. Gluten free and other special dietary services can be accommodated. Wouldn't your family enjoy a gourmet dinner prepared by your own personal chef in your private vacation rental home while the sun sets into the ocean?
Self Catering or Self Service Catering, Catering with Pickup – We prepare the menu items for your meal in quantities appropriate for your guests count. Then, you pick up the prepared meal or we drop off. A common question: Will you drop off our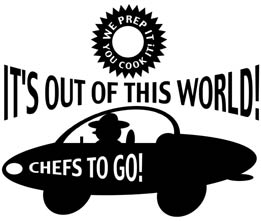 catering without services? Yes! You may even pick up catered meals and rent catering equipment to use for self catered events.
Chefs to Go Catering – Like having your own personal chef with you in your kitchen when you cook! We prepare all the ingredients for you to cook and enjoy. You pick it your fully prepared meal at my Maui restaurant and cook everything in your vacation rental kitchen or at home. Chefs to Go catering service is usually most suitable for smaller groups and events.
Other Special Events and Wedding Catering on Maui:
Maui Wedding Reception Catering – Thousands of couples are getting married on Maui each year. I enjoy personally helping brides plan their perfect destination wedding! No question is too small when it comes to wedding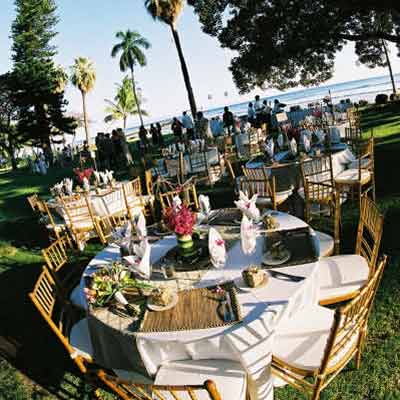 planning on Maui. Our wedding catering services may include a fully staffed banquet for your wedding reception or a sit down dinner prepared to order for each guest and served by professional wait staff. We provide full service wedding planning with everything included from arranging for the officiate to perform your wedding ceremony to supplying tables, tents, chairs and other wedding equipment along with the great catered food for a Maui event! Or, we'll work with the wedding coordinator you choose and supply only the catering for your wedding reception, welcome bbq or day after wedding brunch. We'll help you plan your own wedding and guide you through selecting a wedding location or introduce you to professional wedding service providers on Maui and recommending or supplying wedding flowers, music or dj and other accompaniments for your destination wedding.
Catering for Social Events on Maui and Parties – Big or Small, we cater them all! Catering for private parties and social functions tend to be smaller. Food stations or Pupus, hors d'oeuvre or appetizers in Hawaiian, catering is often perfect for a cocktail party, Maui graduation, birthday party, family reunions and other smaller catered events on Maui. Many local Real estate open house and new business grand openings request pupus for their catered events on Maui. Menu choices range from simple passed appetizers to themed style cooking stations with a chef personally preparing sushi and other gourmet delights as your guests watch. Maybe a complete luau feast with hula dancers and south pacific fire knife dancers would make your catered party unique. We recommend celebrating birthday parties and destination wedding welcome parties with a catered Maui barbecue on the beach!. Whether you need full service catering with everything included or are looking for less extensive catering options, let us know and we'll be there with catering for Maui birthday parties and any other social event or party on Maui!
Movie and Production Catering – When television and movie crews shoot on Maui, they need to know the actors and crews will be fed on time and within budgets. Last year, the Hawaii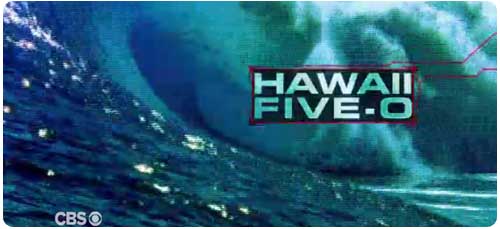 Five-0 team called us at the last minute after another Maui caterer canceled. Fortunately, even with a wedding reception to cater later the first evening of the shoot, we were able to provide the catered meals for the film crew, actors and the entire traveling set team. Learn more about how the Hawaii Five-crew said Book'em Danno when they needed catering for an on location shoot on Maui!
Life Celebrations and Celebration of Life Ceremonies and Party – We are always happy to provide ohana with catering suitable for commemorating the life of loved ones and friends. We provide unobtrusive catering to the family and friends gathered together to celebrate the passing of their loved one. Our catering services for Life Celebrations on Maui come complete with delivery and drop off and or full service catering with staffing. Either way we are always respectful of your privacy wishes for these events. Let us know what we can do to arrange and deliver catering for life celebrations.
Have questions about Maui catering? Use the comments section below and we'll share the best answer for others planning events on Maui. Ready to start planning your next Maui catered event or wedding reception catering on Maui? Just hit the button below to get started! We'll guide you through a few questions about your event and supply a quote to help you plan your event on Maui:
{{cta('6e990028-e3b3-44a6-a4c1-80e08111e3e9')}}