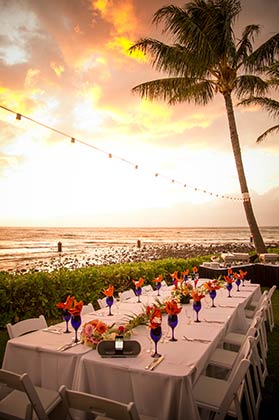 Most guests attending a destination wedding on Maui say they remember the food served at the wedding more than just about anything else. Yes, the tropical flowers and the awe inspiring views from most Maui wedding locations were important and memorable. But, when wedding guests don't enjoy the food served at the wedding reception, most everything else will be overshadowed and forgotten about. Before selecting a Maui chef to provide catering services for your wedding reception on Maui, you'll want to research the various catering services to find the best chef who will work with you to match a catered wedding reception menu to your vision, style and tastes while staying within your wedding budget. To help you decide on or determine the best Maui catering company for your wedding, review the following 5 questions to ask caterers or chefs before deciding which Maui caterer to trust your wedding with:
Ask About Service Fees, Delivery Charges, Gratuities or Tax? When you get a catering quote or proposal, be sure to ask the catering company you are considering for your Maui wedding about all additional charges that me be incurred. You'll want to know if you'll be charged for delivery fees and if so how much. Ask if a gratuity is included and how it is computed. Hawaii uses a GET taxation system, or an excise tax, so ask your caterer how much tax will be charged. Many dynamics and details unique to your wedding may affect the overall catering fees beyond costs for food and service, including the Maui wedding location, rental fees, style of wedding reception dinner being provided (served, buffet, pupus), if rental tables are used or provided by the wedding venue and many others. There is not an absolute answer and each catering company charges differently for their catering services. Ask for a complete breakdown of pricing before you make your final decision. Find out if there are any other fees or charges that are not included in your catering quote or proposal. To help, we always provide a detailed BEO (Banquet Event Order) with cost details and a breakdown of catering prices for services so you won't have any surprises.
Are Tableware and Linens Included? Ask if the prices reflected in a catering quote include the linens to cover the tables or if there are charges and fees for tableware accessories listed or needed. You'll want to ask if plates or other dishes and flatware are included in the quote. If table clothes are listed and priced, ask if matching linen napkins are included in the price. Several variables are likely to affect the cost of linens and tableware. For example, high quality plastic ware can be less expensive than renting china. Neutral color tablecloths in white or beige are in higher demand and sometimes less costly than colored linens due to more availability. Most any type of linens and flatware are available for Maui wedding receptions. Just be sure you let your caterer know what you are looking for and then verify the catering quote includes pricing for all linens, flatware, equipment rentals and delivery fees requested.
Where is the Food is Prepared? – You want to verify you are working with a professional catering company who will be preparing food in a kitchen licensed by the county of Maui. With the exception of onsite cooking and demonstration items, the culinary creations we cook and serve at Maui wedding receptions and other catered events on Maui are prepared in the professional culinary kitchen at our CJ's restaurant in Kaanapali.
What Does the Caterer Do with Leftovers? Ask you caterer what they will do with any leftovers. With most everyone traveling for your destination wedding on Maui and most likely the wedding guests staying in vacation rental accommodations or in hotel rooms, some would probably enjoy leftovers the next day. If your wedding reception dinner is served as a buffet or if food stations are provided, there may be extra food you could ask the caterer to wrap up as leftovers for guests to enjoy the day after your wedding. Since the bride and groom are often too busy with the wedding and mingling with guests to really enjoy a dinner, consider asking the chef to prepare a take home sampling of the Hawaiian hors d'oeuvres and entrée for the bride and groom. Remember to request the catering chef include a sampling of the desserts so the bride and groom can indulge later that evening when they get time to relax and enjoy together. Or, work with a local charity and arrange for them to pick up any leftovers after the event.
Are There Ways to Reduce Costs? For example, if you are hosting a bar, ask the caterer if you can purchase and supply your own alcohol for the bar. Some caterers and wedding venues insist on using only their bar services. Ask before you decide and you'll know your options. Because we don't hold a license to sell alcohol, we'll share the best places to purchase alcohol on Maui. Then, we'll supply a Maui county licensed bartender to serve your guests and ensure everyone is safe. Purchasing your own alcohol for a wedding reception is one of the best ways to save money on Maui wedding receptions.
Wedding photography by J. Anthoney Martinez of Lumiere Photography.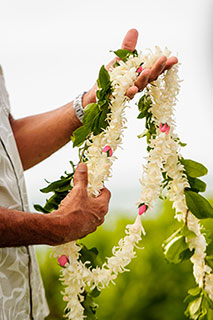 The above questions are intended to help you interview chefs or catering companies and provide assistance for you to choose who to hire to supply catering for your Maui wedding reception. In addition to asking these questions, be sure to let your caterer know your budget, the number of guests anticipated and inform of any style preferences such as plated or buffet. Let the catering chef know the type of food you enjoy at home when you are celebrating and if any of your guests need special dietary menus such as gluten free or vegetarian menus. Find and work with a professional chef who will customize a catered reception menu to your budget! The type of food you serve and availability will affect the catering costs more than if the wedding reception is served as a sit down plated dinner with wait staff or a self-service buffet style and food stations.
Ready to get started planning a catered wedding reception menu for your wedding on Maui? Hit the button and we'll prompt you to answer a few short questions about what you envision for your Maui wedding or catered wedding reception. Start planning the catering for a Maui wedding reception now:
{{cta('ed60f494-7386-4c2e-8e73-ca82f7679a33')}}