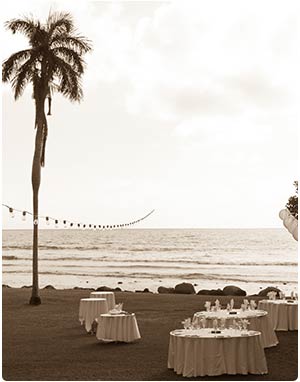 There are a many ways to save money and plan an affordable destination wedding on Maui! Though some think getting married in Hawaii is expensive, fact is an affordable Maui wedding is possible. With a little creativity combined with our more than 10 years of experience catering weddings on Maui, we work with all budgets to make your wedding dreams reality. After you review the 5 money saving destination wedding tips below look for details about getting free wedding planning help for your Maui wedding:
Do It Yourself Maui Wedding Planning – If you are the do it yourself wedding planner and only need traditional catering, let us know your menu and we'll be happy to supply as much help or as little as you need. From full service catering for wedding receptions with a plated or buffet menus to the most affordable catering option, drop off or take away catering, we cater for all budgets. More and more brides are planning their own wedding and only need catering for the wedding reception. Others are planning everything up to the day of the wedding but in addition to catering would like someone to manage the wedding day timeline to ensure everything goes according to plan at the right time. Though we are able to provide full service wedding planning with catered wedding receptions on Maui, we are comfortable supplying only the catering portion of your wedding reception while coordinating with you or a professional wedding planner of your choosing. Either way, ask any questions you have about getting married on Maui. I want your wedding and wedding reception on Maui to be as lavish or as affordable as you want it to be. If you are handling all the wedding planning details yourself, ask about reliable sources for flowers, wedding cakes, officiates, DJs and equipment.
Stay at Accommodations with an Onsite Wedding Location – Finding a wedding location on Maui can be one of the most difficult steps to plan a wedding from afar. Consider using accommodations with a wedding location available. Doing so usually eliminates or reduces Maui wedding venue fees. Maui offers several estate vacation rental home options with spectacular views and some with beachfront locations ideal for a wedding. Imagine getting married in West Maui with a wedding ceremony just a few feet from the Pacific Ocean with the sunset behind a neighbor island. After the beach wedding ceremony, you and your guests sit down to a wedding reception dinner and celebration. Afterward, everyone walks a few steps to their rooms without the need to drive anywhere. Not only will you save money on the wedding location fees, but sharing a large private estate with wedding guests will let you spend more time together with the family and friends who traveled to your Maui wedding. Beyond vacation rental homes, another option is to find a condo with a wedding venue available. One of our favorite condo vacation rentals with a beach front wedding location is the Eldorado Cabana on Kaanapali Beach. A minimum number of guest rooms need to be reserved to use the beachfront Eldorado Cabana for weddings or other private events. Additional savings can be gained when tables, chairs and other equipment rentals are used for multiple wedding events such as the wedding reception and a welcome bbq.
KISS and Keep it Simple Silly – Though formal weddings on Maui are not unheard of, most Maui weddings lean toward the casual with a tropical beach wedding style. Accordingly, there is no need to spend on extensive decorations and other typical wedding expenses. Utilize natural elements to enhance the wedding or enhance the tropical scenery. Tropical flowers are widely available on Maui but you want to be flexible to save money. Choose wedding flowers with consideration of the flowers in season at the time of your wedding. You can always count on bird of paradise, pink or red torch ginger, fragrant plumeria and a variety of orchids to be available on Maui year round. Considering most wedding guests will be traveling, minimize table decorations and keep the guest favors simple. Avoid decorations with an expectation guests will pack and take home. Remember year round summer weather, Hawaii is humid and warm. Avoid chocolate that will melt or other items that will not pack well.
Create a Signature Cocktail for your Maui Wedding – You'll save money on your wedding reception by offering one or two signature cocktails instead of a fully stocked open bar. Doing so allows you to purchase less liquor and fewer mixing ingredients. And, since some signature cocktails can be made ahead in larger batches, the ingredients may be purchased in bulk for further savings. Whether you decide to serve a signature cocktail or just beer and wine, one of the best ways to save money on a Maui wedding is by purchasing your own alcoholic beverages. Because we aren't licensed to sell liquor, we'll point you to the best places to purchase beverages on Maui (Costco, Longs, Walgreens in Lahaina, Safeway and others). We'll even supply a Maui county licensed bartender to serve your guests.
Assist You Guests with Travel Arrangements to Your Wedding in Hawaii – Hawaiian Airlines offers a program with travel perks for wedding couples getting married in Hawaii. The benefits available include first class airfare for the couple getting married and airfare discounts for wedding guests traveling to Maui. A wedding guest travel planning tool assists guests making their air travel arrangements to Hawaii weddings. Get details or signup for the Hawaiian Airlines Wedding Wings Program.
Questions about getting married in Hawaii or need help planning a catering menu for a Maui wedding? Let us know what you have in mind for your wedding or wedding reception. With more than 10 years of experience catering weddings on Maui, we know the best wedding locations and wedding professionals. After you hit the button below, use the short survey to share a few details about your Maui wedding. Then, usually within 24 to 48 hours, I'll reply with an email and sometimes a price estimate if we have enough details. Get started with your wedding planning on Maui NOW:
{{cta('3fd99430-bb9b-40e2-a372-39f437755dfb')}}