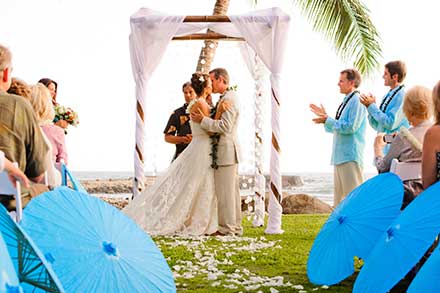 After the Maui wedding location is selected and a customized catered wedding reception menu has been matched to your personal tastes, one of the next wedding planning decisions is choosing the wedding photographer. Brides getting married on Maui often ask for recommendations and advice about selecting the photographer for destination weddings. For DIY wedding planners, I offer these 5tips to help decide how to choose the best photographer for a Maui wedding:
Pick a photographer you like and who you are comfortable working with. The wedding photographer will be around a good part of the day and you want to ensure you are working with a photographer whose style compliments your own. Some photographers like to direct, pose and stage specific shots while others like to capture the moment and compose scenes on the fly. Some are more involved in the wedding while others stay out of the way. The couples happiest with the wedding photographers are the couples who were able to articulate the type of photography they are looking for and describe the style they prefer. As you interview potential photographers, share a few of the specific shots you expect. Try to allow enough 'space' for the wedding photographer to utilize their professional skills with artistic creativity to compose and create the best images capturing the moments of the wedding and wedding reception without taking over. Some improvised unplanned shots are certain to capture the most emotion at weddings.
Pick a photographer who is available on the date of the wedding and available for the Maui wedding location selected. The last thing you want to do is plan on using a specific photographer only to find out they are booked on the day of your wedding, won't travel to your wedding venue or can't provide services at the wedding location chosen. The best Maui wedding photographers are booked months in advance and some are reserved more than a year in advance of the most popular wedding dates. Verify availability before signing a contract for wedding photography.
Verify the contract accommodates what you are looking for in wedding photography. Know exactly what you are getting in terms of how many photographers will be shooting, the images you'll receive, how the photographer will deliver the images to you and what you can do with the images from the wedding. With the popularity of digital photography, mostly gone are the days of paying the photographer for the shoot and then finding out you'll need to pay additional fees based on the images you like and want is ordered for printing. Wedding photographers typically agree to photograph based on a time specified along with providing a number of images in various formats. Along with the photographers time, the way images are provided, including printing or used in popular weddding photo books or delivered digitally will determine the price. Some photographers will shoot your wedding and include some or all digital images captured but then charge extra for printed images, photo books or utilize a third party image printing service. You'll want to understand the details of the wedding photography contract ahead of time and know exactly what is included. Be sure you understand how your images will be delivered to you: Will the photographer upload the images to a web site such as dropbox, supply via memory card or other portable storage, etc.? Ask if will you be able to download a collection of images or will you need to download each image manually? Find out how soon the images from your wedding will be made available. Make sure you understand how long the photographs will be remain available for downloading, printing and other purposes. Many brides and grooms also opt for a traditional bound wedding photography book. Again, find out what is included from the wedding photographer and ensure the images they capture will match your preferences. If you are expect a printed photo book to be included, verify your photographer understands this ahead of time and select a wedding photography package that includes both the wedding album and a digital portfolio. If options exist for extras, understand what options are or aren't included in the price and terms in the contract.
Use the web to view portfolios from other weddings. Get familiar with available photographers and review their styles in advance of selecting a photographer on Maui. Getting familiar with current wedding photography styles early in the planning process will help you select the style of photography you want for your wedding. Some photographers specialize in vintage style while others trend towards modern imagery. Others specialize in arranged portrait style shots or would be more suitable for capturing candid shots. The first thing you'll need to do is figure out the type of style you are seeking for your wedding, then find a photographer whose style matches your own.

Verify the wedding photographer you hire will be doing the shoot for your wedding day and not handing your wedding off to one of their less esteemed associates. Some wedding photographers operate as a photography studio, agency or service provider rather than representing a single photographer. If you are attempting to hire a specific photographer because you like their style and personality, verify they will be the one providing the photography for your wedding. We recommend asking the wedding photographer to supply a list of the actual photographers who will be shooting on the wedding day. If the photographer you want and thought you are hiring is not going to be able to attend, then be sure to review the portfolios of those who will be doing the shoot. Or, insist on the photographer who you hired to be there.
Last but not least, be sure to choose a photographer flexible to working within the schedule coordinated for your wedding. With the spectacular Maui sunsets for their photography background, sometimes photographers can spend a little too much time shooting photographs after the wedding while wedding guests are getting bored and the catered reception dinner gets cold. Though it might seem like more is better when it comes to wedding photography, we recommend working with a photographer who maximize the time to capture the shots you want and has planned for those shots ahead of time. An experienced wedding photographer can quicly organize the subjects for a shot and capture the shots without being intrusive or delaying other apsects of the wedding.
Need a recommendation for a Maui wedding photographer or other wedding service providers? We won't charge you for referrals or mark up wedding service provider costs! Ready to plan a wedding on Maui? Get FREE wedding planning and coordination with a catered wedding reception. Start planning a Maui wedding NOW:
{{cta('2f3ec34f-8c06-40fc-bb27-75700f95a429')}}