After enjoying picnics under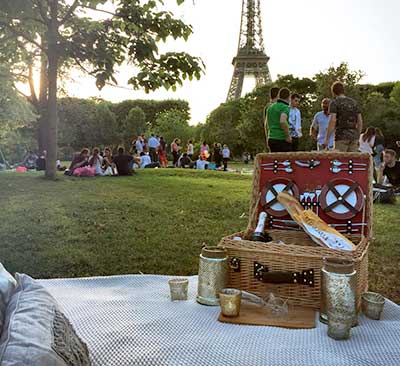 the Eiffel tower on Bastille Day in France during a recent family vacation, I was inspired to encourage more visitors to Maui to enjoy a picnic at one of their favorite Maui adventure spots. Just about everybody who has ever been to Maui recommends visitors to drive the road to Hana. So do we! Though you may be able to find a few food trucks that sometimes operate along the road to Hana, we recommend taking along a cooler packed for a private picnic lunch next to a waterfall, overlooking a scenic rain forest or ocean view, or at one of the beautiful beaches on the way to Hana. Since you'll want to drive the road to Hana early in your vacation while still on mainland time, you'll have a cooler to use all week during your Maui vacation. Along with a picnic for the Road to Hana, we recommend taking a picnic lunch to most other Maui activities too. Keep reading to find out about our famous Picnic Lunch box with everything included and for 6 of our favorite places to pack a picnic on Maui!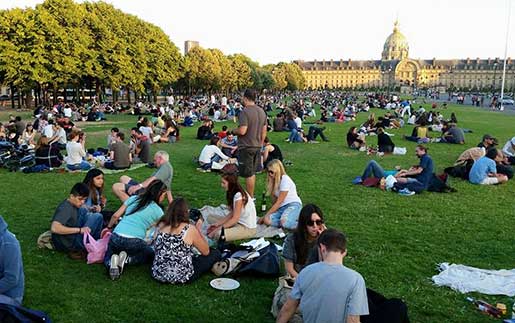 Our Favorite 6 Places for Delicious Maui Picnics
Haleakala Sunrise or Sunset – If you will be heading to Haleakala to watch the sunrise, you'll need to leave early in the morning before most restaurants in Lahaina or Kaanapali open. We recommend picking up a picnic lunch the evening before so you'll be ready to begin the drive from West Maui at 2 or 3 am in time to reach the summit to witness the legendary Haleakala sunrise. After viewing one of the most majestic Maui sunrises Haleakala is famous for, let the crowds leave while you enjoy the picnic lunch you picked up at CJ's restaurant in Kaanapali!
A Picnic at Kaanapali Beach and other West Maui Beaches – Don't waste precious beach time! Pick up a picnic to enjoy an affordable lunch on Kaanapali beach. Our Kaanapali diner is convenient and close to the Kaanapali resorts and other popular beaches such as Airport Beach park or the new Honu Kai Beach Park on farthest north beach in the Kaanapali resort at the beginning of Honokowai. Or, take your picnic lunch to any one of the other west Maui beaches stretching from Kapalua to Lahaina and Olowalu. Use the picnic tables for your lunch while surfing at Launiupoko or Puamana south of Lahaina or at Kapalua Bay when you surf the winter swells. One of my favorite things to do when I'm not cooking in my Maui restaurant is to pack the family up for a picnic at DT Flemming Beach Park in West Maui. The crescent shaped beach at Kapalua Bay in West Maui is also an amazing place for a picnic on the beach in Maui. Our picnic lunches are perfect for a day at the beach. Let us know what you have in mind and we'll share our favorite beach recommendations. We also offer private chef services if you'd like a private chef to personally prepare a romantic dinner for you at your choice of locations.

Charter Fishing Trips – If you've arranged for a charter fishing trip on Maui and need a lunch but don't want the usual grocery deli platter or cold cuts, take our picnic box lunch. And if you catch a fish during your charter fishing trip, bring it to CJ's and we'll cook it for you! It's only $50 for two ($20 for each additional guest) and we include everything from the pupu (Hawaiian Hors d'houvres) with fresh sushi, entrée with fresh fish prepared a couple different styles and top it off with our famous Hana Bar Sundae featuring Maui Chef CJ's homemade Hana Bar dessert with mango syrup over Roselani Vanilla ice cream. Mmmmmm! After dinner, grab another picnic lunch for your next day activity during your Maui adventure. Find out more about our You Catch It, We Cook It fresh caught fish gourmet dinner program with preparation and sides included.
Exploring a Day Hiking – Maui offers a variety of hiking suitable for beginners to experienced hikers. Visit Iao Valley and sit beside the refreshing Iao stream after the easy hikes around the Iao Valley. Spread out a small blanket on a soft grassy area to enjoy a picnic lunch next to the stream. For more strenuous day hiking in West Maui, the old Kings Trail linking Lahaina to Maelea is a fun hike with rewards of amazing views of the West Maui coastline. More adventuresome hikers may choose to hike into Haleakala. And not to be missed, the bamboo forest hike on the Road to Hana is also an easy hike the whole family would enjoy especially when they know a complete picnic lunch by a waterfall awaits at the end of the hike.
A Day at Big Beach in South Maui – If you are staying in Kaanapali or other West Maui accommodations, stop at CJ's in Kaanapali before driving to South Maui. Then, you won't need to waste time in Kihei or Wailea and can head straight to Big Beach or Mankena Landing with a hearty picnic lunch already in hand. Though you may find a food truck open at Big Beach, if you pack our picnic lunch you'll also have a cooler full of ice to keep your picnic cool and few ice cold beverages, too. In addition to the reusable cooler included with our picnic lunch, budget travelers will love this option since we include free ice refills every time you stop by the restaurant in Kaanapali before heading out for the next Maui activity! And you can keep using the cooler throughout your Maui vacation.
Honolua Bay or Slaughter House Beach – Just north of the Kapalua Resort is Honolua Bay and Slaughter House beach. Since neither beach area offers food service and both are a short hike to reach, you'll want to maximize your beach time by taking a picnic lunch from CJ's restaurant in Kaanapali. Snorkel Honolua Bay in the morning while the bay is calmest and before the snorekel charter boats arrive and then savor your picnic lunch from the shore while you watch the charter passengers snorkeling where you were just earlier.
Driving the Road to Hana – I know I was only going to provide 6 of the best places for a picnic on Maui. And I did! But we named our picnic lunch after the Road to Hana drive and that it is famous drive I included the Road to Hana along with the other 6 Maui locations for a picnic. Just because you enjoy a picnic lunch at any of the other 6 best locations for a picnic on Maui list doesn't mean you should skip the opportunity to enjoy a picnic lunch on the Road to Hana drive! The Road to Hana offers plenty of spots for waterfall picnic lunch. Or, if you prefer a picnic on a beach, wait till you get closer to Hana for lunch and then take your picnic to the Black Sand beach for lunch. Spread out on a blanket and pull your ice cold beverages from the cooler. Enjoy a refreshing sip as you unwrap your deli sandwiches, pickles, chips, cool pineapple boat and other picnic delicacies included in our Road to Hana Box Lunches! For dessert, our famous Hana Bar dessert is included. Though often requested and usually quick to share a recipe or cooking advice, the complete Hana Bar recipe is one of Maui Chef CJ's secret recipes.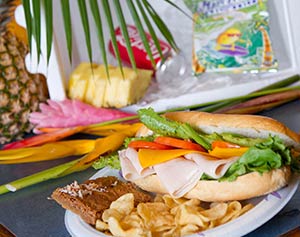 Our Hana Box lunch is only $13.95 per person and includes the use of the cooler with FREE ice refills throughout your Maui vacation. Since you'll have the cooler all week, we thought we'd extend the usual Maui picnic recommendations beyond driving the Road to Hana! If you are a fan of picnics, don't miss our 7 ideas for the best picnics on Maui presented above. Or, be sure to read why the Road to Hana is a popular Maui visitor activity.
After relaxing with one final picnic on Kaanapali beach, pick up our airline box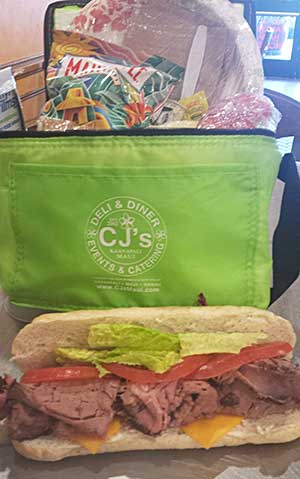 lunch for your flight home when you return the cooler to our inexpensive Kaanapali restaurant. In addition to everything included with our Hana box lunch, a reusable souvenir cooler with an ice pouch is included to keep everything chilled on your flight home and to remember all the great picnics you had on your Maui vacation each time you use the cooler at home.
Already been to Hana and most other recommended Maui picnic locations? Then maybe a private chef dinner on Maui would be the next vacation memory to make. You may be surprised to find out Maui private chef dinner is often less expensive than a fine dining experience at a resort restaurant. And the experience of a private chef cooking dinner in your accommodations is an unforgettable vacation memory that will last a lifetime! Wondering 'How much does it cost for a private chef dinner on Maui?', request a no obligation quote for a private chef dinner on Maui using the button below:{{cta('646cf88d-2f70-4180-8031-ffe1b29cf7a7′,'justifycenter')}}