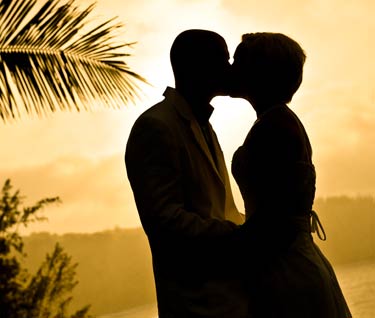 Maui County beaches are public – there are no private beaches on Maui. Unlike many island destination wedding venues, to ensure the public has continued unrestricted use of Hawaii beaches, the state of Hawaii imposes regulations on the wedding industry along with a permitting process for beach weddings.
Fortunately, while there aren't excessive fees or expenses associated with acquiring a beach wedding permit, there are several things to know if you're dreaming of a 'Toes in the Sand' Maui wedding. Regulations include being compliant with the amount of time allowed to utilize the beach, number of persons attending and other requirements or restrictions on a Maui county beach wedding. Scan through our short list of beach wedding tips highlighting what you need to know and then leave a comment or questions about your own vision for getting married on Maui:
All Maui beach weddings must apply for and obtain a permit for a wedding on the beach Luckily, the permit process is straight forward and most wedding coordinators and wedding service professionals are closely familiar with the process and will obtain the wedding permit on behalf of the couple getting married. Insurance is required and agreement to abide by the all beach wedding rules is also required. Wedding service providers must be listed when the beach wedding permit application is submitted. Wedding professionals are required to possess a current Maui county business license and Hawaii GET before providing services. Attendance at Maui beach weddings cannot exceed more than 20 people, including the couple getting married, the officiate presiding over the wedding, the guests attending the wedding and service providers such as wedding photographers, caterer, planner or others hired for the beach wedding. The number of guests must be provided at the time the beach wedding permit application is submitted and is not flexible for spontaneous add-ons. If you are planning a Maui beach wedding, don't ignore the permit process! If you are bringing your own photographer, a minister or other wedding officiate they must obtain licenscing and be listed on the permit application.
How Do I Apply for a Maui Beach Wedding Permit? A wedding planner or coordinator, a caterer or a wedding officiate usually completes the Maui beach wedding permit application on the couples behalf. All service providers must be listed on the beach wedding permit if they will be at a wedding on the beach. For those serving as their own DIY wedding planner, you'll want get familiar with the beach wedding permit and application process. Or, ask and we'll happy to supply only the amount of assistance you want.
No Accessories, Chairs or Decor at Weddings on the Beach. To preserve the public's right to unrestricted use of public beaches the wedding ordinance prohibits the placement of guest chairs, pillows, wedding chuppahs, arches or accessories directly on the beach for weddings. Don't let the Maui county permit process intimidate or discourage dreams of getting married on Maui! One option is to conduct the wedding ceremony on the beach with a reception following in an adjacent location next to the beach. Let us know if you need help finding private oceanfront wedding locations. We have arrangements with the finest wedding venues on Maui. Most are only steps from the water! Or, choose a private beachfront wedding estate in Lahaina or a wedding location between Olowalu to Kapalua in West Maui.
Kaanapali Beach Weddings. Though beach weddings aren't permitted on the main Kaanapali beach resort area (from the Hyatt on the southern end to the Sheraton and Black Rock to the North) where the largest resort hotels are located, no need to despair! If you have your heart set on getting married on the beach in Kaanapali consider getting married at North Kaanapali beach, which happens to be one of our favorite Maui wedding locations. Some of the best Kaanapali weddings have take place at the cabana at the Outrigger Eldorado resort, only a short walk north of Black Rock. A beach wedding at the Eldorado Cabana includes the opportunity to host a wedding on the sand with a wedding reception in the private cabana. Larger weddings use the grassy area adjacent to the beach for the wedding ceremony with chairs and other wedding accessories without a permit. Couples getting married in Kaanapali enjoy the convenience of serving wedding guests a catered reception dinner without driving or relocating to a separate location after the wedding ceremony. Take a look at a Eldorado Cabana wedding or catered wedding reception for inspiration from this spectacular ocean front wedding site in West Maui. Then, get in touch with us for more details.
How to avoid the need for a beach wedding permit on Maui. A popular toes in the sand wedding alternative is to get married at a venue above the high tide line adjacent to the sandy areas or at a private beachfront wedding venue. Luxury private homes with wedding ceremony sites are available and provide the most flexibility for beachfront weddings on Maui while providing more privacy than public beaches.
Public Beach Parks. Using public beach parks for a beachfront wedding may be an alternative to getting married on a beach in Maui. In West Maui, Launiupoko Beach Park, Puamana and Airport Beach are possibilities for weddings or wedding receptions. Closer to Kapalua with spectacular sunsets and views of the neighbor island Molokai, D.T. Flemming Beach Park includes large grass areas adjacent to the beach suitable for both the wedding and ceremony. Since beach parks and pavilions cannot be reserved in advance and are available on a first come availability basis, someone from the wedding party will need to get to the park before sunrise to hold an area for the wedding and wedding reception. Beach Parks are less busy on weekdays than weekends except during holiday times and when local schools are out. South Maui wedding locations at beach parks include any of the 3 Ka'amole Beach Parks, each with grass areas for weddings and adjacent to sandy beaches. All Maui beach parks close at 8 pm, making sunset weddings with a reception following impractical when daylight hours are longer.
Ready to get married on Maui? Call, Email or ask for FREE Wedding Planning Advice! We're available to acquire the beach wedding permit for you and ensure you are compliant with the Maui county wedding regulations or we will help with suggestions for alternative beachfront wedding location with equal benefits and stunning views:
{{cta('2f3ec34f-8c06-40fc-bb27-75700f95a429')}}