I don't know the number of times a bride has arrived at a Maui wedding location only to discover she has forgotten something on one of the most important days of her life! Sometimes it is a simple thing like forgetting to bring tanning lotion for a daytime wedding.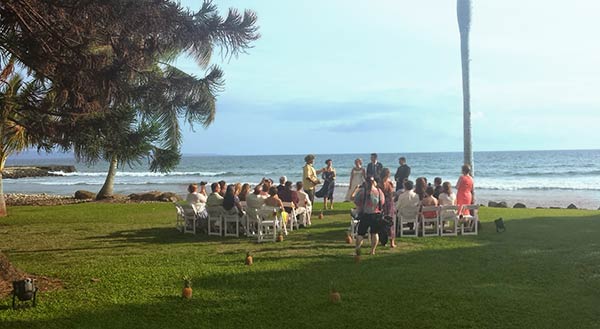 Often the situation is humorous like the time the bride forgot her wedding undergarments at the resort hotel. Other times the situation warrants a quick remedy with immediate action from wedding service providers. One such event recently occurred when we arrived at a catering location in West Maui for a sunset wedding with a catered reception following and scheduled to wrap up at 10. After setting up we quickly realized the bride had forgotten lighting from the wedding equipment rental company. Since this particular West Maui wedding venue featured a large oceanfront lawn for the wedding ceremony, lighting would be essential for the safety of the guests at the reception. Fortunately, the missing light rental was noted early enough for us to call another wedding equipment rental supplier in West Maui who rushed over a few strands of Euro lights to accent the wedding reception area. To avoid these common wedding budget mishaps, we compiled a short list of 7 things to include in a budget for a Wedding on Maui:
Shade and Sun Protection – If the wedding will be during the day or even late afternoon, you'll want to ensure your wedding guests will be comfortable and protected from the sun. Umbrellas, canopies, chuppas or tents are ideal for daytime weddings at most venues. The sun can be hot especially at wedding locations near Lahaina in West Maui. Lahaina earned its name as 'hot cruel sun' for good reason. Fortunately, several wedding equipment rental suppliers on Maui are available to provide anything needed from large outdoor wedding structures to smaller canopies to cover wedding reception tables. For the most affordable budget option consider colorful umbrellas. I

n addition to providing guests with sun protection the bright umbrellas add colorful visual elements highlighting and complimenting your wedding colors.

Flower Lei for a Lei Exchange and Lei Greeting – Hawaiian weddings usually include a lei exchange between the bride and groom. Couples frequently greet the parents of the bride and groom with special wedding lei commemorating the event. Some couples extend the traditional lei exchange and greeting to include a lei greeting for all guest attending the destination wedding.
Post Wedding Clothing – While not necessarily a budget item, couples getting married on Maui should consider bringing an extra set of clothes to wear after the wedding. With many sunset weddings on Maui followed by the reception into the evening hours, you'll want to enjoy most of your reception and post party in casual cloths. This is especially true for couples choosing to wear a formal wedding dress and tuxedo. Once the ceremony and wedding photos are finished, it's time to get comfortable and slip into casual island style clothing for the wedding reception.
Lighting – Evening outdoor wedding on Maui usually require additional lighting for the wedding reception. Once it gets dark, you don't want guests stumbling around in the dark near the beach. Consider using tiki torches to complement rental wedding lights and keep overall wedding equipment rental costs affordable.

Hair and Makeup – Treat yourself and bridal party to a spa party or salon day. After a couple days in the hot sun the bridal party will be reinvigorated by a little pampering at the salon or spa. Include a champagne and lite hors d oeuvres, too! I recommend Hummus with Crispy Vegetables, Smoked Salmon and Asparagus Wraps, and Thai Chicken Satay with Pita Chips. The catering package includes Chocolate Covered Strawberries, Mango and Chocolate Covered Hana Bars and Chilled Champagne & Orange Juice. Everything is included for $30. per person with delivery included for West Maui locations. Take a look at the details and a couple other menus for affordable catering packages with everything included for your day of pampering. You'll be able to take the whole wedding party to get their hair done, makeup, a manicure and pedicures and enjoy tasty treats from our Maui catering company, too.
Clothing Accessories – Don't become humorous blog fodder. Verify the wedding budget includes accessories and undergarments. You may purchase wedding accessories after arriving on Maui so long as budget and time allows for shopping prior to the wedding. In addition to the wedding dress, you may want to budget for a veil, shoes, jewelry and undergarments to wear under your wedding dress and for the honeymoon.
A Welcome Barbecue – Your guests have traveled far to attend your wedding on Maui and celebrate your special day. Some of the guests and family members will be meeting for the first time and likely spending quite a bit of time vacationing together. If you are getting married on Maui, instead of the traditional wedding rehearsal dinner you may want to opt for hosting a welcome barbecue soon after arriving to Maui. Our casual barbecue chef stations are fun and can as interactive or casual as you prefer. Recently, instead of a barbecue, several couples opted for a taco and burrito bar with tropical mango margaritas. If you aren't staying where an on-site wedding venue is available for multiple uses including a welcome barbecue, we can suggest other locations for a welcome bbq. Airport Beach Park and the newer Honoapilani Park by Honua Kai Resort (pictured) are both beachfront options for hosting a welcome beach bbq or other menu for a welcome dinner.
Of course, in addition to the details above, your wedding budget needs to include catering, a licensed wedding officiatte and a wedding location. Begin with the list above and then add your own must have wedding budget details. Or, if you are ready to begin planning a wedding on Maui or receive a complimentary quote for a catered wedding reception on Maui, hit the button below. We'll prompt you answer a few short questions to help understand your destination wedding vision. In return, we'll supply you with a sample quote. Get Started NOW:{{cta('2f3ec34f-8c06-40fc-bb27-75700f95a429′,'justifycenter')}}