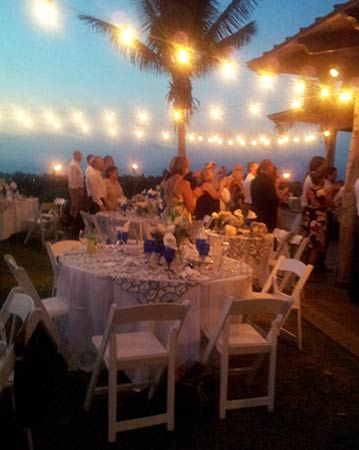 Full service catering is just what it sounds like: We do it all!! Meaning, in addition to customizing a menu for and providing the great food for catered events on Maui, we'll lovingly prepare and serve at your Maui wedding reception or other catered event. We'll also take care of the setup, supply event rentals including tables, chairs, lighting, silverware, linens such as napkins and tablecloths and then clean up the event afterward. Full service caterers are also able to supply bar services. Our bar services include the ice, coolers, setup mixers, fresh fruit garnishes and a handsome bar area for serving the tropical libations. We'll also provide Maui county licensed bartenders to serve your wedding guests and ensure adherence to Maui liquor laws as well as keeping guests safe.
Although not inclusive, the following is a full service catering list of what is often included:
Great food to delight your guests. Choose between a sit down dinner with wait staff or buffet service. Interactive chef stations and passed pupus are options.
Arrangements made for Tables, Chairs and other event equipment to be supplied.
Delivery of equipment and equipment rentals such as lighting, tents, dance floor or canopies.
Setup and decorating on dining tables and catering service tables
Tear Down and Clean up of catering venue including sweeping of area.
Trash collected, trash receptacles emptied and rubbish removed from premises.
Removal of tables, chairs, lighting and return of any equipment rentals.
Bartender service with bar, ice, coolers and bar mixers or setups. You purchase the alcohol and we'll supply bartenders and all the setup. We'll even share tips with you regarding where to get the best prices on alcoholic beverages for your bar service.
In addition to the full service catering options listed above, we are also capable of providing as much planning and coordination help as you you want. For DIY brides this means we'll help you as much or as little as you want. From providing complete event or wedding planning to only providing the catering, we'll help you with professional service providers such as DJs, florists, wedding photographers and even a day of coordinator when needed. Just let us know and we'll share our best advice to meet your Maui catering needs! Don't see what you had in mind? Just ask and we'll either supply what you need or share advice about where to get what you want. Sometimes we'll explain why the idea may not be practical for a catered event on Maui.
Other types of catering include limited service and completely self service catering. With limited service we drop off and setup the catering area for your guests to serve themselves and you'll need to return everything when finished. Self service catering is ideal for budget minded brides, some DIY wedding planners and is usually the most affordable Maui catering option. However, with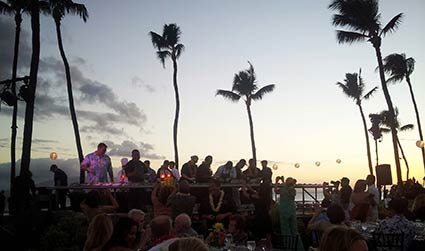 self service catering someone from your party will need to pick up the catered food and any additional equipment. After the event you'll need to drop off any equipment used or let us know if you prefer disposable catering trays.
Like our slogan mentions, 'No Event is too Big or Small, One Call Does it All!' And we really mean Do it ALL when you need full service catering on Maui for events or weddings. Our capabilities include event catering for family reunions on Maui, social events such as birthday parties and of course we want to be your Maui wedding caterer! Ready to get your party started? Just hit the button below and we'll guide you through a few questions to share your vision. Then, we'll supply information along with an estimate for the catering services you need.
{{cta('a7b64553-9414-40e5-8a72-6b9488f4baff')}}