Planning your tropical island destination wedding or wondering what summer wedding cocktails to serve when it gets hot? While we often serve the traditional Maui Mai Tai, a Maui Passionate Lilikoi Mojito and other traditional Hawaiian cocktails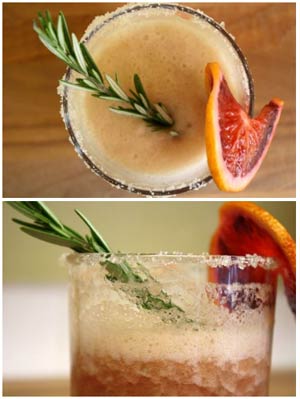 including the classic Blue Hawaiian and Pina Coloda, I'm always seeking out new and refreshing cocktail ideas to serve at wedding receptions and Maui catered events. This week, thinking about the mainland summer heat wave of 2012, I discovered a refreshing rhubarb cocktail idea you may want to try at home:
Rosemary Rhubarb Cocktail Recipe
by Kimberley Stakal
Makes 1 Cocktail (and 4 cups rhubarb puree, enough for 3 additiona cocktails)

Ingredients:
6 stalks fresh rhubarb, coarsely chopped
1/4 cup fresh orange juice (reserve 1 slice of whole orange for garnish)
1/4 cup honey
2 fresh rosemary sprigs (and more for garnish)
2 1/2 ounces gin, tequila or rum
2 ice cubes
Soda to taste (lemon-lime soda for sweeter version or plain soda for less sweetness).
Prepare:
Combine coarsely chopped rhubarb, orange juice, honey and rosemary in a medium stockpot. Bring to a boil over high heat. Reduce to a very low simmer and cook, covered until very soft, about 30 min. Remove from heat and allow to cool slightly.
Using a food processor, puree the rhubarb mixture until smooth. Set aside 1/4 cup to use for one cocktail. Use the remaining puree in 3 more cocktails or store in a sealed jar in the refrigerator for up to 2 weeks.

Prepare a lowball or other cocktail glass: Place a small amount of water on small plate and sugar on a seperate small plate. Dip the rim of the glass the water; then the sugar enough to coat the rim. Place the 2 ice cubes in the prepared cocktail glass.
Combine reserved 1/4 cup of rhubarb puree and rum or other liquor in a shaker or tall glass. Whisk well. Pour into the prepared glass over the ice cubes. Top off with soda and gently whisk again to mix. Enjoy!
Photo and Recipe Credits: View this Rosemary Rhubarb Cocktail Recipe by Kimberly Stakel on OrganicAuthority.com.
Experience the benefits of working with a professional Maui chef who has provided catering services for hundreds of Maui events for more than 10 years! Get FREE wedding planning and advice with a catered wedding reception on Maui:
{{cta('a7b64553-9414-40e5-8a72-6b9488f4baff')}}