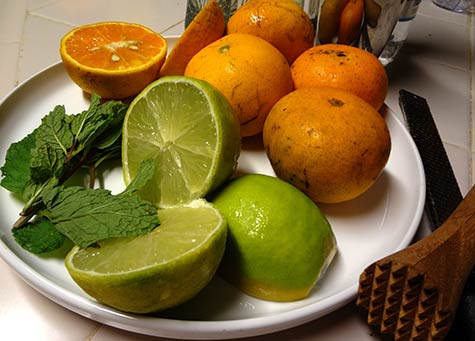 Maui Catering Blog Guest Author Philip Johnson: Prior to departing for Vegas to celebrate Valentine's Day with his wife Marilyn, Chef Christian recommended we use the fresh mint from his porch herb garden along with fresh fruit my wife recently acquired. So, needing to find a fun cocktail recipe to celebrate Aloha Friday and wanting to utilize Chef Christian's recommendation to use the mint with the tangerines and lime, I set off to find a cocktail recipe! Because I'm not nearly as creative or comfortable in the kitchen as I am at providing Internet marketing advice, I turned to my go to recipe solution at saveur.com. If I were getting married on Maui (again), I would serve this refreshing variation of the traditional Margarita at my wedding!
Tangerine Mint Sparkling Margarita
MMMmmm. Fresh locally grown Maui tangerines from a friend's backyard tree. What could be better? With tangerines in abundance on Maui at this time of year, as is local Maui tradition our upcountry friends shared what they couldn't use along with fresh limes grown in Wailuku, Maui. Nothing beats the taste of locally grown juicy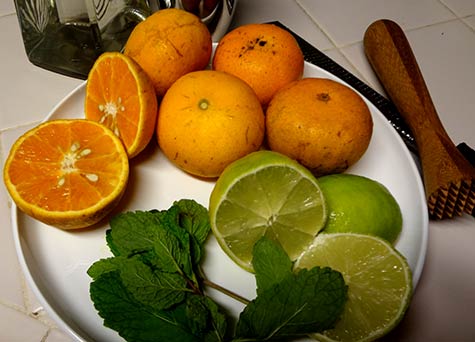 fruit picked earlier in the day! All this beautiful fruit inspired us to want to do something special with it. What do I do when I have a recipe question? What else? I ask a chef! Fortunately, Maui Chef Christian Jorgensen lives across the street and loves sharing cooking advice or providing suggestions for using the fresh ingredients available on Maui. Without fail, Chef CJ always has an answer or suggestions to our cooking questions. I give him an ingredient or ask questions about technique and he never fails to come up with a recipe, ideas or advice. So, when we mentioned to Chef CJ that we were seeking ideas for our ingredients, he suggested using the fresh mint he grows with the Tangerines. Then, Chef left for Vegas before we could get a specific recipe. Oops. Alas, armed with the Maui Chef's inspirational idea and Saveur.com, I was able to find a recipe using the tangerines, lime and mint to make Tangerine Mint Sparkling Margarita.
Prepare the Recipe Ingredients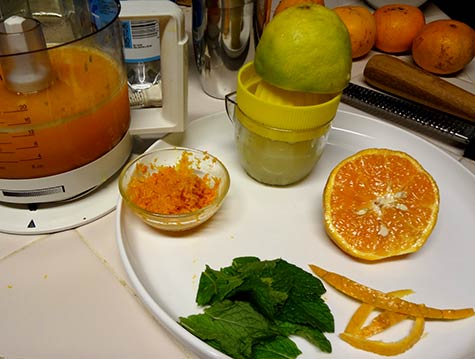 The cocktail recipe sounded delicious! I knew we would want more than one drink. So, I began the prep to make the Tangerine Mint Sparkling Margaritas. As Chef Christian recommended, when I follow any recipe I like to prep everything ahead of time. Doing so makes it easier to assemble the recipe without being interrupted preparing or measuring ingredients. Cocktail preparation is similar to other recipes. I don't want to spend the time getting the ingredients together for each cocktail serving. Instead, I began zesting several Tangerines. I wanted to ensure I had enough zest for several cocktails. Next, I juiced the Tangerines and Limes into separate containers. Performing this step ahead of time makes it easier to assemble individual cocktails while enjoying time with companions. At least we won't need to waste any time salting rims for this Margarita. The only garnish recommended is a sprig of mint and a tangerine twist.
Tangerine Mint Sparkling Margarita Recipe Ingredients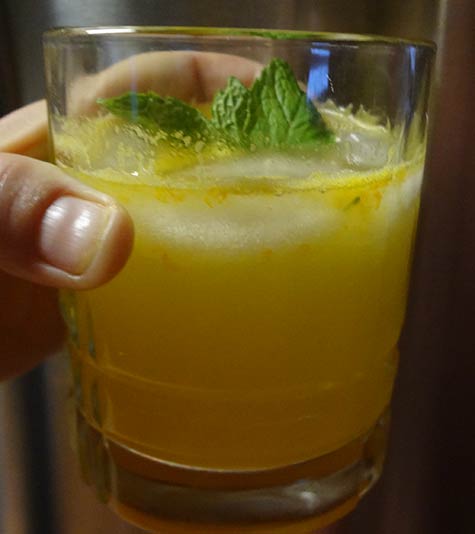 2 oz. fresh-squeezed tangerine juice
½ tsp. tangerine zest
1 oz. fresh lime juice
5 fresh mint leaves
2 oz. reposado tequila
1 oz. sparkling water
Mint sprig, for garnish
Grab your shaker, add your ingredients, except sparkling water, shake and pour into a highball glass, add sparkling water on top, toss in your garnish and you are ready to enjoy a perfect Tangerine Mint Sparling Margarita. Adding Tangerine juice and mint to a traditional Lime Margarita gives it such a unique and delicious twist for a seasonal or a wedding cocktail with bright color!
Tangerine Mint Sparkling Margarita from Chefs Mary Sue Millken and Susan Feniger in Saveur.com.
Does this sound like a refreshing cocktail for Maui weddings? Use the comments to let us know if you make the cocktail recipe at home. Chef Jorgensen will return next week with more Maui catering tips and helpful advice for brides getting married on Maui.
Start planning a catered event on Maui:
{{cta('6e990028-e3b3-44a6-a4c1-80e08111e3e9')}}