At nearly every Maui event we cater and sometimes in the course of planning a Maui wedding, sooner or later one of the guests wants to know what they should take when they drive the famous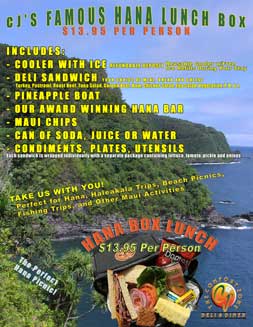 Road to Hana. Since there aren't many places to get food along the way or after arriving in Hana, I always recommend the Hana Box Lunch. Not only do you get to enjoy a sandwich of your choice, a Pineapple Boat, Chips, Dessert, a Beverage and everything else for a complete picnic on the Road to Hana! We even provide a cooler and ice to keep everything cool and fresh. And you can keep using the cooler throughout your vacation.
A Picnic with Spectacular Views and a Hana Box Lunch!
I can't think of more to say about our affordable box lunch option or a better way to present it than our Hana Box Lunch flyer. Everything is included and we make it easy. After your trip to Hana, you won't even need to be in a hurry to return the cooler. Keep using the cooler throughout your Maui vacation and if you need ice, you can stop by my Maui restaurant for free ice refills, too!
To order Hana Box Lunches for your drive to Hana, give us a call at (808) 667-0968 and let us know what you want to order and when you want to pick it up. CJ's is open every day at 7 am. If you are leaving for Hana before 7, you'll want to pick up your Hana Box Lunches the evening before. CJ's Maui restaurant is in the Kaanpali Resort, in the Fairway Shops.
Need wedding planning tips or help planning a Maui wedding, family reunion or menus for other catered events on Maui? One Call, We Do it ALL! We Plan it, We Book it, We Cook it!
{{cta('81934c82-f223-41a3-a1e2-3aad5a68d57b')}}