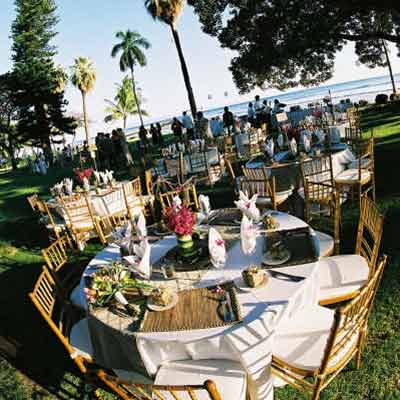 There are numerous mis perceptions about catering and catering services. With more than 10 years of experience providing catering services for events on Maui, I'm not often surprised at the myths I hear about catering and wedding reception catering companies. As a professional chef providing catering services on Maui along with planning weddings and events, I enjoy dispelling the common and not so common myths about Maui catering:
A wedding reception dinner at a Maui restaurant costs less than a catered wedding reception – A catered wedding reception on Maui does not need to cost any more than hosting your wedding reception at a restaurant. Since extra staff and sometimes a private room is necessary to accommodate private parties or a wedding reception dinner, 'large party' add on fees is the norm in the restaurant industry. Maui restaurants are no exception. In general, the cost of a catered wedding reception on Maui depends on three things, the location of the wedding, what is served and how you want it served. If you can afford to host your wedding guests at restaurant wedding reception dinner, you'll be pleasantly surprised to be able to find similar costs for catering. Let your caterer or wedding planner know your budget and they'll suggest ideas to stay within your budget! Your wedding budget may be based on your per person amount and the overall cost you want to spend on the wedding reception or for a complete Maui wedding package with everything included. We'll work with you to create a catered wedding reception menu within your budget. We may need to suggest serving a catered buffet instead of a gourmet dinner prepared onsite with each course served to your guests by professional wait staff. Or, we may suggest self-catering service where we prepare the reception dinner without additional catering services, an affordable option if you are staying in a condo rental and not serving a large number of guests. You may need to adjust the menu you want to serve or adjust the number of guests attending your wedding to stay within budget.
If a few guests have dietary requirements, it will cost significantly more than if we served everyone the same menu – We are often able to prepare menu items meeting special dietary requirements with costs similar to other menu selections. Fees may be less than you would expect if we are able to serve the same menu to all your guests. As a professional chef, I'm able to adjust ingredients or menu options. I enjoy creating dishes accommodating dietary needs while satisfying guest tastes! Fortunately, Maui offers locally grown fresh food items and sources for products to meet most any dietary need. Be sure to share any dietary requirements and dining preferences as early as possible when making event catering plans.
Providing hosted bar service at a Maui wedding reception is more expensive – Since Maui county liquor law requires a licensed bartender to serve alcoholic beverages to guests; self-service bars aren't an option for most Maui events. While we aren't licensed to sell liquor, we'll offer advice on where to purchase your own liquor at the best prices on Maui. We'll supply a licensed bartender for your catered Maui wedding reception. Depending on your catering budget, you may opt to either offer cocktails or beer and wine service using hosted or no host bar services. Enjoy a few of our popular summer cocktail ideas for wedding receptions on Maui.

Use the comments below to let us know of other myths about Maui catering and Maui wedding planning. Are you thinking about getting married on Maui? Use the button below to start planning a catered wedding reception on Maui!
{{cta('ed60f494-7386-4c2e-8e73-ca82f7679a33')}}