Selecting a common site for your Maui wedding ceremony, rehearsal dinner, reception AND lodging accommodations saves money on your Maui wedding.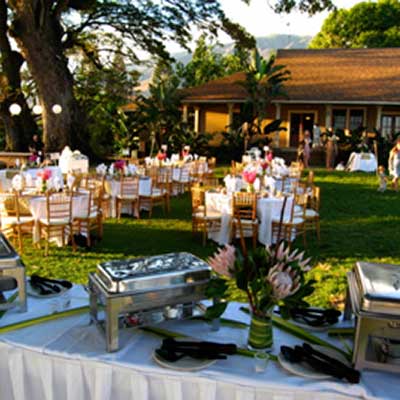 80% of couples planning a Maui wedding have already booked lodging accommodations and flights PRIOR to selecting their wedding ceremony, reception and other wedding function sites. This situation often increases the cost of getting married on Maui with unnecessary expenses such as duplicate equipment rental fees and delivery charges. Selecting a facility suitable and capable of serving multiple roles including lodging accommodations for you and your wedding guests, the wedding ceremony, rehearsal dinner and reception area provides an affordable Maui wedding opportunity capable of fulfilling a couple's dreams of an oceanfront tropical wedding.
Maui County only allows a 'simple' wedding ceremony on island beaches. The county permit does not allow chairs, chuppahs or other fixtures while only allowing 20 minutes on the beach for the wedding ceremony. If your dream includes a 'toes on the sand' wedding, the wedding ceremony can be held on any Maui county beach. Let us know your favorite beach and we'll secure the Maui county beach wedding permit for the ceremony and suggest nearby options for the champagne toast, wedding cake cutting ceremony, wedding dinner or reception.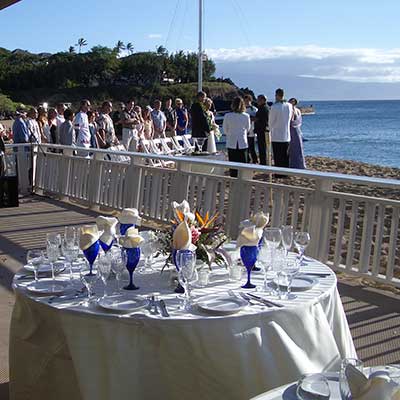 One of our favorite west Maui wedding locations is the Eldorado Cabana at the Outrigger Resort in Kaanapali. You and your wedding party stay at the Eldorado resort and your wedding ceremony will be on the sand followed by a catered reception in the beachside cabana.
If you have a favorite condo you enjoy staying at when visiting Maui, consider hosting the wedding ceremony and other wedding functions on the grounds of your condominium where you and your wedding guests are staying. You and your guests avoid driving from location to location and nearly all Maui condominiums allow guests to utilize their common grounds for wedding functions without additional fees or permits. Many condominium properties are excellent choices for an oceanfront wedding location. Ask us and we'll suggest condos suitable for your Maui destination wedding.
Another surprisingly affordable and often overlooked option is to get married at one of Maui's all inclusive oceanfront private estates where you and your wedding guests stay together enjoying luxurious on-site lodging accommodations sharing a spectacular wedding ceremony site available for the rehearsal diner and/or reception. Most private estates include luxury amenities with cottages, kitchens, private pools and a bbq. Many bride and grooms enjoy an informal sunset bbq rehearsal dinner with their wedding guests on the private estate grounds. A private estate wedding with on-site lodging accommodations for you and your guests provides the personal setting to fully enjoy and celebrate along with your wedding guests over several days while minimizing expenses. Often lodging fees are below $200. per person per night, less than most Maui resort room rates. Savings are also realized by re-using the same tables, chairs and other equipment rentals for multiple wedding functions. If you're seeking a stunning oceanview private estate wedding with on-site accommodations, there are many private estates on Maui's north shore and other locations.
Private wedding locations on Maui such as west Maui's Olowalu Plantation House or the Sugarman Estate at Makena feature oceanfront wedding sites for those seeking a wedding site to accomadate at least 100+ guests or a more formal beachside wedding.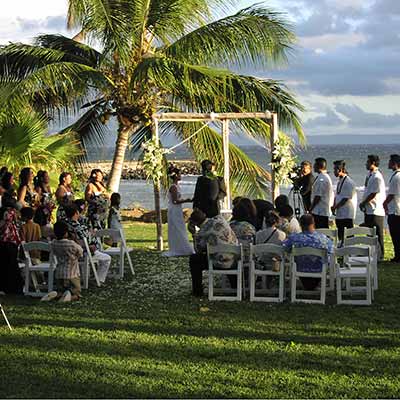 These wedding sites are beautiful oceanfront 5+ acre private estate wedding locations stunning tropical elegance for your wedding and reception. Site Fees begin in the $5,000 range before food & beverage or other wedding services. These locations require all equipment rentals and fixtures to be delivered to the site, including tables, chairs, dance floor, tents, lighting or other fixtures adding to overall cost.
If you found this Maui wedding planning article useful, please comment and forward to anyone planning their Maui wedding.