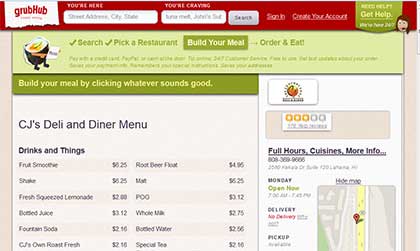 With numerous mainland visitors informing us they frequently use online ordering apps at home and would like to do so while vacationing on Maui, we are pleased to announce we have partnered with both GrubHub and Eat24 to bring online ordering convenience to Maui visitors and locals alike! In addition to ordering directly from our CJ's Deli & Diner website menu, you can also view our menus or place takeout orders using the Eat24 and GrubHub apps and websites.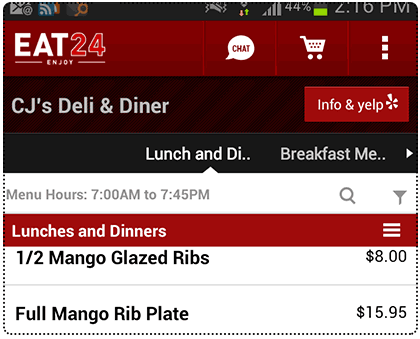 Visitor data continues to show vacationers desire to maximize beach time on Maui! So, we thought it was time for a Maui restaurant to offer island guests the opportunity to order online from the comfort of their beach chairs! Keep reading to find out the fastest way to order our famous Comfort Food from CJ's Deli & Diner menus while you relax in a beach chair on Kaanapali Beach or wherever your favorite Maui beach happens to be!
Keeping with our spirit of providing great tasting comfort food at the most affordable dining prices available on Maui, be assured online ordering won't cost you any more than ordering in our Kaanapali restaurant. To introduce customers to these new online ordering options, we are offering a money saving opportunity to receive a $5. discount on your first online order at GrubHub. Read on for all the details! Or, just get to the food with restaurant menus on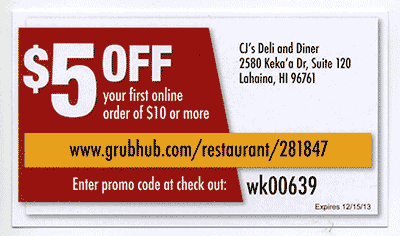 GrubHub and Eat24. Hit the Apple app store or Google play to download the Grubhub or Eat24 app on your phone or tablet.
Save $5. on GrubHub!
We are happy to have partnered with the leading online ordering app providers, GrubHub and Eat24, for online ordering convenience and security. Though we still can't deliver, takeout orders placed online with Grubhub and paid with a credit card are eligible for a $5. discount on orders of $10 or more for first time Grubhub users. Just enter the promo code, wk00639 before December 15, 2013 when you place your first online order for CJ's on GrubHub's website or app. Offer cannot be combined with other offers and must comply to Grubhub's rules.

Need an idea for last minute holiday party catering on Maui? Save time with online ordering for self service takeaway catering platters from CJ's at Eat24. Review a sampling of the party platter menu and then place an order for your next do it yourself catered event on Maui!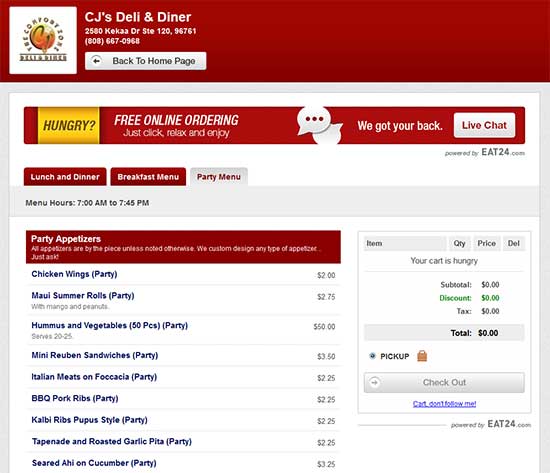 Easy and Fast Online Ordering on Maui with GrubHub and Eat24!
The next time you are in Kaanapali or anywhere else in West Maui, use your favorite online ordering app on your mobile device to place a takeout order for comfort food from CJ's using the GrubHub or Eat24 mobile apps! Then, when you arrive at the restaurant in the Kaanapali Fairway Shops, you'll only need to pick up your order! Order online to save time inline! If you use either of the apps to order from us, please let us know about your experience in the comments section below.

Like the online ordering menus except prefer full service catering for a Maui wedding or other event? Though we've expanded our online ordering options, we still cater Maui weddings and events with as much or as little help as you prefer. After you take a look at our catering menu ideas, start planning a Maui wedding – Get complimentary wedding planning advice and a no obligation catering estimate NOW:
{{cta('2f3ec34f-8c06-40fc-bb27-75700f95a429')}}