Remember that old song, from the 50's or maybe early 60's, I seem to recall the title was 'Do the Mashed Potato'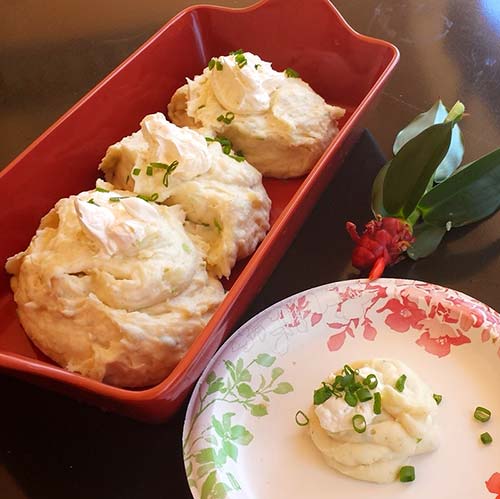 or something similar. That was a line from the song even if not the title. Sing it with me now: 'We Do the Mashed Potato, We Do the Mashed Potato'. whew – no, I don't remember the exact words to the song either. The only time I remember hearing it was the few times my parents' friends played it on their early stereos back in my hometown in Denmark. OK, never mind the old mashed potato song or the dance that went along with it. Since I don't want anyone to suffer through another extra starchy hard to swallow serving of bad mashed potatoes, I thought it was finally time to take a stance for the famous spud from Idaho! In this case, I'm serving up a mistake proof recipe for mashed potatoes or as I prefer to call them 'whipped potatoes'.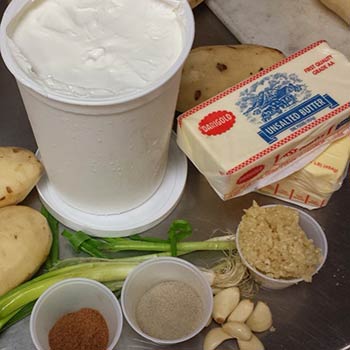 What would any respectable honest to goodness Comfort Food restaurant be if it couldn't serve up homemade whipped mashed potatoes like your grandma used to make? You'll most certainly want to do the Mashed Potato dance after stopping at CJs Maui restaurant in Kaanapali for a serving of our homemade mashed potatoes or after you make them at home using our Mashed Potatoes recipe! When we make mashed potatoes, we don't scrimp on all the good things that are supposed to be included! Butter, whole milk, sour cream and more goodness. I know in this day where everybody seems to want it fast and 'right now' it can be easier to hurry or take shortcuts for making mashed potatoes. I have one word of advice: Don't! Along with my mashed potatoes recipe, I share a few preparation methods with tips and techniques to ensure your mashed potatoes always taste as good as the ones we serve on our menu every day at our Kaanapali restaurant in West Maui, CJ's Deli & Diner. Read on for the best mashed potatoes recipe!
CJ's Mashed Potatoes Recipe
Prepared by Maui Chef Christian Jorgensen of CJ's Deli & Diner – Maui Catering & Events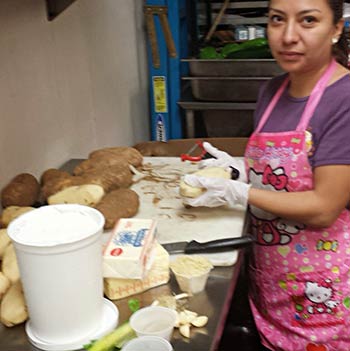 Serves 6 (With left overs to use for variety of dishes) minimum batch recipe. Use 6 large Baking Potatoes or 4 lbs Red Russet. Or, even better, use Golden potatoes!
4 lbs Potatoes Peel & Rough Chopped
1 Cup Sour Cream
4 oz Chopped Garlic
1 T-Spoon Nutmeg
1 lbs Butter
1 T-Spoon White Pepper
2 Cups Milk
2 Table Spoon Kosher Salt
1 Bundle Green Onion Tops or Chives Fine Chopped
Preparations:
Peel and Rough Chop Potatoes

Boil in Salted and Plenty Cold Water for 25 to 30 min until

soft-smooch.
Strain, then place back in pot on stove and cook off steam/starch over medium heat 2-3 min stirring / smashing.

In separate heavy bottom pot, saute butter to golden and clear. Then add chopped Garlic.

Saute Garlic for 5 min until brown throughout and smelling absolutely fantastic.

Add Milk & Sour Cream with seasonings to the Butter & Garlic stir until smooth.
In Mixer or with handheld Mixer: Mix / Mash / Whip The Potatoes for 2 min before adding the Milk Mixture to the bowl. Doing so allows the liquid-starch to evaporate and ensures the

perfect end result instead of

"thick, starchy hard to swallow, you know: BAD Mashed Potatoes".
This is my base Whipped Potato recipe. You could infuse with fun flavors, including my favorite, Truffle Oil. Or, use Wasabi, Bacon, a Turmeric & Chili-paste. And do not to forget to add a cheese.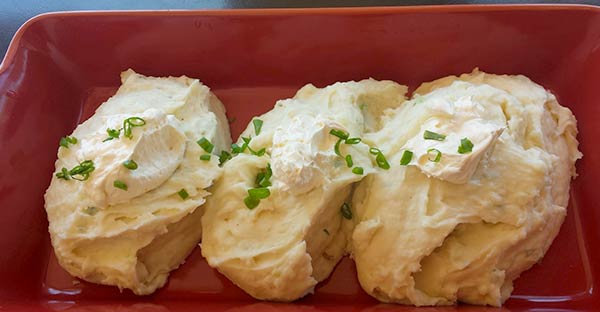 The next time you feel like doing the Mashed Potato or enjoying an old fashioned serving of tasty home-style mashed potatoes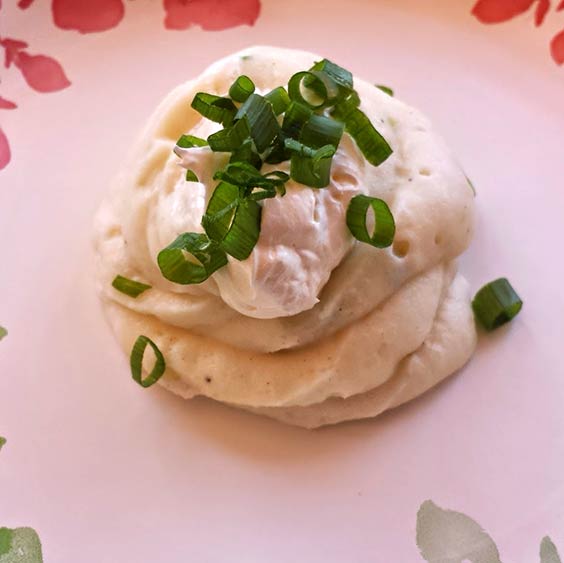 , stop by CJ's Deli & Diner in Kaanapali. What, you aren't on Maui? OK, then just follow the mashed potato recipe and use the easy techniques provided. Then, tell your family you'll be planning the next family reunion on Maui with a homestyle dinner personally prepared by the chef who taught you how to make the mashed potatoes. Of course, I'll help you plan the perfect menu, recommend beach front vacation rentals with a kitchen for the private chef dinner, and then show you how to make the potatoes we'll serve family style along with the rest of a menu we'll prepare for your family dinner. What could be better than chef prepared barbecue on Maui with home-style whipped potatoes? Mashed potato bars are perfect for weddings and other catered events on Maui, too! Our Kaanapali catering company provides full service catering on Maui.
You'll always find home-style mashed potatoes on the menu at CJ's and we often include our whipped potatoes and fresh steamed vegetables as sides with our daily plate lunch specials. Include mashed potatoes at a Family Reunion on Maui or any other catered event:{{cta('ce3afdaf-c601-4fdf-8df5-aa2e012b6bc6′,'justifycenter')}}