Are you in the midst of the dog days of summer struggling to figure out what to cook for the family barbecue this weekend? Maybe you are looking for an easy recipe making use of the fresh tomatoes from your backyard garden or your favorite local farmers market. My Internet marketing team at FatIguana Inbound Marketing agency recently asked if I could help them prepare Fried Green Tomatoes. They were in luck as I recently served Fried Green Tomatoes as a side dish to a barbecue for a catered family reunion on Maui. We quickly agreed I would share my recipe for Fried Green Tomatoes with Roasted Red Pepper Aioli in exchange for documenting the recipe and sharing their experience preparing the dish. I hope you enjoy their story along with my Maui Chef's Homemade Fried Green Tomatoes recipe: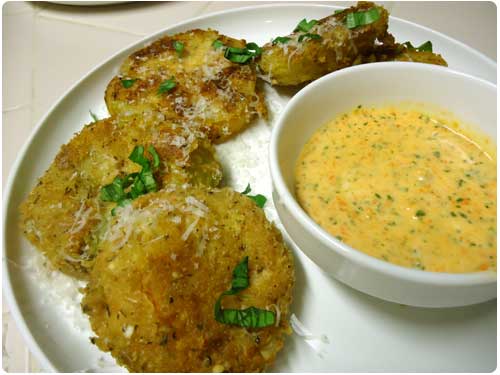 Like most of the mainland, heirloom tomatoes and fresh garden tomatoes are plentiful. With Maui in the midst of a mini heat wave of our own as afternoon temperatures surpass the high 80's and low 90's, I found myself longing for the fried green tomatoes from my childhood. I grew up in northern Indiana where summer growing seasons are short and hot. I recall painstakingly preparing the family garden each spring for the upcoming summer vegetable growing season. First, a good roto-tilling was necessary to turn the dense hard Midwest clay left from the frozen winter months. Next, a rich compost was mixed and the soil was leveled before eventually planting the small seedlings we had started earlier in green houses. Out of impatient anticipation, I would often harvest the tomatoes too early before turning red, forcing my mom to prepare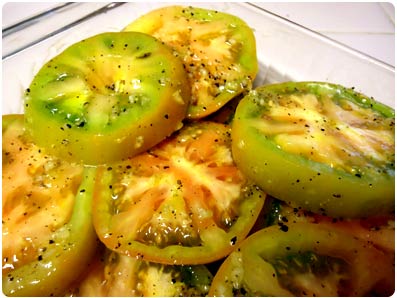 fried green tomatoes! When I could wait, I remember being rewarded first with Early Girl tomatoes and eventually the huge juicy Beef Steak and Big Boy tomatoes! Though our growing season was short, the intense heat combined with long summer days produced the biggest juiciest most flavorful tomatoes I've ever tasted! Here on Maui, especially in the summer months, the tomatoes come pretty close in flavor and often surpass my memories of those incredible tomato flavors from my youth. Though Maui's reliable weather is certainly suitable for sustaining year round tomato growing, the best tasting tomatoes are still found during the summer months when the days are longer.
I guess I developed pretty good skills growing tomatoes as we often ended up with an abundance of tomatoes and other summer vegetables. After home canning projects, the garden produced more than my family could consume. Thus, my first 'business' was born offering home grown vegetables as the neighborhood 9 year old door to door sales person. Each morning, I would harvest the latest bounty the garden served up. Then, after mom had her pick, I would fill my red wagon with the remaining tomatoes and other summer harvest vegetables to offer for sale. Thinking back, my growing pinball addiction was probably at the heart of my motivation and fueling my drive to frequently guilt trip the poor little old neighbor ladies into helping 'that kid banging on their front door again trying to make a couple quarters from his parents garden'. Alas, I digress and need to return to my present day quest for the elusive perfect fried green tomatoes recipe…
When my wife, Jennifer, recently arrived home with a fresh supply of beautiful green tomatoes she had found during the weekly farmers market at the Queen Ka'ahumanu Mall in Kahului, I was determined to figure out how to recreate the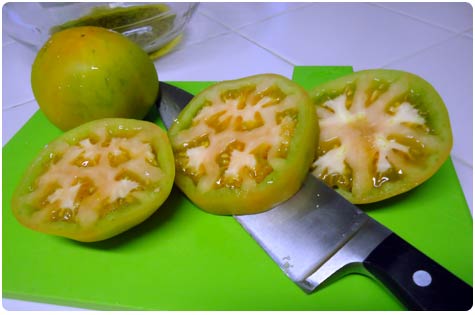 fried green tomatoes I was so fond of. Though I scoured the Internet for recipes, I couldn't be certain which one would taste as I remembered. So, I asked my Inbound Marketing agency client, neighbor and Maui Chef Christian Jorgensen, if he had any ideas. Of course, being the master chef Christian that he is, he was instantly intrigued and immediately began running off an ingredients list we would need to prepare the fried green tomatoes AND to make a homemade roasted red pepper aioli to accompany the dish. We captured Chef Jorgensen's recipe and shot a few images while we prepared the delicious dish. Without further ado, I present Maui Chef Christian Jorgensen recipe for Homemade Fried Green Tomatoes with Roasted Red Pepper Aioli:
Homemade Fried Green Tomatoes Recipe
by Maui Chef Christian Jorgensen
Slice Green Tomatoes into thick slices (about 1/2 inch thick)
Marinate the slices for a couple hours in:


Olive Oil
Pepper
Garlic
Do NOT use salt in the marinade

Heat oil in a large frying pan. Use Cottonseed, Canola or Peanut Oil. Do NOT use Olive Oil.
In separate bowls, add


whole wheat flour
egg, beaten
equal parts Japanese Panko and grated Ramona or Pecorino Cheese with a little salt and dried Oregano

Drain the tomatoes and dip into the flour, egg and panko mixture
Carefully add the tomatoes to the frying pan. Fry on high heat for one minute then turn over and reduce the heat to medium, cooking for one more minute or until golden brown.
Remove from oil and drain on paper towels.
Sprinkle with a small amount of salt.
Drizzle with Olive Oil.
Top your fried green tomatoes with fresh chopped Basil or Oregano and grated Parmesean or Pecorino cheese.
Roasted Red Pepper Aioli Recipe by Chef Christian Jorgensen
One cup mayonnaise or better yet make your own


3 whole eggs
1 Tablespoon Dijon Mustard
Juice from 1/2 Lemon
Salt and White Pepper to taste
Splash of Worcestershire sauce
1 1/2 cup Olive Oil (preferable Cold Press)

Fluff the eggs and spice in a blender.
Over 3 minutes, slowly add oil until consistency of mayonnaise.

Add the following ingredients to the mayonnaise:


1 Tbl chopped Garlic
5 oz. chopped fresh Basil Leaves
1 whole roasted Red Pepper (can or jarred)
Tabasco if you like it spicy

Mix all ingredients together in blender until smooth.
Serve Roasted Red Pepper Aioli with the Fried Green Tomatoes.
Let us know in the comments section below if you liked my recipe for fried Green Tomatoes or ask any questions you may have. Or, share the fried green tomatoes recipe with your Facebook friends, Twitter Followers and Google Plus circles!
Ready to experience the personal Maui catering services you deserve? CJ's Comfort Zone Maui Catering company provide Maui catering services for events and Maui wedding receptions. FREE wedding planning included with catered Maui weddings.{{cta('a7b64553-9414-40e5-8a72-6b9488f4baff','justifycenter')}}