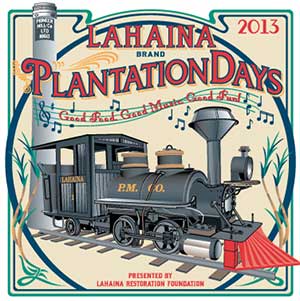 On Maui this weekend and looking to do something different? Entertainment for the whole family with local food and fun for all ages? Whether you live on Maui or are visiting and staying in any of the Kaanapali or other hotels between Kapalua and Lahaina, you'll want to head into Lahaina on Friday and Saturday evenings. Make plans to get out to the Lahaina Plantation Days in Lahaina on October 18 and 19! Gather under the old smokestack to join the community in celebrating West Maui's rich historical links to agriculture. There will plenty of opportunities to learn about the history of the area and understand how the former plantation era heritage contributes to the current West Maui community. Read on to find out why sports fans will enjoy the theme of the 2013 Plantation Days!
Along with a variety of other local restaurants and eateries, CJ's Deli and Diner and the Comfort Zone Catering team will be on hand Saturday serving up a couple delicous comfort food dishes created especially for the event:
Barbecue Hoisan Glazed Ribs with Hawaiian Slaw $6.
Hana Bar Ice Cream Parfait with Caramelized Maui Gold Pineapple $5.
(food and beverage script available for purchase at the event)
In an early taste testing sample of the dessert, customized to celebrate the former West Maui pineapple plantations, a frequent customer exclaimed she thinks she may like the pineapple version even better than the Hana Bar Mango Sundae dessert featured on my Kaanapli restaurant menu and served daily (displayed in the image here)! Come to Lahaina Plantation Days on Saturday evening and let me know which one you like better!
While it would be unreasonable to suggest the area is still active in large scale commercial pineapple and sugar can production, West Maui continues to produce commercial coffee, dragon fruit and other crops. Though on a smaller scale than previous days of full size plantations, a growing and vibrant micro farming community is thriving and growing in West Maui. As professional chefs, we end up with more local products to choose from and source locally! Interacting directly with the farmers provides us with extraordinary opportunities to learn about and use their products in our restaurants and especially for our catered events on Maui. So, I always look forward to participating in local events and hope to see you at Plantation Days in Lahaina on Saturday. The Plantation Days theme for 2013 is designed to commemorate sports and recreation during the plantation era. After visiting the sports tent with local sports equipment and memorabilia spanning the 20's through the 60's, attendees will be able to sample a variety foods served by local restaurants and adults can indulge in the beer and wine garden. I'm looking forward to sampling Maui Brewing Company's latest fall craft beers. With a low cost admission price of only $3. daily admission and proceeds from the event benefiting sponsor Lahaina Restoration Foundation, don't miss this event!
Join my Maui catering crew and I, Chef Christian Jorgensen, at Plantation Days in Lahaina on Saturday, October, 19 between 5:30 and 10:30 pm!

We've cooked up a fun menu for you to sample our delicious food while participating in the activities and entertainment planned for the fifth annual event. Bring the family and friends to West Maui this weekend! You won't want to miss the fun!! For all the details about event and watching the Baldwin-Lahainaluna football game Friday night while attending the event, take a look at the 2013 Lahaina Plantation Days event page.
Need catering for holiday party or a wedding on Maui? Stop by our booth at the the event on Saturday evening to try a sample and meet us. Aftwerwards, you'll want to come back here to get the catering and event planning process started. Or, just hit the button below, provide a little information about your wedding or other catered event on Maui. Ask for a catering quote now:
{{cta('6e990028-e3b3-44a6-a4c1-80e08111e3e9')}}