From the days of old Hawaii to these modern times, one of the most versatile plants has been the ti (tee) plant.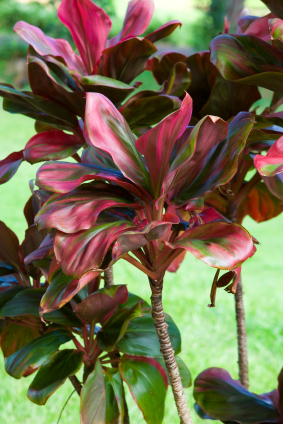 The many uses for its leaves through the ages are remarkable.
Commonly used in Maui landscaping, ti plants have long, broad leaves of green, red, or maroon, sometimes in combination. Some varieties bear white or purple flowers or red berry-like fruit. Widely believed to bring good luck, ti is often planted at all four corners of a home to protect the family against misfortune.
To further ensure good luck and ward off evil spirits, ti is used in the standard practice of blessing a new home or even a place of business. In addition to reciting a prayer, or 'pule' (poolay), the Hawaiian officiant performs a ritual. He dips one end of the ti leaves into a Hawaiian koa wood bowl filled with water and red Hawaiian sea salt, then shakes the leaves to scatter the salt water to all corners. Few people on Maui risk moving into a new place without the benefit of a blessing ceremony.
Around the house, ti leaves are useful in cooking. A popular Hawaiian dish, laulau (lou lou), pork and butterfish wrapped first in taro leaves then packaged in wrapped ti leaves.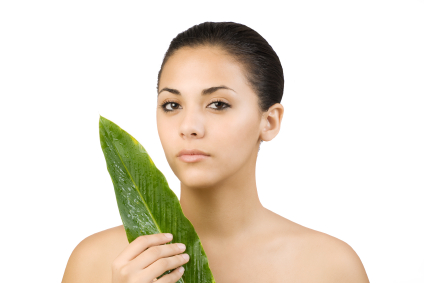 Ti leaves are excellent for steaming food within. They hold in moisture and lend a distinctive flavor for an ono (delicious) meal.
They are also used for imu (ee moo) cooking. Typically used for roasting a pig, the imu pit contains layers of rocks and banana leaves for heat distribution. Ti leaves cover the pit to hold in steam for a moist and tasty pork meal.
When serving food, Maui hosts use fresh ti leaves for table decorations, scattering tropical flowers on top. This looks particularly dramatic on a crisp, white tablecloth at Maui weddings. Ti leaves are typically placed on a serving platter under food, making any dish seem fancy.
With decorative appeal, it's no surprise ti leaves can be worn in various ways. Most stunning is the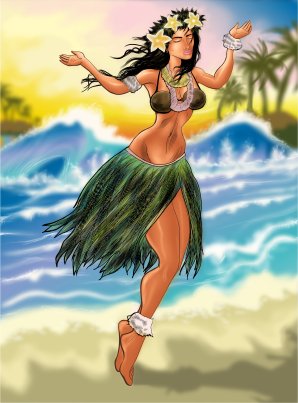 hula skirt, made by tying stems of fresh green ti leaves to a cord which goes around the dancer's waist. A graceful hula dancer swaying to the gentle swish of the emerald-green leaves is a captivating image. Making the skirt takes a lot work, so fortunately the skirt can be kept fresh for a couple of weeks by wrapping it in damp cloth or newspaper and keeping it in the fridge.
Another popular way of wearing ti is in a lei. The leaves are twisted into a durable lei that is favored by men and boys. Allergy sufferers appreciate this lei if they cannot wear one made of flowers. However, that is not to say that flowers can't be added to this lei for accent if desired.
What's especially nice about the twisted ti leaf lei is that it dries very nicely, so it becomes a keepsake of the occasion for which it was worn. Many people hang them in their homes to keep good luck around all the time.
A different type of ti leaf lei was worn by healers of old Hawaii. This lei was made by knotting together the stems of two ti leaves. The lei hung around the neck with the knot in back, and sometimes the lines in the leaves were ripped for a feathery look.
These healers also used ti leaves to wrap medicinal herbs for steaming or boiled part of the ti plant into a medicinal drink. Ti, or 'ki' in Hawaiian, was used as a decongestant, muscle relaxant, and asthma treatment.
The roots of the plant could be used as food, too. Sometimes they were baked and eaten or steamed in an imu and chewed. When food was scarce, the roots were mashed and mixed with water for a nourishing drink. A strong liquor
was made from boiled roots.
The Hawaiians of old had many other practical uses for ti leaves. Tied to a net, the leaves created an effective rain cape. Fashioned into a long braid, they were wrapped around the back and shoulders to carry a pack of goods. Long braids were also inserted through ti leaf padding and tied around each ankle to form sandals. Ti leaves also provided beautiful thatching for roofs. It's easy to see why the early Polynesian settlers of Hawaii brought this plant with them.
With many uses for these leaves, it's a good thing that ti is an easy plant to grow. Stem cuttings can simply be rooted in water and planted in the ground to start a new plant. In our era of emphasizing sustainability, using versatile ti plant is the ultimate way to 'go green.'
We'll plan a Traditional Hawaiian Wedding on Maui and bring the Ti Leaf! Begin Planning Your Destination Wedding on Maui.
{{cta('3fd99430-bb9b-40e2-a372-39f437755dfb')}}