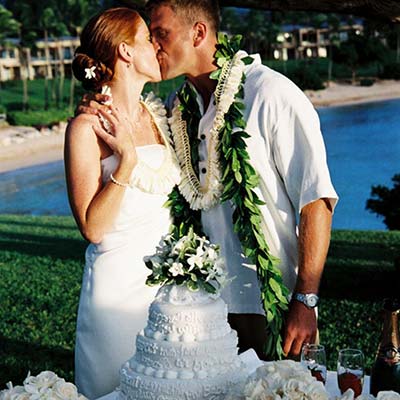 Is a Hawaii wedding in your future? Considering getting married on Maui? Wondering what the process is or what steps are necessary to obtain a marriage license? Need help obtaining a Hawaii marriage license or the application? Read on for the answers to those questions and the links you need for obtaining a Hawaii Marriage license. You'll also want to understand the difference between a Hawaii marriage license and a Hawaii marriage permit. Compared to most states and countries, getting married on Maui or anywhere in Hawaii is very EASY!
Is a Hawaii Marriage License the same as a Hawaii Marriage Certificate? NO – You Need to obtain BOTH to get married in Hawaii. Because the state uses two different marriage documents for two different purposes, you'll need to obtain both. A Hawaii marriage license 'permits' a couple to be married in Hawaii. Whereas, a Hawaii marriage certificate is the official legal document necessary to prove a civil union or marriage took place in the state of Hawaii.
Do We Need to Be a Residents of Hawaii before getting married in Hawaii? NO. Hawaii does NOT impose any residency requirements before getting married in the state. You could get married on Maui the same day you fly in and then fly on to another island the same day for your honeymoon. Or, spend your honeymoon on Maui after getting married at one of the amazing oceanfront wedding venues on Maui!
How do we get a Hawaii marriage license? – Fortunately, it is a very easy process to obtain a marriage license in Hawaii. You may use the state's online applications process to complete the application online before arrival to Hawaii.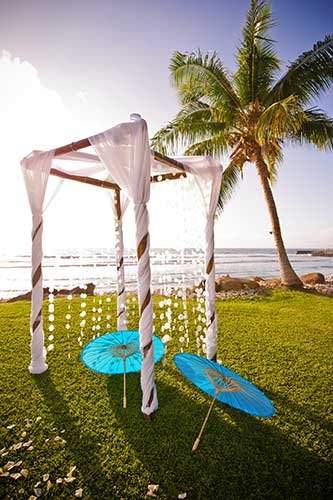 You'll each need a passport, birth certificate or other valid identification. Utilize the Hawaii wedding permit links below for the application.
After we get our marriage license, do we need to wait a certain number of days before our wedding ceremony? NO. There is no waiting period to get married in Hawaii after your marriage license has been issued.
Will a blood test be necessary before we can get married in Hawaii? NO. Blood tests are not a requirement for getting married in Hawaii.
What are the age requirements to get married in Hawaii? – Without written consent from both parents or guardians, the legal age to be married in Hawaii is 18. If you are 19 or older, you'll need documentation to prove your age. Please review the HI marriage licensing web site for age and documentation requirements if you are 18 or under.
Who can perform the wedding ceremony in Hawaii and do they need to be licensed? Hawaii wedding officiants must be an ordained religious officiant, a non-religious licensed officiant or a state judge. The state of Hawaii requires officiants to be certified by the state prior to performing marriages and officiants are required to be certified by Hawaii prior to performing civil union ceremonies.
3 Step Process for Getting Married in Hawaii:
The Hawaii marriage application must be completed by the couple getting married.
An appearance together, in front of a licensed marriage agent, must be accomplished. The marriage license agent will review the completed Hawaii marriage application along with the proof of age documents and a Hawaii marriage license will be granted. The marriage license permits you to participate in a marriage ceremony in Hawaii. The wedding must be performed by a licensed marriage officiant anywhere in the state of Hawaii within 30 days of receiving the marriage license approval.
After the wedding ceremony is performed, the official Hawaii wedding officiate will present the newly married couple with their official Hawaii marriage certificate.
Get more Hawaii marriage details and obtain a Hawaii Marriage License application:
3 Step Hawaii Civil Union Process:
Complete the Hawaii Civil Union Application Form and apply for a Hawaii Civil Union license.
Both members of the civil union must appear together in front of a licensed Civil Union agent in order to receive a Civil Union License.
After the application and license application process is completed, the couple may hire a licensed civil union officiant to perform a civil union ceremony within 30 days after license approval. The licensed officiant will file a record of the civil union cermoney with the Hawaii department of health and after review and accpetance the DOH will officially register the civil union.
Use the links below for additional information about Hawaii Civil Unions and to get an application for a Hawaii Civil Union:
If you still have Hawaii wedding license application questions or if you have questions about getting married and need help locating a licensed wedding agent in Maui county, please let us know in the comments section below. Or, get more Maui wedding planning ideas and tips by subscribing to my weekly Maui catering and wedding planning blog!
Now you know how easy it is to get married in Hawaii! Get FREE Maui wedding planning NOW:
{{cta('3fd99430-bb9b-40e2-a372-39f437755dfb')}}