"People come here to get a little bit of the comfort of eating a deli sandwich …being at a place is more than eating a deli sandwich, getting an experience. The experience of a deli is that you are somewhere people care about you, want you to leave happy, want you to think of this as their neighborhood place."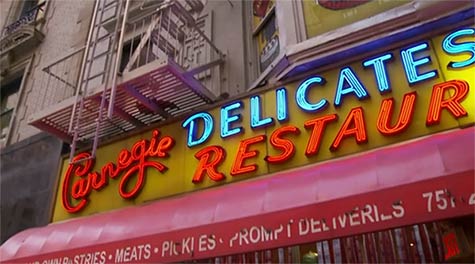 Do you remember the old style deli in your neighborhood? Perhaps your early deli experiences were accompanying grandma to her favorite neighborhood deli. Ever indulged in cheesecake after a pastrami deli sandwich at Carnegie Deli in New York or bit into a pickle from Arties deli on Broadway? Did you finish a gigantic deli sandwiches at the famous Stage Deli before or after a Broadway show? All three are well known traditional New York neighborhood delis dating back decades with beginnings as family restaurants. Sadly, we've learned the Stage Deli closed at the end of November after more than 75 years serving deli sandwiches and comfort food. In a Huffington Post article announcing the Stage Deli closure, a video accompanied with a few quotes to explain the feelings provided by comfort food

and the cultural connections of the deli and family restaurants:
"Like Smelling Grandmas Kitchen"
From Actor Jerry Stiller, "The delicatessen was more than just food. Something for the soul, the heart, that changed your life. Something you deserved after working your ass off all day":
Deli Man Trailer from Erik Anjou on Vimeo.
We'rer writing our own deli history and keeping many of the old deli traditions alive at CJ's Deli & Diner in Kaanapali! Though we are not kosher or Jewish, we serve great deli food with huge portions of comfort food like you'd find at a New York deli. CJs Comfort Zone is a West Maui neighborhood restaurant serving comfort food and deli sandwiches on Maui since 2002! Returning visitors make CJ's Deli & Diner a must eat at restaurant on Maui at least once or twice during an annual visit to Maui. Some visit multiple times to enjoy our hearty homemade comfort food for breakfast, lunch or dinner. Many are amazed to find an affordable restaurant on Maui in the heart of the Kaanapali serving homemade comfort food and staffed by the Chef and his family. CJ's Deli Pastrami sandwiches are stacked a mile high. Maybe not quite as big as Carnies Deli, but almost!
When you vacation on Maui, enjoy a slice of the old deli nostalgia with a deli sandwich from CJ's Deli & Diner. We are a family friendly affordable restaurant in the Fairway Shops at Kaanapali Resort. As probably expected from a neighborhood deli, CJ's Comfort Zone Catering provides full service catering on Maui. With event planning skills and expertise gained from planning events around the world over the past 25 years, Chef Christian is one of Maui's top caterers and wedding planners. Big or Small, We Cater Them All! Wedding Planning included with catered wedding receptions on Maui. Serve a Maui Pineapple Cheesecake at a catered oceanfront Maui wedding reception:

{{cta('a7b64553-9414-40e5-8a72-6b9488f4baff')}}