Vacationing on Maui this Labor Day weekend? Looking for an opportunity to celebrate the holiday combined with a love of food and wine? Then seize the opportunity to learn about fresh farm

ingredients grown on Maui and to meet Maui chefs explaining how they use the ingredients in local Maui restaurants and catering operations. As a chef on Maui, I'm excited to meet the farmers growing their products and interact with other chefs while you get to enjoy unique gourmet dining experiences designed to tantalize your taste buds during one of the premier Hawaii culinary experiences of the year. This Friday and Saturday, August 30 and 31, be sure to attend the 2nd annual Kaanapali Fresh culinary event being held at Kaanapali Resort and surrounding area. 2013 marks the second year of what is quickly becoming one of the premier food and dining experiences in Hawaii! I've teamed up with Kaanapali

Coffee Farms to present a gourmet farm to table dining experience Saturday afternoon following the coffee farm owners explaining how the unique coffee farm operates and coexists with the local community.
After touring the Kaanapali Coffee Farms located above the Kaanapali resort and my restaurant, CJ's Deli and Diner, participants will be hosted by local residents with a special farm to table lunch for which I've created a custom menu featuring products locally grown, raised or produced right here on Maui. Not only will you get to learn more about how coffee is grown and after wards enjoy the lunch I'll be preparing onsite, I'm looking forward to answering questions and conversing with attendees throughout the lunch and after. If you enjoy local fresh foods prepared by world class chefs, this is an event you won't want to miss! Take a look at the Coffee Farm tour menu for a glimpse of what you may expect when you join us for this exciting and popular event in the Kaanapali Resort.
Kaanapali Coffee Farms Tour and Chef Prepared Gourmet Lunch
Coffee Cured Salmon with Mustard-Dill Glaze
Citrus Coated Calamari with Fennel Salad
Antipasto Platter (Meats, Peppers, Olives, Artichoke)
Old-Style Tomato and Buffalo Cheese Stacks
Grilled Asparagus and Root Vegetables
Home Made Cheese Display with Fruits & Crackers
Farm Breads with Olive Oil and Pesto Aioli
CJ's Infused Ice Tea & Lemonade in Dispensers and Ice Coffee to Order
Unable to attend the Kaanapali Coffee Farms tour and lunch? I'll also be available to talk or answer cooking questions at the Dinner Dessert Station on Saturday evening as part of the Kaanapali 5'0 Dinner. My Comfort Zone Maui Catering Company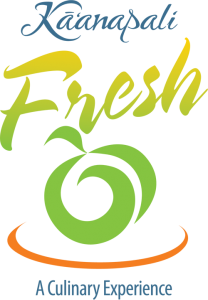 and I will be mixing locally distilled and produced Oceans Maui Vodka with several other local organic fresh Farm to Table products with dessert stations at the Kaanapali Fresh dinner. The decor will recreate a pineapple field with guests sampling treats from at least 10 different styles of dessert stations featuring the following:
Signature Kaanapali Fresh Food & Wine Festival,
Kaanapali 5'0
Kaanapali Coffee Station
3 Flavors of locally grown Maui coffee
Dessert Buffet (self serve)
Coffee infused Tiramisu, Cookies, Parfait and Chocolate Coffee Mousse
Dessert Truck (Live-Chef serve)
CJ's Hana Bar & Haupia Sandwich with Maui Gold Pineapple Flambe
"Kaanpali Romanoff"
Kula Strawberries Macerated with Maui Ocean Golden Vodka with Polynesian Peppercorn and Roselani Vanilla Basil Coffee Ice Cream
Ready to purchase tickets to one of the best Maui culinary events of the year? Visit the 2013 Kaanapali Fresh website for the latest event updates, for ticket information or to purchase tickets. We anticipate some of these events will sell out before the event so don't wait long to purchase tickets. Our lineup of musicians, including legendary ukulele virtuoso Jake Shimabakura and renowned performers Amy Hanalali'l Gilliom and Makana, equals the quality food Maui chefs will be pairing using fresh farm ingredients with their favorite dish. Come to Kaanapali Fresh on Friday and Saturday, August 30 and 31st in the Kaanapali Resort on Maui. Follow the event on Twitter (hashtag #KFresh13), too! Leave a comment below with any questions or let me know when you'll be at the dessert stations or on the farm tour to meet!
Like the cateriing we do for the Kaanapali Fresh event, you can always count on me and my team at the Comfort Zone Maui Catering Company for your own events on Maui! Start planning your catered event today by hitting the button and answering a few questions about the Maui wedding or event you need catering for:
{{cta('6e990028-e3b3-44a6-a4c1-80e08111e3e9')}}