A Maui wedding day wouldn't be complete without the bride and her bridal party receiving a little pampering before the big day! After the wedding location is chosen, an officiate confirmed, tropical flowers selected and catering menus customized to her preferences the bride often asks us to suggest a salon or stylist for her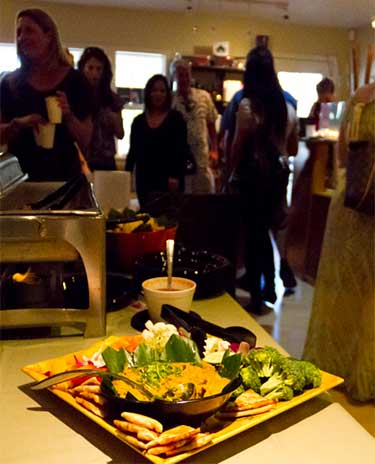 wedding hair. Not only will the bride want her hair styled for her wedding day, most make arrangements for the entire bridal party. Many Maui brides request manicure and pedicure or soothing skincare treatments for their bridal party to rejuvenate after a few days on the beach in the Maui sun. In addition to the bridal party receiving hair and nail treatments, a growing Maui wedding trend is to include the groom and groomsmen. Imagine the whole wedding party relaxing together with coed spa day on Maui! You'll want to include a tasty selection of hors d'oeuvre and tantalizing healthy appetizers to accompany the pampering!
We recently catered a wedding spa party at Soleil Luna, a boutique salon for hair, bridal makeup, nail care, skin treatments and spa services. In the heart of Lahaina and conveniently located on Lahainaluna Road near the corner of the Honoapiilani Highway, the west Maui salon with on-site spa services provides a relaxing atmosphere complete with Balinese styling and eclectic music to sooth your mind while your body receives one of many rejuvenating treatments. With many of the weddings we provide catering in West Maui, we're always comfortable referring bridal parties to Soleil Luna in Lahaina. My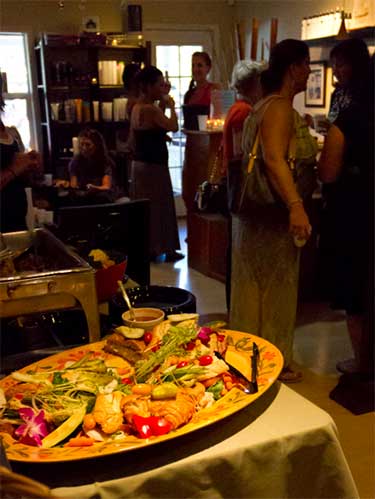 homemade hummus was a hit at the bridal spa party! Several of the guests said the delicious hummus was amazing and the best they ever tasted! The homemade hummus was accompanied by homemade pita chips and served with a variety of fresh crisp vegetables. The catering menu included an assortment of mini finger sandwiches and hot Thai Chicken Satay served buffet style.
As local business owners raising our own family on Maui, we always enjoy catering bridal spa parties for the bride and groom families and friends. We appreciate these catering opportunities knowing the families and friends will be enjoying a bit of special quiet time relaxing together in an intimate setting before the wedding. To make it easy to host a wedding party spa day, we put together three special catering menus designed for wedding party spa visit. These catering menus could be customized for serving to the bridal party on the day of wedding or light appetizers for a bachelorette party. Take a look at our new Maui Wedding Spa Catering Menus for ideas and then begin planning the perfect catered spa day for your wedding party. These affordable catering packages include delivery to West Maui locations and may be ordered as individual platters.
{{cta('8fb456b1-2e62-41b3-a661-13e9cbec91c6')}}