Are you getting married in Hawaii? It can be confusing to understand the common terms you'll run across while planning a Maui wedding or choosing a Maui catering company. To help, I've compiled the following 12 Maui catering terms with definitions and service explanations.
Full Service Catering – Imagine a complete catered wedding reception with a menu matched to your taste preferences and wedding budget. Full service catering means we plan, prepare, and serve your selected menu at your catered Maui wedding reception. Plates, flatware, glassware, silverware, tablecloths and other wedding fixtures or wedding reception accessories may be included.
Full Service Wedding Planning – From helping you choose a wedding location to customizing the perfect menu for your Maui wedding reception, every aspect of full service wedding planning is included: "I plan it, I book it, I cook it, I serve it! One Call Does It All"! I'll personally work with you to plan and create a customized Maui wedding package, serving as the coordinator of your Maui destination wedding. Our more than 10 years of experience catering events on Maui means we're able to source the most reliable Maui wedding professionals for wedding photography, officiates, entertainers and bamboo wedding chuppahs, tents or other wedding equipment rentals. If you would like to utilize an alternate wedding planner or prefer to select your own wedding venue, we are flexible to participating in your Maui wedding in the traditional catering only role.
Plated Service – You and your event guests are treated to a sit down multiple course dining experience. Your wedding menu is customized based on your personal preferences. Each course of the menu is served to guests by attentive professional wait staff
Buffet Service – Guests select from a variety of menu items served from chafing dishes. Since less staff is necessary, costs are less. See our Maui catering menus for buffets.
Food Station –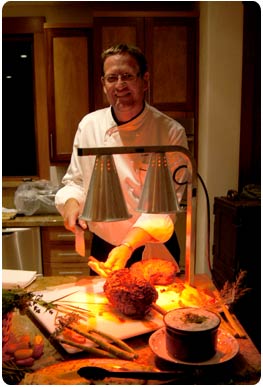 Specific types of food are served and prepared in front of the guests at each station. Food stations provide wedding attendees opportunity to interact with chefs about the fresh ingredients and techniques as well as request custom variations. Maui Seafood Feast, Clam Bake and Surf & Turf food stations are very popular for catered Maui wedding receptions.
Theme Service – Food stations featuring specific themes matched to the food served from each station. The theme can be based on nationality, type of food or matched to your ideas. The chefs and food stations are decorated to match the overall or specific theme station. A (Hawaiian Cowboy) Maui barbecue, Sushi Bar, Taco Bar and Pasta Bars provide an interactive fun wedding rehearsal dinner on Maui!
Chefs to Go Catering – "Like having me, Maui Chef Christian Jorgensen, with you in your kitchen"! With Chefs to Go, we prepare all the ingredients, you pick it up at my Maui restaurant and prepare everything in your kitchen.
Self-Catering or Self Service Catering – We prepare the ala carte menu items for your meal in quantities appropriate for your guests count. Then, you pick up the prepared meal or we drop off at your Maui wedding location. Chafing dishes or other wedding accessories are available, with rental catering equipment return due after your wedding or self catered wedding reception.
Private Chef or Personal Chef – On site private chef cooks in your kitchen and includes butler service with staffing to serve your meal. Some Maui wedding couples use this private dining option as an alternative to the traditional rehearsal dinner or for their own personal wedding dinner.
Pupus – Pupus is the way we say Hawaiian appetizers or Hawaiian hors'doeuvres. 'Passed pupus' are bite sized appetizers served to guests as servers pass by with serving trays. Costs may be reduced by decreasing the number of chairs,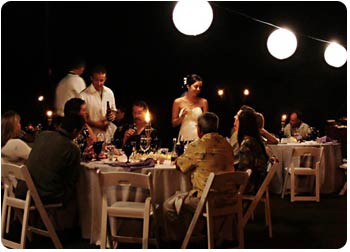 tables, plates and other rental equipment.
Bar Service –Hawaii law permits you to purchase your own alcoholic beverages. We'll recommend the best places to purchase beer, wine and alcohol for your wedding reception. Our licensed bartenders and servers provide full bartender services to ensure your guests are served safely per Maui county liquor rules. Ask for chef recommendations to personally pair wine for each course of your wedding reception menu!
Hang Loose – Relax and enjoy planning your Maui wedding! In Hawaii, you and your wedding guests will tend to be more relaxed. Most Maui weddings lean toward casual elegance over formal. Keep that in mind to help you decide which wedding traditions to include, where your Maui wedding location and what will be worn at your Maui wedding. You and your guests will appreciate your Maui style.
Ready to start planning your Maui wedding?
{{cta('ef04f233-c59d-4325-a800-fe567947586b')}}