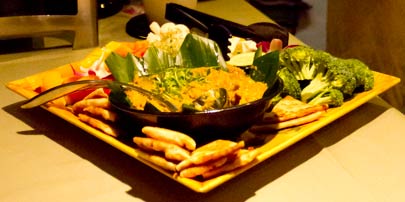 Most catered events on Maui begin with pupus, Hawaiian hors d oeuvre, as the appetizer course. After traveling many miles to attend an event on Maui, it isn't uncommon for the guests to be meeting for the first time or getting re-acquainted after several years. Providing a light healthy snack as a self serve pupu or passed appetizer gives guests ample opportunity to chat and get to know each other with small bites between conversation. As a professional chef who has traveled the world and with my own teenage daughters preparing leave the nest as they head off to college, I personally appreciate and enjoy seeing these family relationships re-kindled and new or old friendships formed. Many of our catered events begin with Hummus with Crispy Lightly Fried Pita Chips and fresh vegetables. Since Hummus is easy to prepare and so many of our catering guests request the recipe, I wanted to share my homemade Hummus recipe and provide a short lesson on how to make the dish quickly for your next party.
Before you watch my latest video cooking lesson on how to make hummus below, peruse the recipe and pick up the ingredients from your favorite market. After you measure the ingredients, you'll be ready to cook along with me in your kitchen. If you picked up fresh pita bread you'll also want to watch the short cooking lesson on how to prepare pita chips to serve with the Hummus. After wards, all that is left is to pour yourself a glass of white wine or make up a batch of fresh Passion Fruit Mojoitos to entertain your guests for a cocktail party or backyard bbq!
Chef CJ's Humus Dip Recipe by Maui Chef Christian Jorgensen

2 Cans (15 oz) Rinsed Garbanzo Beans (Chick Peas)
1/4 Cup Lemon Juice
2 Medium Sized Onions
2 oz Dry Tirmeric (pinch)
6 oz cup of Chopped Garlic
2 oz Dry Cumin (pinch)
6 oz Sesame Seeds
1 oz Dry Curry Powder (pinch)
1 Cup Olive Oil
Bit of Chopped Fresh Spinach and Parsley
Preparation:

Place the Olive Oil in a Heavy Saute Pan. When the oil is sizzling hot, add the Onions and Garlic. Saute until golden brown.
Add Sesame Seeds and Spices. Then, cook and stir for 5 to 8 minutes until golden.
Stir in Lemon Juice and Saute until flavors are absorbed.
Take off stove and add the fresh spinach and Parsley.
Chop / Blend via had held blender or in a food processor .
Season with Salt and White Pepper

We always serve this Hummus recipe with Crispy Lightly Fried Pita Chips seasoned with our vocanic spice mix.

Serves 10
Watch Maui Chef Christian prepare his homemade Hummus recipe in the following short cooking lesson video (aprox 2 min and 36 sec):
Watch this short (1 min, 39 sec) video cooking lesson with Maui Chef CJ gives tips on making light crispy pita chips to serve with his homemade Hummus recipe:
Hummus also makes a great base starter for your favorite vegan dish or as a name your own vegan burger patty. My two teenage daughters recently converted to vegetarian diet and love my Falafel made from the above Hummus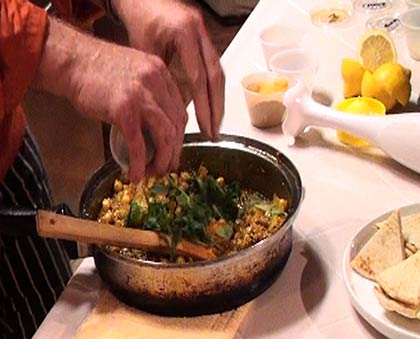 base! Check back for the complete homemade falafel recipe and for my homemade volcanic sauce to accompany the Hummus and Pita Chip recipes.
Need a vegetarian dish for a catered event on Maui and don't feel like making it yourself? Among several Mediterranean comfort foods on our catering menus, order the Hummus and Pita Chips for a catered wedding reception menu item or delivered to a wedding spa party. For the most affordable Maui catering option, order the Hummus and Chips for self service pickup to include with DIY Maui weddings. Or, if you want to leave the planning, cooking and catering to professionals, we are there to help as much or as little as you need! From planning catered wedding reception catering on Maui to providing a private chef dinner for a family reunion, count on the Comfort Zone Maui Catering for your next event:
{{cta('6e990028-e3b3-44a6-a4c1-80e08111e3e9')}}