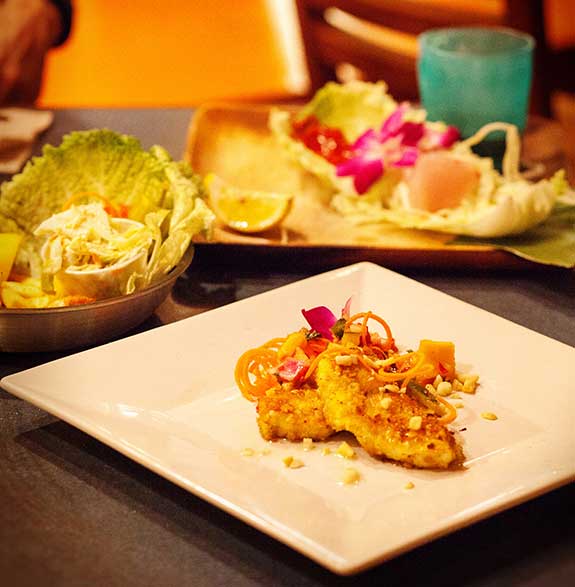 You Catch it! We Cook It! You want to go sport fishing on Maui and think you'll catch the fish of your dreams. Ready to catch a Big Game Yellowfin Tunu or Ahi? Or, maybe you want to go Marlin fishing? Whether you want Ono or Mahi Mahi, a Maui fishing charter from Lahaina gives you the best chance to fulfill your dream. But what to do with the fish after you catch it? Assuming you don't want to have a fish taxidermist mount it as a trophy, you'll need to figure out where to get the fish prepared and cleaned. One option is to ask one one of the hotel chefs at the Kaanapali resorts if they'll prepare a fish you catch. They may do it if they aren't overly busy and for a fee but you'll be sharing their time with the hotel culinary services and any special events going on. Instead, we've created a unique way to enjoy an affordable dinner on Maui prepared by a professional chef using the fresh fish you caught! We're offering a 3 course gourmet chef dinner for only $50. for the first two guests and $20 for each dinner guest. Read on for more details about this gourmet dinner. It's like having a private chef preparing a personal dinner on Maui using the fresh fish you caught!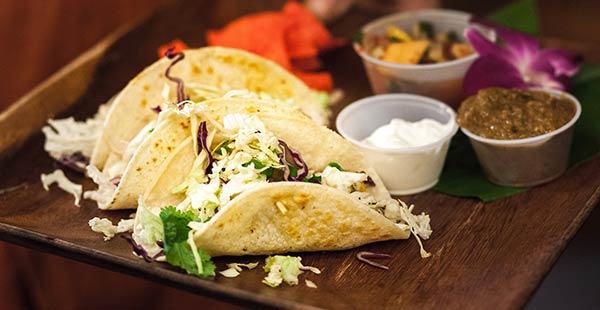 You Catch It! We Cook It! Fresh Fish on Maui
The most difficult decision will be choosing which 3 of the 4 fish style selections you'd like the chef to prepare for your Grand Gourmet Fish Dinner! Once the choice is made, Chef CJs Fresh Catch Fish Program features your fresh fish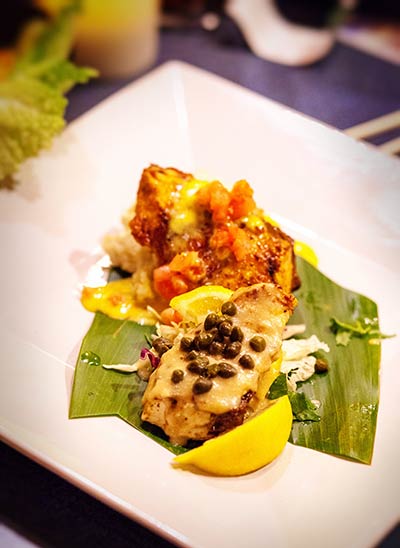 in 3 preparation styles served along with a fresh green salad of Kula Greens with Chef CJs homemade Miso Vinaigrette dressing served with warm Garlic Bread. If the catch is appropriate, we usually recommend a first course preparation style of Poke or Sashimi, depending on the catch and your taste preferences. For the entrée, the chef personally prepares your choice of fresh sautéed Fish with Lemon Caper Sauce and served with Garlic Mashed Potatoes; Maui Chef CJs Volcano Seared or Macadamia Nut Crusted Fish served with Pineapple Fried Rice; Fish Tacos or Fish & Chips with the chef's house made tropical salsa or Coconut Milk Poached Fresh Catch of the Day served with Fresh Vegetables. Dinner concludes after you and your dinner party guests enjoy a Hana Bar Sundae, prepared from Chef CJ's award winning Walnut Bar served atop Mango Sauce covering island made Roselani Ice Cream. Bring along your favorite bottle of wine or beer to enjoy with your Fresh Catch Fish Dinner at CJ's Kaanapali restaurant. We don't charge a corkage fee and we'll supply glasses and ice for chilling. Ask the chef for a pairing to go with the various fish styles you choose. Chef CJ will share one of his favorites and will recommend a local source to purchase at a price similar to the affordable Kaanapali dinner experience you'll enjoy.
Our Fresh Caught Fish Program
Bring your own fresh caught fish – Served Family Style!
Kula Greens with Miso Vinaigrette / Garlic Bread
Poke / Sashimi
Fresh Sauteed Fish with lemon Caper Sauce served with Garlic Mashed Potatoes
Volcano Seared OR Macadamia Nut Crusted Fish with Pineapple Fired Rice
Fish Tacos with Topical Salsa OR Fish & Chips OR Coconut Milk Poached Fish served with Fresh Sauteed Vegetables
Finish with a Hana Bar Sundae for Dessert
Bring Your Own Beer or Wine – No Corkage Fee!
2 Guests: $50 All Inclusive Grand Tasting
3 or More: Add $20 Per Person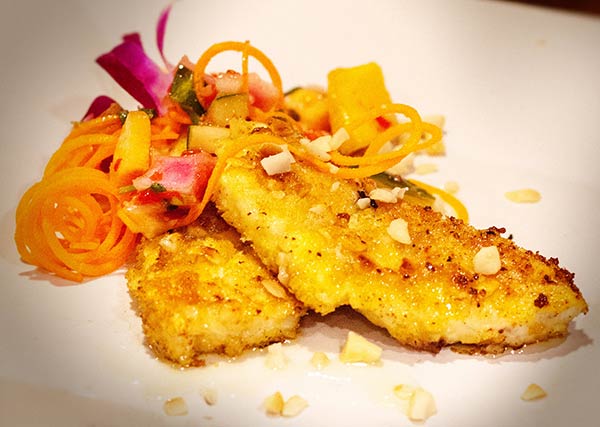 Check out the rest of our affordable Maui restaurant menu options. We're open 7 days a week from 7 am till 8 pm. Breakfast is served from 7 am till 11 pm daily with our lunch and dinner menu available from 11 am till 8 pm. We're easy to get to and hard to forget, Comfort for your Stomach and Comfort for Your Wallet. We're in the Kaanapali Fairway Shops, a relaxing walk from the resort hotels on Kaanapali beach or a short drive from anywhere in West Maui between Kaapalua to Olawalu. Our restaurant, CJ's Deli & Diner is near Lahaina, only about a 7 minute drive. Use our map and enter into your mobile device for the best driving directions. Prefer a private Maui chef dinner? No problem! Hit the button below, provide a few details and we'll reply with a no-obligation estimate for private chef dinner of your dreams:
{{cta('646cf88d-2f70-4180-8031-ffe1b29cf7a7′,'justifycenter')}}